"Please UN, Save Libya"
"Look Europe, look America, here is Moammar Gadhafi! Look you Arabs, look at the Libyan people. Here Moammar Gadhafi is among the crowds, among the youth. These are the Libyan people! This is the fruit of the revolution. The youth are enthusiastic. They want the revolution. They want dignity and glory.

"You must dance, sing, and prepare yourself ... this spirit you have is stronger than any other attempt by the foreigners and the enemies to destroy us.

"Feel at ease in the squares and the streets. Live the life of dignity. Moammar Gadhafi is one of you. Dance, sing, rejoice!"

Moammar Gadhafi, King of Kings



A Libyan anti-Kadhafi protester holds her old national flag during a demonstration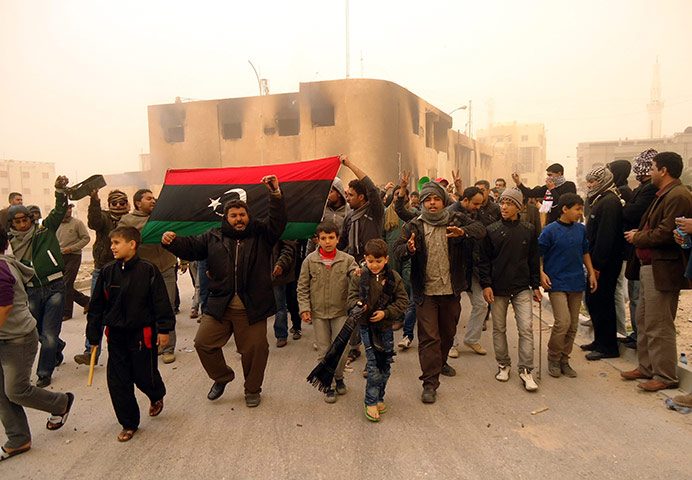 "They are gathering all the bodies and they are taking them to the desert or somewhere. No one knows where are the bodies of the victims.



"Gadhafi has the choice between being killed or commit suicide. He might seek to send some of his family members abroad but I believe he prefers to die in Libya because of his narcissistic character - he wants to act like a hero.
"Send a clear message. Otherwise I think he will continue his killings and today you will have thousands of people killed in Tripoli. It is time to stop this."

Ibrahim Dabbashi, Libyan deputy UN ambassador.
"`My name is Ozymandias, King of Kings:
Look on my works, ye mighty, and despair!'
Labels: Africa, Middle East, Traditions, Troublespots