Concern Over Violent Islam Identifies You as a Fascist Racist
"It is evident to everyone that there is a correlation between illegal immigration and terrorism."




"Europe must protect itself, and the security of the people must be guaranteed."




Hungarian Foreign Minister Peter Szijjarto
Las Ramblas after a vehicle mounted the pavement and drove toward crowds.
Sunday Express
There, it is said. And in the saying this man has committed the cardinal sin of 'racial profiling', of using a sloppy brush to paint a religion, the sacred concept of open borders to welcome the afflicted as being tainted with terrorism. In so doing willingly identifying himself as a typical Islamophobe, a philistine, a black-hearted cretin, a racist and a fascist. It is not fashionable to describe the links between Islamofascism, atrocities and the gentle religion beloved of a significant proportion of the global population.
But he is from Eastern Europe and known to be right-wing, and so his statement is explicable, expected, albeit deplored. In response, demonstrations materialized on the very day that Islam holds sacred for prayers in mosques around the world. Where people strenuously defended the place of Islam within Europe. Counter-protesters presented their faction's concern over the
"Islamicization of Europe"
, a concept which once expressed identifies the utterer as a fascist lout.
The generous acceptance of the presence of Muslims throughout Europe by the left, contrasting with concerned citizens labeled fascists for their well-earned doubts over that stifling and threatening presence. The good-hearted contingent decried Islamophobia, waving rainbow flags shouting
"Barcelona! Anti-fascist!"
, sleepwalking their way to a future of totalitarian Islamism capturing Europe, amending history to gift Islam with territory it had lost in centuries past.
France, it appears, is tightening its border with Spain, the country that has become destination central for Moroccan masses on the move. France and Belgium are familiar with Moroccan respect for the nations that have absorbed them. European counter terrorism circles have attuned their antennae to the large presence of Moroccans that have infiltrated Spain, France and Belgium, while government and municipal authorities assure their indigenous populations that all is under control.
Las Ramblas after a vehicle mounted the pavement and drove toward crowds.
Sunday Express
The fearfully uncontrolled episodes of Islamic jihad striking Barcelona and Cambrils this week must be viewed with circumspection; these things happen, shrug, shrug. But the police are reliably protecting the population, no need for concern. Unwisely, a Catalan police official, speaking to reporters in Barcelona, stated
"We cannot rule out further attacks"
: tch, tch, Major Josep Llufs Trapero.
If there is a hero, it is the Spanish police officer who reacted when her male partner suffered a broken leg and head wound when an Audi with five jihadis within plowed into pedestrians then collided with a police car, turning the Audi onto its roof but leaving the five within intact to confront the police in Cambrils. She, in lightning reaction, shot four of the terrorists dead.
"To kill four people, even if you are a professional, is not easy to digest"
commented Police Chief Trapero.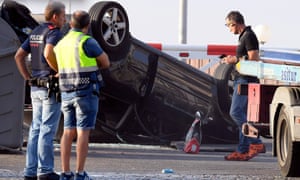 Police check a car involved in the attack in Cambrils.
Photograph: Lluis Gene/AFP/Getty Images