Warning: Be Prepared
"This virus will show up. This is going to come soon, potentially. You've got to be shifting to readiness, rapid-response thinking."

"Think the virus is going to show up tomorrow. If you don't think that way, you're not going to be ready. [It's] an incredibly interconnected world."

"Why don't you look at, have you got 100 beds where you can isolate people if you have to? Have you got a wing of a hospital that you're going to close off? Have you got 30 ventilators?"

Dr.Bruce Aylward, Canadian epidemiologist, WHO




"Ultimately we expect we will see community spread in the United States. It's not a question of if this will happen, but when this will happen, and how many people in this country will have severe illnesses."

"Disruptions to everyday life might be severe."

Nancy Messonnier, director, National Center for Immunization and Respiratory Diseases, U.S.




"The measures taken by the Italian government or the regional governments have been pretty strong and most likely should help in containing this virus as good as possible."

Christian Lindmeier, WHO, Geneva




"It is an uninvited and inauspicious visitor."

"God willing we will get through ... this virus."

Iranian President Hassan Rouhani




"We're told we're in quarantine due to an Italian doctor testing for the coronavirus."

"The hotel seems to be acting normally, except that we cannot go out."

Christopher Betts, British guest, Costa Adeje Palace hotel, Tenerife, Canary Islands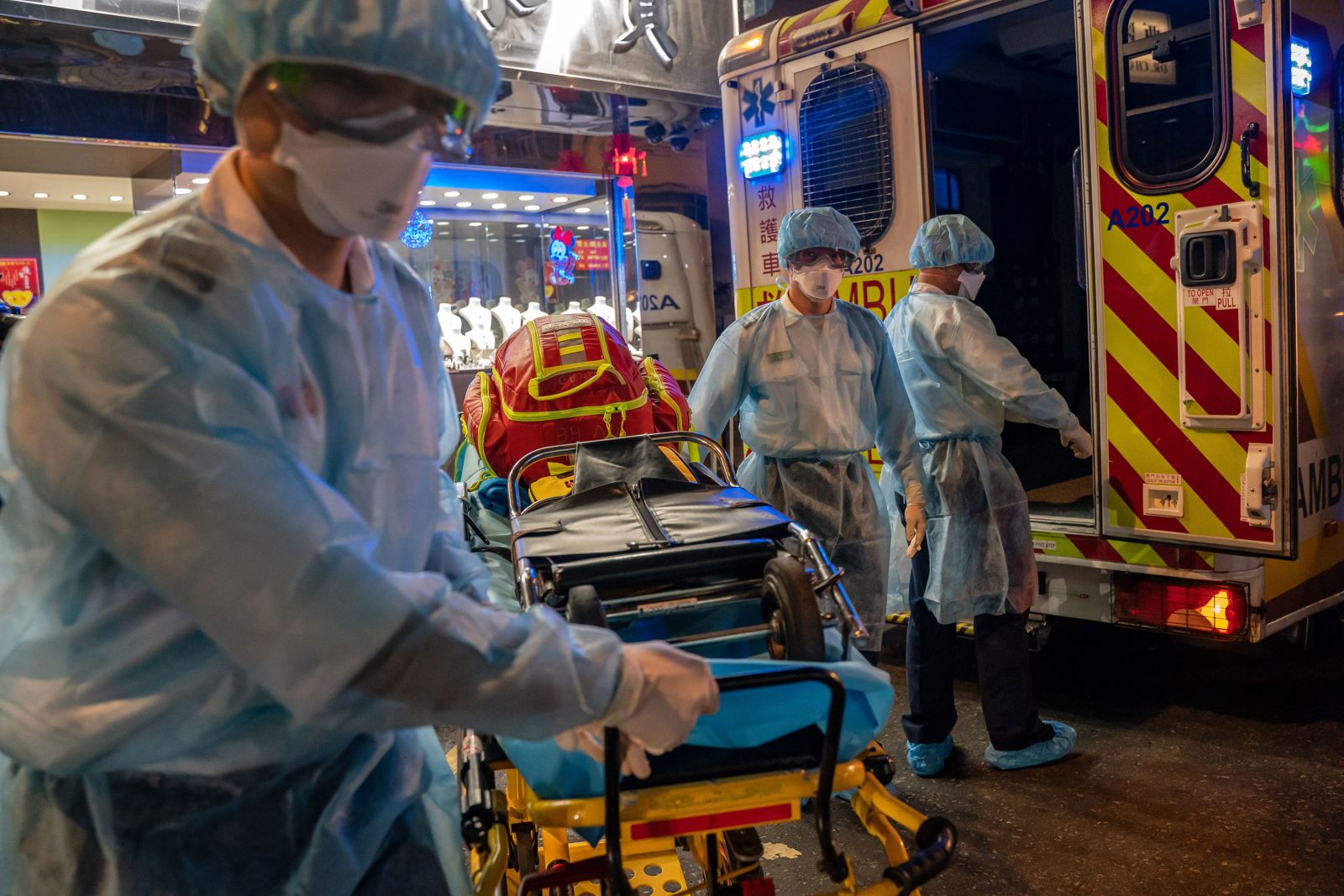 Paramedics carry a stretcher off an ambulance in Hong Kong on Sunday, February 23.
Anthony Kwan/Getty Images
Health officials in the United States have now urged Americans to begin preparing for the virus known as COVID-19 through leaders of the Centers for Disease Control and Prevention and the National Institutes of Health responding to a rapid surge in cases of the novel coronavirus in locations outside mainland China. Where in the past several days Hong Kong, Iran, Italy, Japan, Singapore, Taiwan and Thailand have been identifying cases lacking a known source of exposure.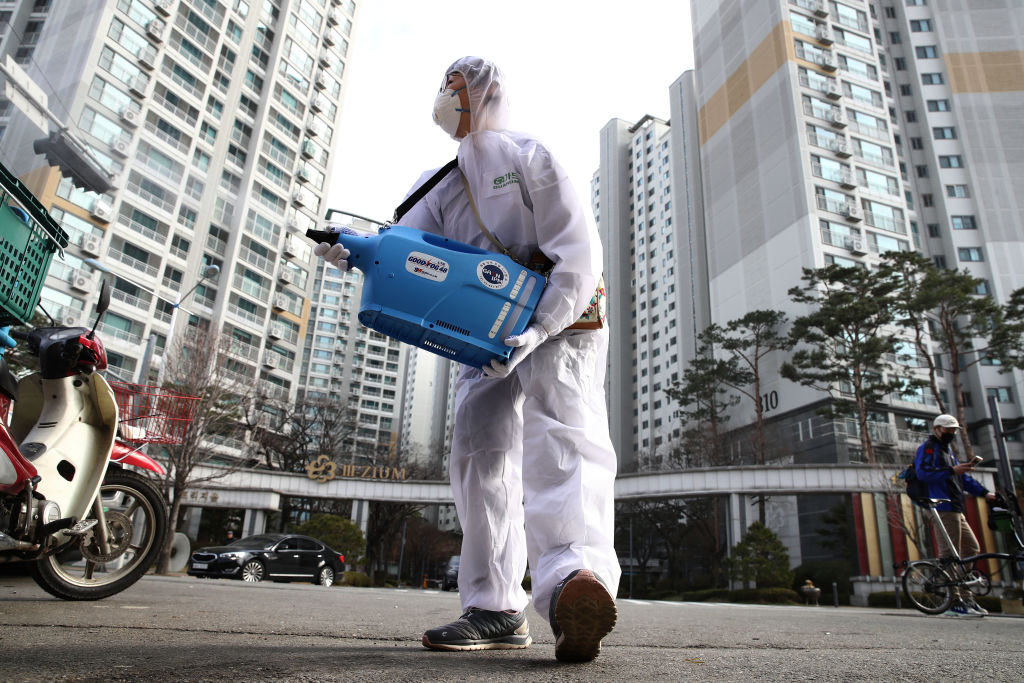 A worker sprays antiseptic solution against the coronavirus in Seoul yesterday. Credit:
Chung Sung-Jun/Getty Images
Over 80,000 confirmed cases of the coronavirus have been diagnosed worldwide, resulting in 2,700 deaths, mostly in China. Dr. Bruce Aylward has just returned from a two-week mission he headed on behalf of the World Health Organization to assess with his team of experts, how China is managing its epidemic. Efforts on the part of the government in Beijing appear to be failing the intention to contain the virus within the country.
South Korea has now diagnosed close to a thousand cases and up to 16 people have died in Iran from the coronavirus. In Italy the 11th death has been reported and for the first time Switzerland and Austria are reporting cases, along with a luxury resort in Spain where a four-star Canary Islands hotel is in lock-down following an Italian doctor and his wife testing positive for the virus.
According to Dr.Aylward's team, affected countries should be looking for expertise from China in management and treatment of COVID-19, taking particular note of the aggressive approach to testing, containing and treating people who have contracted coronavirus in China where entire cities of millions of people have been locked down in an effort to ensure COVID-19 is contained as much as posible.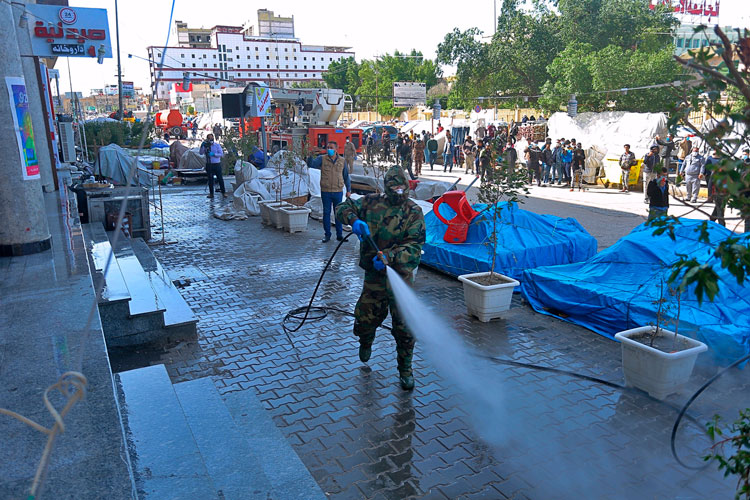 Iraqi health officials and Civil Defense staff wearing protective suits spray disinfectant as a precaution against the coronavirus in the commercial markets and hotels used by Iranian citizens, in Najaf, Iraq, Wednesday, February 26.
Anmar Khalil/AP
The numbers of new cases has been declining in China, stresses Dr. Aylward, due to certain measures undertaken including door-to-door checks of people in their homes to determine their temperature, discovering sick people and ordering them into mass treatment centres. No doubt those people whose homes are suffering intrusion, shake with dread at the very thought of being herded helplessly into containment centres with drug shortages, overworked health workers and cot-to-cot crowded conditions.
He is warning that spread of the virus to other countries now seems inevitable, and the need to tackle the epidemic with the goal of tracing every case and stopping chains of transmission is paramount, urging all countries to make certain their hospitals increase their capacities and have on hand sufficient ventilators for the very ill. Quarantining of large numbers of people coming into contact with others who have confirmed cases of the disease is imperative, he stresses.
Dick Pound, speaking for the International Olympics Committee, is of the opinion that this summer's Tokyo Olympics might be cancelled should the coronavirus not be under control by late May. The government of Italy has ordered a clampdown on gatherings. The Venice carnival, one of the largest of gatherings typically running for several weeks has been closed down early for the first time in decades.
Iran's death toll of 16 represents the most such deaths outside China. Iran's deputy health minister, the face of the government's campaign against the virus, tested positive for coronavirus, the day he gave press briefing on efforts to combat the outbreak. American health officials announced the first clinical trial testing of Gilead Sciences Inc.'s experimental antiviral drug, remdesivir in hospitalized patients with the coronavirus, now beginning.
Director of the NIH's National Institute of Allergy and Infectious Diseases, Dr. Anthony Pauci, announced a potential coronavirus vaccine could be tested in people within six weeks in a Phase 1 trial.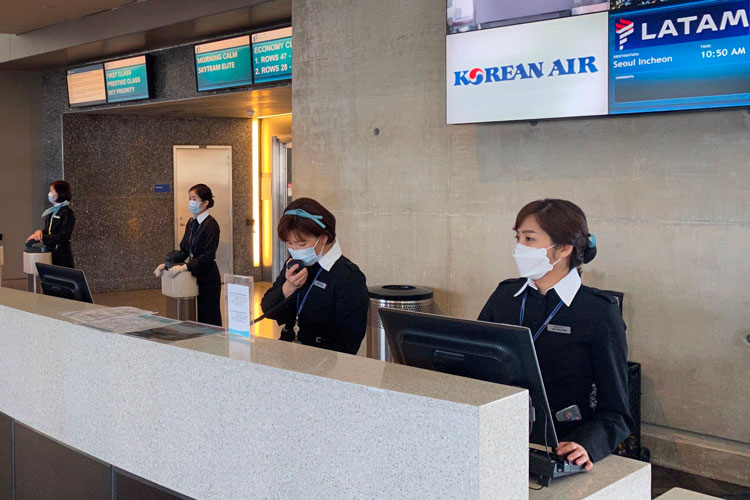 Korean Air employees are seen at Los Angeles International Airport (LAX) wearing masks, to prevent the coronavirus infection,COVID-19 on February 12.
Daniel Slim/AFP/Getty Images
Labels: China, COVID-19, Global Pandemic, Global Response, Infection, Novel Coronavirus, Quarantine