Global Society's Rejects : LGBT Refugees
"Some of us had sold our mattresses, you know. we were so ready.Now it's like, how do we even get to tomorrow?"

"So, yeah, it's sugar daddies or nothing for many of us. But even that is much harder now. How are you supposed to meet someone if bars are closed and there's a curfew? [during COVID-19 lockdown]."

"And if you met them, what if you are putting yourself at risk to get the virus? I can't bring someone home [group house for refugees] because that puts the whole house at risk."

Chris Wasswa, (Tina), 26, Ugandan refugee, Nairobi, Kenya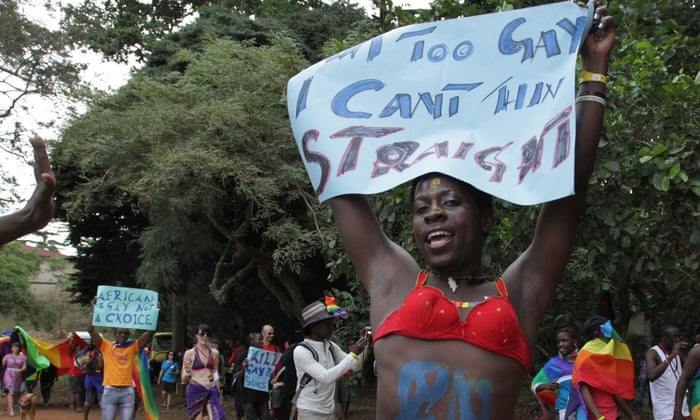 Gay and lesbian activists at Uganda's first gay pride parade in Kampala in 2012.
Photograph: Rachel Adams/EPA
He meant to be out of Kenya by now. And then the global pandemic struck, and borders closed and everything was put on hold. He had been waiting as a UN-designated refugee out of Uganda for four years, for the opportunity to be accepted elsewhere, in the West, as a refugee-victim of oppression against members of the gay and transgender community. He'd booked his airline passage: Nairobi, Frankfurt, destination Toronto.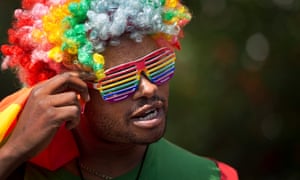 A gay rights activist in Nairobi, Kenya.
Photograph: Ben Curtis/AP
After fleeing the violent reaction and the laws against the LGBT community in his native Uganda, he discovered that his situation had improved only marginally in Kenya where there were laws against being gay or transgender, but the punishment, if applied, wasn't quite so severe. Kenya now hosts close to 500 migrants of the over 3,000 spread out across Africa and 10,000 worldwide, awaiting acceptance as refugees to a third country. All placed on indefinite hold according to the International Organization for Migration.
The IOM, an arm of the United Nations High Commissioner for Refugees, controls the travel of refugees once a country approves resettlement. The processes were suspended on March 17 when the WHO, another body of the UN, proclaimed COVID-19 a global pandemic. More months of waiting for most refugees, but for those of the gay and transgender Ugandan refugees in Kenya, it seemed intolerable, for the sexual minorities persecuted in Uganda which considered the death penalty for gay sex.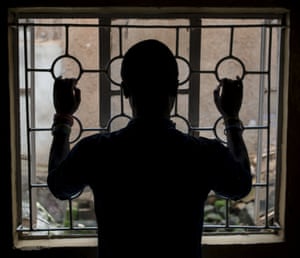 Gay man in Kampala.
Photograph: Edward Echwalu/Reuters
One wonders what Mr. Wasswa and his fellow refugees hankering to arrive in Canada's most populous and largest city, Toronto, would think of the fact that the country's prime minister, Justin Trudeau, a defender of LGBTQ-2 rights and who once famously and fatuously proclaimed on Twitter that Canada would accept any and all those fleeing their countries of origin, who had, before the onset of the novel coronavirus, travelled to Uganda to lobby for a committed vote for a seat on the revolving Security Council, saying nothing whatever of human rights to Uganda's president Yoweri Museveni as he tried to ingratiate himself for a UN vote.
Living in safe houses temporarily at their disposal in Nairobi, Mr. Wasswa and others claim that Kenyans will not hire them for work, because they are refugees or because they are effeminate. And so, few of them work to support themselves. Kenya saw hundreds of thousands of South Sudanese and Somali migrants seeking asylum in Kenya, a half million registered as refugees, living in vast camps.
The UNHCR helps them to apply for resettlement to third countries. In those camps, assaults have driven the LGBT refugees to relocate from Uganada to Nairobi. If you're a refugee, and Ugandan, police in Nairobi assume you're gay, bisexual or transgender, all of which places them under Kenyan law as criminals.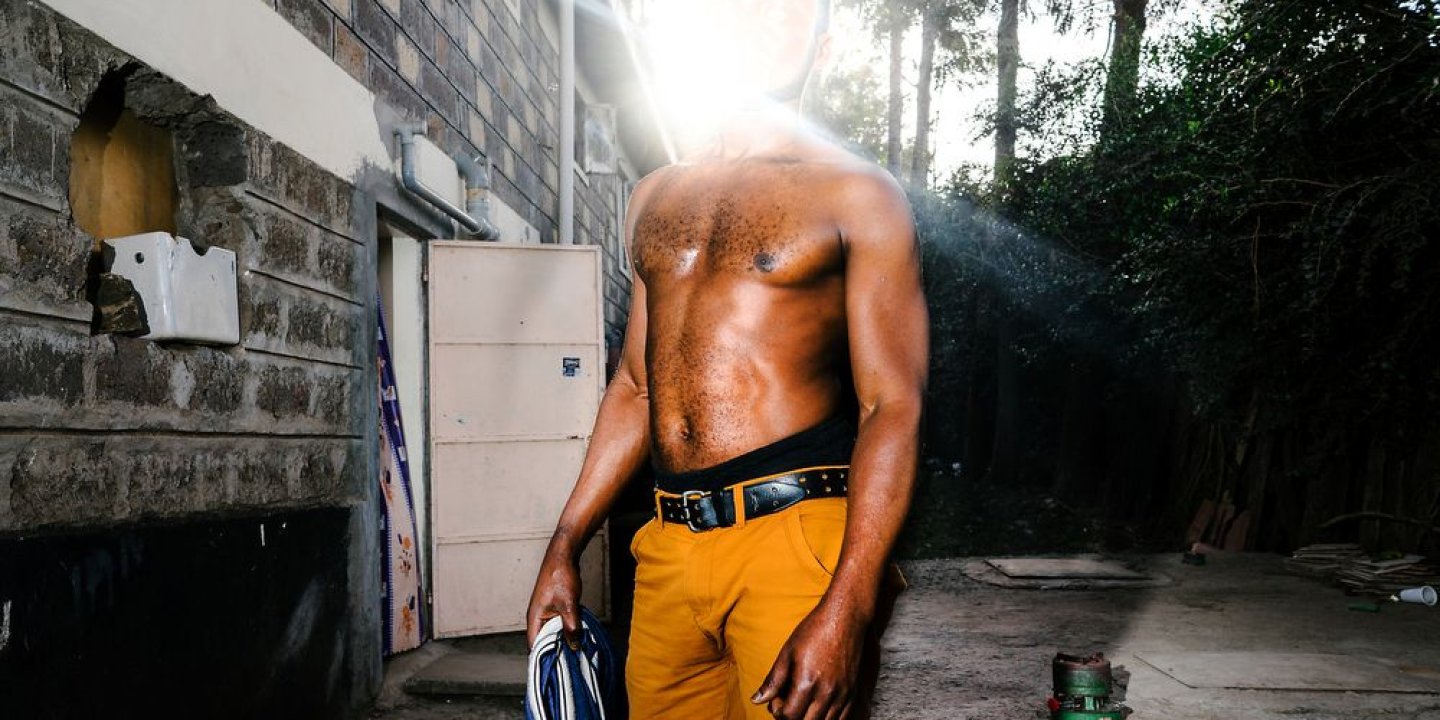 An HIV-positive, gay refugee from Uganda stands outside the house he shared with dozens of other LGBT refugees on the outskirts of Nairobi.
Jake Naughton
Labels: Gay Rights, Kenya, LGBT, Refugees, Tansvestites, Uganda, UNRWA