Routing The Threat
"I can say he was smart doing that. Very smart to stay hidden."




"We talked about it among shop owners and friends -- that for four months, he basically disappeared into thin air. And now we learn he was right here."




Pharred, resident of Molenbeek, Belgium





"I always said that at the beginning we thought it was several individuals. Today we have to recognize that the number of people who support him is higher."




"That doesn't mean that the entire community supports him. But the support is a lot higher than I had estimated at the beginning."




Belgian Interior Minister Jan Jambon





"Probably he had contacts with other men to help him. But we have to wait. What's important now is that Salah Abdeslam has been arrested."




Molenbeek Mayor Francoise Schepmans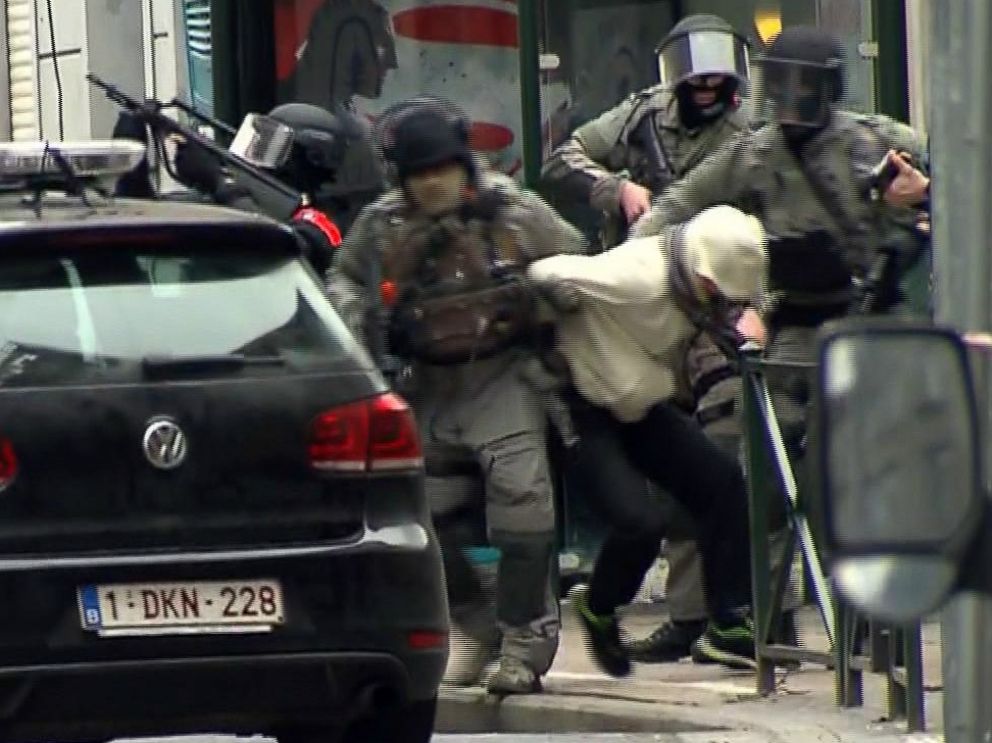 VTM via AP Photo
Europe's most wanted man of the moment, Salah Abdeslam, a citizen of France who grew up in Belgium with his parents, succeeded in living quietly and without detection in the very place that investigators would least expect him to be. He disappeared in plain sight. Not far, in fact, from where his parents live, in Molenbeek. Many residents of the Muslim community in the enclave would have been surprised to discover he was living, hidden among them. And that is as it should be.
It is far likelier, it is now acknowledged by Belgium intelligence authorities, that an unanticipated number of residents were aware of his presence, were involved with his presence, and in that involvement represented an anti-state conspiracy. Some have been detained, others are being sought. Three members of a family had sheltered him, evidently many more knew who it was that was living in their midst.
The terrorist mastermind, along with an accomplice, have now been charged with
"participation in terrorist murder and participation in t he activities of a terrorist organization"
. Another detainee has been charged with communion in a terrorist group and with hiding criminals. The logistics that supported the Islamist extremists in their November 13 killing spree where 130 people lost their lives has been attributed to this man.
The rental of rooms, the shopping for detonators, and chauffeuring killers from Brussels to Paris, just part of his accomplishments in carrying off an audaciously deadly atrocity celebrated in the world that gave him his Islamist fame as a jihadist celebrity. He had planned to detonate his suicide vest on schedule at the Stade de France soccer stadium on November 13, he admitted, but thought better of it.
The other attackers may have held their lives to be valuable as martyrs, but he decided life still held appeal for him.
And for some reason known only to the spirit that moved him to act in the name of jihad, he came away from the carnage unscathed. Perhaps police were not sufficiently schooled in the reading of faces when his must have revealed a cornucopia of emotions; excitement, celebration, fear, and the total exultation that comes with such a huge success taking the world by surprise, his name in big bold letters across news media globally.
Irrespective of which, despite a high alert in the immediate wake of the atrocities, when he along with a group of contacts, stopped at a French police checkpoint, they were nonetheless waved through. He must surely have felt that Allah was beaming his congratulations down upon him. Imagine the euphoria mingled with dread, to see his face festooning wanted posters all over the continent?
Now a French citizen of Moroccan descent, born in Belgian of Muslim immigrants for whom Islam and its laws supersedes all 'human-mandated' laws and values has shown how well Muslims are able to gather themselves in a determined resistance against Islamophobia. While Belgium's terrorism alert level remains high, Abdeslam's lawyer will aid his client to resist France's request for extradition.
How likely is it that Belgian courts might deny the request of a neighbour to return to them a French citizen culpable in the slaughter of a multitude of French men and women?
Labels: Belgium, France, Immigrants, Islamism, Jihad