Censuring the Abusers
"Citizens around the world listening to today's debate have reason to be confused. For never before in the history of the United Nations have the pronouncements made here been more disconnected to reality.

In here, we have been told by various Middle Eastern nations that Israel is the greatest violator of the rights of health, women, equality and the environment."

"In reality, Israel, with all its flaws, is the only country in the Middle East whose hospitals treat Palestinians and Israelis; Jews, Muslims and Christians; the only country in the Middle East that respects women's rights; the only country in the Middle East that respects the rights of minorities; and the only country in the Middle East that is a world leader in developing vital technologies such as desalination, water treatment, and drip irrigation."

"In here, Syria, Libya, Yemen are some of the countries that lecture on human rights. In reality, many of these are not even countries any more."

"

Mr. President, Let us be clear. Israel should be subject to criticism like any other country. But Israel is not treated like other countries. No other country has an entire agenda item devoted to it—not even Syria, not even North Korea."

"There is, however, one silver lining today—the countries who did not speak. Democracies, like France, Germany, UK, the U.S., Canada, made the decision not to take the floor because this agenda Item singles out one country, Israel, for what Secretary-General Ban Ki-moon himself denounced as selective and unfair treatment. Today is just o

ne of many devices employed here at the UN that cross the line from legitimate criticisms of Israel's policies to attempts to delegitimize the state of Israel itself."

"Here at the United Nations, where the majority faction has the power to decide whatever it wants, and where the minority faction has no judicial recourse, no right of appeal, no remedy, democracies have protested this injustice in the only way possible."

"In 1968, René Cassin, at the 20th anniversary of the Universal Declaration of Human Rights which he helped to create, left early in protest at the singling out of Israel."

"Today, on the 10th anniversary of the Human Rights Council, the free world has protested the vilification of Israel by not showing up at all."

Hillel Neuer, Executive Director, UN Watch
The United Nations functions as a hotbed of international dysfunction, where resolutions are meaningless, couched in language meant to demonize not the countries who specialize in routinely practising human rights abuses, countries that oppress their populations under tyrannical governments but are nonetheless elected by one another through cliques like the Non-Aligned Movement and the Organization of Islamic Cooperation to the UN's Human Rights Commission.
This mutual support ensures that some of the world's most abusive regimes are represented on the UNHRC, a disgrace whose absurdity culminates in the never-ending condemnation of one sole nation in the world which exists as a vibrant democracy devoted to pluralist equality in a geographic sea of tyranny, repression and abuse. The Organization of Islamic Cooperation has never given up its attempts to have the United Nations declare any criticism of Islam to represent a fundamental human rights assault.
A week earlier, Egypt wrote to the president of the 193-member General Assembly of the UN on behalf of the 51-member Organization of Islamic Cooperation objecting to the participation of 11 gay and transgender organizations attending a meeting of the United Nations on ending AIDS. A protest followed, led by the United States, Canada and the European Union. Although no reason was given for excluding the 11 gay and transgender groups the reason is obvious enough; in Islam such groups can elicit a death penalty.
In celebration of the tenth anniversary of the re-naming of the Human Rights Commission, from its previous incarnation as an institute corrupted by its own membership where countries like China, Russia, Venezuela, Syria, Libya, Algeria, Cuba, Saudi Arabia are regularly elected from the general body of the United Nations to sit in sanctimonious judgement on nations whose values include firm legal sanctions against human rights abuse internally and internationally, yet another absurdity has taken place.
On this auspicious occasion of the anniversary, the 22-nation Arab League saw fit to yet again single Israel out for condemnation. Syria, a country whose president has authorized his military to attack Syrian civilians, extracting a wholesale death toll in the hundreds of thousands, and causing millions of Syrians to flee for safety, has accused Israel of exploiting
"terrorism to continue to occupy parts of the Arab territories, including helping the terrorists and carrying them to their hospitals and providing them with health treatment."
Referring to Israeli hospitals treating ill and wounded Syrians fleeing the atrocities their own government has inflicted on them through chemical attacks and barrel bombs. Qatar, the oil-rich sheikdom that supports the terrorist group Hamas, spoke of Israel's
"violence and terrorism worldwide."
Iran, the supporter of the Lebanese terrorist group Hezbollah, took the opportunity on behalf of the Non-Aligned Movement to condemn
"Israel's ongoing illegal colonization."
Pakistan, which supports and gives haven to the Afghan Taliban responsible for countless deaths in Afghanistan, and which hosted Osama bin Laden in Abbottabad, had its opportunity as well to condemn Israel for
"its cynical discourse of being victimized and singled out at the UN"
, while being guilty of
"occupation, apartheid and colonization, in its policies of apartheid."
Saudi Arabia which has used its vast oil wealth to fund madrassas all over the world, teaching its Wahhabist form of Islam favoured in the creation of violent jihadists excoriated Israel for subjecting Palestinians to
"the worst forms of terrorism, oppression and intimidation."
Algeria, Venezuela, Kuwait, Iraq, Bahrain and Lebanon all countries who know how to put down insurrections, had the opportunity to condemn the State of Israel for its
"heinous crimes"
in
"contin[uing] to kill Palestinians in an arbitrary manner, confiscating lands and destroying homes"
, and its
"indiscriminate use of force by Israeli forces against Palestinians and destruction of vital Palestinian infrastructure, and the killing and extrajudicial killing of Palestinian civilians including children"
.
Libya's charge that Israel is guilty of
"wanton murder"
, from its perspective as a tribal basket case of vengeful militias spoke as well of the
"Judaisation of Jerusalem"
, and Lebanon's accusations, censuring Israel for continuing
"to flout all humanitarian values and international instruments"
identifying it as
"a real enemy to peace and security"
, further edified the gathered, particularly coming from a country where Christian, Shiite, Sunni and Druze militias were dwarfed in their violence by the surfacing of Hezbollah.
And then, there was Oman, casting aggrieved blame on Israel for all that has gone wrong in the Middle East because
"peace and war in the region has the Palestinian problem at its core"
.
Even the European Union was censured for its absence, since its delegates walked out of the flaying session aimed once again at Israel as the EU's absence was identified by Oman as evidence of
"a politicized alliance in support of one party"
, without so much as a blush.
Might it be ventured that the spirit of dominion of Islam over all other pretenders to religious piety, aligned with a sense of vengeance could be the motivating force here? Just as terrorists deliver their message of intent to dominate through inspiring fear and dread, the Islamic countries and their supporters revel in ongoing attacks to cause humiliation through slander.
The psychic state of terror towered over by a spiritual cause, reflecting a sense of injury. That injury represented by a democratic nation whose religion is not that of Islam but which has absorbed into its borders a multitude of other ethnic and ideological groups and religious minorities to offer them the comfort of inclusion and security.
Which the Baha'i, for example, an offshoot of a kinder, gentler Islam could not find in Iran, when it decided to headquarter itself in Israel. And where gay pride parades can take place in a sense of equality and safety denied that community anywhere in the Arab and Muslim world. That Arab and Muslim world whose collective sense of outrage at the morals and values and safeguarding of human rights leads it to ventilate its rage in the international temple of peace, brotherhood and human rights.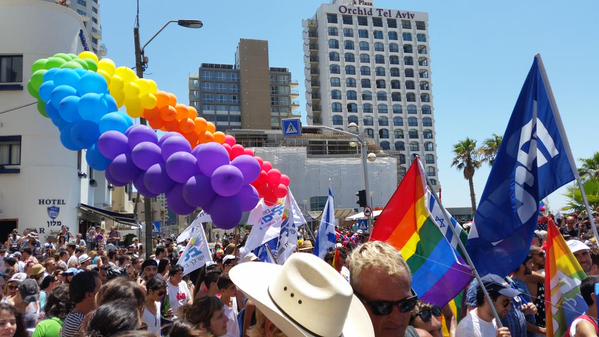 Aaron Magid, June 12, 2016, Tel Aviv
Labels: Arab League, Human Rights, Israel, United Nations