Conflicted Conflict
"In advance, in accordance with our agreement with the U.S. we gave information on where our planes would be working -- at what altitude, and in what areas. Turkey is part of that coalition and they had to know it was the Russian airforce working in that area."




"It's got insignia, and you can see that very clearly."




"If it was an American aircraft, would they have struck?"




Russian President Vladimir Putin
Russian anger: posters showing a portrait of Turkish President Recep Tayyip Erdogan and reading "Wanted Erdogan","Erdogan", and "Turkey", left after a protest at the Turkish embassy in Moscow.
Photo: AP
"I personally was expecting something like this, because in the past months there have been so many incidents like that."




"Our engagement rules were very clear, and any sovereign nation has a right to defend its airspace."




Ismail Demir, Turkish Undersecretary of National Defence





"That would require Turkey-backed rebels to be present in Syria, and I think Turkey was alarmed that Russia's bombing of positions held by Turkey-backed rebels in northern Syria was hurting their positions and therefore Turkey's future stakes in Syria."




"So this is also an aggressive Turkey posture in the Syrian civil war to prevent the defeat of Turkey-backed rebels so they can hold onto territory and have a say in the future of Syria."




"In the days leading up to the incident, many newspapers, especially the pro-government publications, were running headlines highlighting the suffering of the Turkmens, who are closely related to Anatolian Turks."




"I think the government felt that, in terms of domestic politics, it had to do something to ease some of this pressure that had resulted from the Russian bombardment against Turkmen in northern Syria."




Soner Cagaptay, Turkish analyst, Institute for Near East Policy, Washington
"We strongly condemn attacks focusing on areas inhabited by Bayirbucak Turkmen -- we have our relatives, our kin there."




Turkish President Recep Tayyip Erdogan
A Turkmen rebel manning a mortar in the fight against Bashar al-Assad's forces.
Photo: Halab News Network
Moreover, the jet's flight co-ordinates had been passed on to Turkey's ally, the United States. So much for President Erdogan's assertion that had he known immediately the plane's identity
"maybe we would have warned it differently"
. That's about as much a statement edging toward regret that is likely to come out of Recep Tayyip Erdogan's clenched mouth in response to Russia's invitation to apologize. Turkey, he said, has no need to say sorry for the violation of its air space.
Make of that what you will; defiance, inviting a death wish for Turkey's economy. For there are compelling precedents about the many avenues open to Moscow to exact a type of economic revenge on its enemies, those who provoke its wrath. Take, for example, citing health risks, banning wine from Georgia in 2006 in response to interest cited in joining NATO. Or banning confectionary from Ukraine in 2013 as closer Western ties appeared imminent.
And who can forget the destruction of immense mountains of cheese, bacon, fruit and produce imported from the West when EU-US sanctions were imposed over Moscow's theft of the Crimean Peninsula? With Turkey, there's more, far more that the Kremlin can come up with that will pinch its economy beyond the suspension of military communication channels including the avoidance of air accidents by shutting down their "hot line".
A Turkish army truck loaded with self-propelled guns heads to the Syrian border.
Photo: AP
Joint investment projects are now on the line. And Russian tourists have been advised to bypass Turkey while those currently caught in Turkey on vacation are recalled home
"due to the terrorist threats that remain on Turkish territory"
. Compelling reason enough, but no need to persuade patriotic Russians, for Ankara's actions against the Russian military has ensured that Russians are eager to voluntarily exact maximum pain on Turkey.
Vladimir Putin's usual grace in exemplary diplomatic concerns were in evidence as well when he suggested that Turkey had shot down the Russian bomber after the United States had passed information on its location to Ankara. Thus further ensuring that a cooperative coalition is certain to emerge from the hostile standoff, even as Mr. Putin in his discussion with French President Francois Hollande assured that Russian airstrikes will henceforth target Islamic State jihadis, giving Syrian rebels a break.
Two Russian Su-24 bombers were targeting Turkmen rebels in the mountainous Bayirbucak region, and it was that mission that saw one of the bombers hit by a missile fired by one of two Turkish F-16 fighter jets with the two pilots bailing out and one shot to death by the very rebels they were targeting. Following which a Russian rescue helicopter was also fired on by Turkmen rebels with weapons supplied by the United States, in which a Russian marine was killed.
Which set another chain of events in motion, none of which are likely to be recalled any time soon, while the region hovers on the cusp of additional complications in an already-complex series of enemies facing off against one another; a complex of conflicts-within-a-greater-conflict. Yet, said Ahmet Davutoglu, the Turkish prime minster,
"No one can legitimize attacks on Turkmens in Syria using the pretext of fighting ISIL".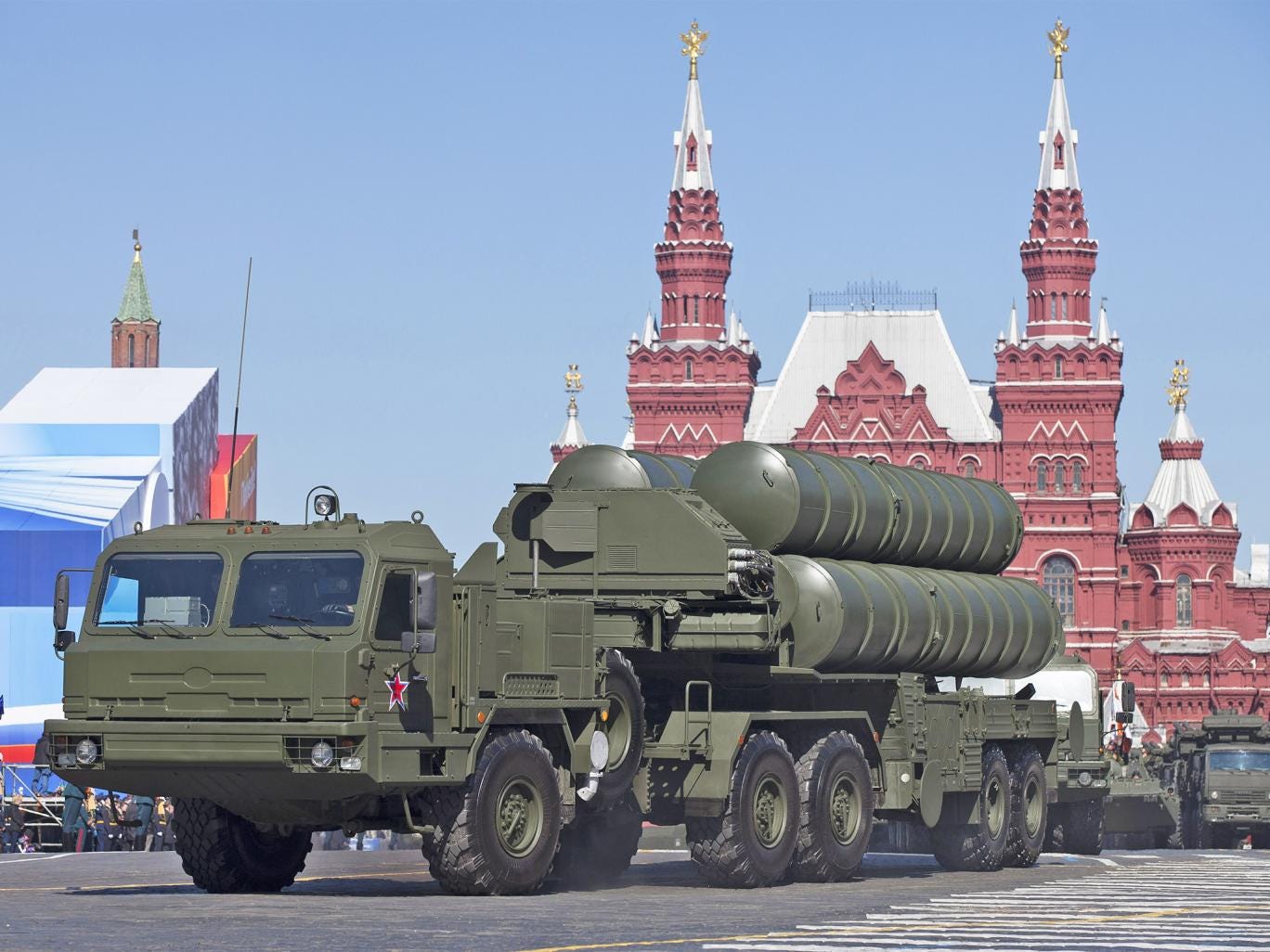 A Russian S-400 air defence missile system makes its way through Red Square during a military parade in Moscow. File photo
Mr. Erdogan and his Justice and Development party were just recently re-elected with the majority they sought, amending the earlier election when they were returned with a slighter majority, on the promise to support Turkish ethnic identity and they won to the detriment of both the Kurdish minority and the party committed to Turkey's secular status. So it is perfectly legitimate for this government to bomb Turkish and Syrian Kurds, while at the same time defending Syrian Turkmen.
Now, Russia has deployed its most up-to-date air-defence system, the S-400 mobile anti-aircraft missile to its airbase near Latakia. And with fresh resolve to make Turkey pay for its arrogance in presuming it could challenge Russian supremacy, Moscow could just decide to strike Ankara where it would sting the most; resume deadly attacks against the Turkmen. A Western intelligence source ventured that very opinion:
"They're the real target. He [Putin] can just plaster them."