Punishment Glutton -- Paris Under Siege
"People had booked a hotel in Paris over the holidays. They are cancelling their trips to Paris. They are going to go elsewhere."




"They need to get on top of the security situation in France. You can buy Hermes in Rome, too."




Ruby Silvertown, founder/owner, Travel Network Corp., Toronto





"There is going to be a shift away from France, into Italy and Spain."




"It's the mindset. It gets so much publicity on CNN, 24 hours a day, people say it's not safe."




Dean Horvath, Mason Horvath Travel, Vancouver





"Someone sitting in New York looking for a place to put a factory (and) was going to put it in France now will put it anywhere but."




"Investors will now demand a higher premium to invest in France."




"[For travellers it's France's reaction to ISIL terror] It's all the lineups at security. It's not the terrorist threat. That's like getting hit by lightning."




Dr. Ken Lester, professor, Desautels faculty of management, McGill University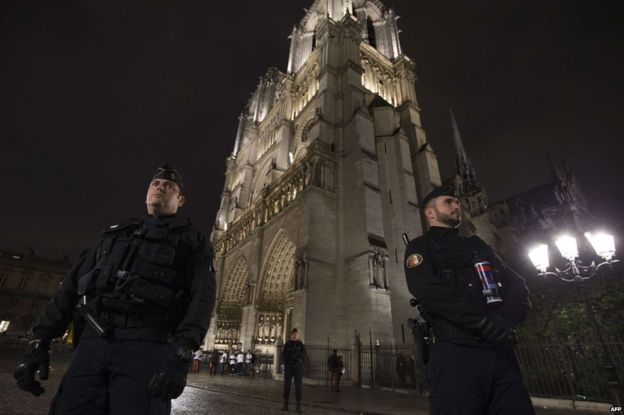 No doubt Turkey saw a drop in tourism after the October bombing in Ankara by Islamic State terrorists that left 100 people
(peace activists, leftists and Kurds)
dead. This was Turkey, known to have been supportive as a Sunni-majority country, to the Sunni terror group that has launched itself into a war with Shiite Muslims and the despot of Syria whom President Erdogan detests enough to give support to ISIL. On the surface at least he has altered course after the two bombings, the first one in Suruc, killing 40 Kurds.
Egypt's reaction to the Sinai Province affiliate of Islamic State successfully placing a bomb aboard a Russian flight packed with Russian tourists leaving Sharm el-Sheikh for St.Petersburg, killing all aboard, was to deny that terrorists could have infiltrated the airport's flimsy security and no bomb had been involved; the plane simply deconstructed due to metal fatigue. Egypt had good enough reason to deny terrorism played a part. It has been struggling for years with Salafist Bedouins, al-Qaeda, Hamas and the Muslim Brotherhood launching deadly attacks.
Its social, military and religious turmoil since the removal of President Hosni Mubarak, his replacement by the Brotherhood's Mohammad Morsi and his rejection, leading to riots and bloodshed has hampered the country's economic recovery, already in a parlous state. That vital segment of the economy dependent on tourism was just emerging from its downturn with robust returns, and Egypt could little afford yet another setback, but that is precisely what it is now facing, with tourism once again slumping.
And now it is France's turn. Which signals quite a triumph for the forces of Islamist jihad; not only managing to launch surprise attacks that have been hugely successful in terms of bloodshed and the trauma imposed on its presumed enemies, but its deadly assaults have succeeded in knocking apart vital parts of their economy, while Islamic State itself remains financially secure with the income generated through its black market oil, antiquities sales, and financial support from Sunni backers in Saudi Arabia, et al.
"In solidarity with Paris. Our thoughts are with the victims of this terrible tragedy, their families and their loved ones, and the mobilized assistance teams -- Paris, November 13, 2015"
, read a message from Accor, the French hotel giant on its website. Shares of Hermes International SCA, Keris SA and LOVMH Louis Vuitton Moet Hennessy, SA fell on the Paris stock market. Significant harm done to luxury goods sales, and to tourism.
Chalk up another win for Islamist jihad, and terror international; the City of Lights will take some time to recover, and perhaps before it manages to completely, it will experience yet another atrocity, apart from the random attacks by one segment of its population (Muslims) against another segment of its population (Jews). But French President Francois Hollande is adamant; France will not be cowed, its values and its liberties will prevail.
And toward that end, he has pledged to absorb an additional 30,000 Syrian refugees.
Labels: Atrocities, Conflict, Egypt, France, Islamic State, Russia, Turkey