Democracy's Dictator in Turkey
Recep Tayyip Erdogan has a reputation to uphold. He is cognizant of his unique place in history. A Turk who undertook to overturn almost a century of Turkish democracy, the legacy of an early 20th Century forward looking Eurocentric political figure who understood that to achieve advancement in the modern world, his country needed to leave its Islamic traditions where they belong, in the mosque, and to transform its government into a secular administration.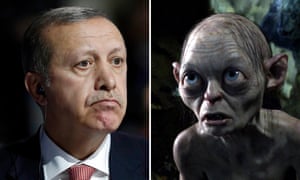 Bilgin Çiftçi was fired from his job at Turkey's public health service after comparing Erdoğan to Gollum.
Photograph: AP/Warner Bros
So Kemal Ataturk's Turkey, long after his death, is once again being transformed, this time back to what it once was, an Islamist state. The man who envisaged a Turkey returning to Islam and spurning democracy founded its currently ruling Justice and Development Party in 2001. Justice and Development are words, not necessarily concepts to be valued and supported, but words that reflect values so often co-opted by political charlatans to enable them to meet their ends.
Long agitating for membership in the European Union, Turkey's bids were set aside time and again, as it was cautioned to improve its human rights record. That human rights record had more than a little shame clinging to it with its refusal to acknowledge the mass atrocity it engaged in, when its military engaged in a genocidal war against the Armenians, a historical fact in the deaths of millions of Armenians which Turkey to this day refuses to acknowledge.
Turkey's treatment of its Kurds represents yet another shameful page in its long history of representing a conduit of sorts between the world of Islam and that of Europe. And its current conflict with its Kurdish demographic aspiring to gain autonomy in a land of their own in reflection of their historical and heritage rights, has once again resulted in violently vicious clashes, with spillovers to the Syrian Kurds in conflict with Islamic State to whose presence Turkey had turned a blind eye.
Turkey ranks as one of the worst countries of the world in imprisoning and silencing journalists, and shutting down news sources critical of the government and more specifically of its President Recep Tayyip Erdogan. As Turkey's regime becomes increasingly more repressive, an increasing number of lawsuits have been launched by lawyers representing Mr. Erdogan, against disaffected Turks who exercise the unmitigated gall to criticize him.
"It's only the absurd tip of a very large iceberg. There are thousands of insult cases like this being opened up at the moment in Turkey, and often on very shaky ground"
, observed Aykan Erdemir, senior fellow at the Foundation for Defense of Democracies, formerly an opposition member of Turkey's parliament.
"This is not a trivial matter"
. Recep Tayyip Erdogan is not to be laughed at, nor is he to be criticized with impunity. Those who wish to do so recognize litigation will follow.
For Mr. Erdogan is not a trivial man. He envisions himself as the president-in-perpetuity of Turkey. That Turkey's constitution forbids such a totalitarian travesty is no impediment to his aspirations; his majority in government will enable him to alter the constitution according to his prospects for the future. This estimable man of noble intent has provisioned himself well to rule forever from his 1,150-chamber palace, built to reflect his eminence, in Ankara.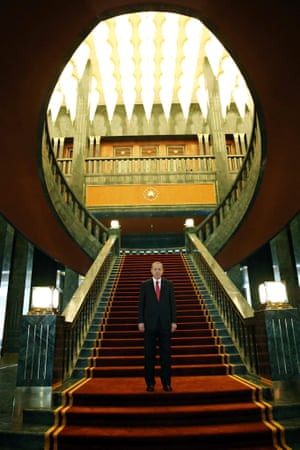 In his dozen years as prime minister and since becoming president his lawyers have opened almost two thousand insult cases against citizens of Turkey, representing the equivalent of opening three cases on a daily basis. Outside Turkey, German authorities were asked by him to press charges against a German comedians who had mocked Erdogan. A man who has sufficient ballot box support to be re-elected, but whose approval ratings steadily drop.
His abandoned peace process with Kurdish militants, the resulting bomb attacks in Turkey, and his furious assaults against internal opponents have not endeared him to other Turks, however. Thousands of people have been victimized in purges he has launched in the last three years, their employment lost. A current case going through Turkish courts is a lawsuit against a Turkish doctor, Bilgin Ciftci. He lost his job for posting photographs online likening Erdogan to Gollum, of Tolkien fame.
Labels: Democracy, Dictatorship, Islamism, Turkey