The Planned and Ongoing Purge -- to be Indefinitely Extended
"The aim of the declaration of the state of emergency is to be able to take fast and effective steps against this threat against democracy, the rule of law and rights and freedoms of our citizens."




"We will remain within a democratic parliamentary system. We will never step away from it."




"No democracy shall allow for soldiers, prosecutors, police, judges and bureaucrats to take orders from an outside organization instead of the institutional bureaucracy."




Turkish President Recep Tayyip Erdogan
Which statements have paved the way seamlessly for Erdogan to press the United States to extradite the influential Turkish cleric who had once supported his presidency, but who several years ago distanced himself and his Gulenist movement from the Justice and Development Party and the Turkish President, influenced by the revelations of corruption and cronyism and the increasing evidence over the past several years of Erdogan's transition to a tyrant under the guise of a democrat.
Now, a declaration of a national state of emergency. A move that post-dates the detention of over 6,000 armed forces personnel, ranging from foot soldiers to their commanders, along with the suspension of almost three thousand judges and prosecutors, ostensibly with links to Fethullah Gulen, whom Erdogan accuses of authorizing the failed coup against his presidency. Turkish courts and the rule of law will henceforth reflect Erdogan's wish and will.
The police have once again been purged by eight thousand of their members in both Ankara and Istanbul. Media outlets considered supportive of Gulen have been shut -- and that is on top of the media that have already been shuttered or placed under the management authority of Erdogan supporters. Turkey, even before this situation erupted, stood 151st in the world of countries that repress journalists and legitimate news outlets, ranking at the very bottom.
The Education Ministry has overseen the suspension of over 20,000 teachers and administrators. The country's intelligence agency has dismissed one hundred of its officials, while 492 people have been suspended from the Religious Affairs Directorate, 257 from the office of the prime minister, and 300 employees dismissed at the Energy Ministry; relieved from duty as suspected of being disloyal to Sultan Erdogan. He vowed revenge, and he's working on it. By all indications he will be working on it for a long, a very long time.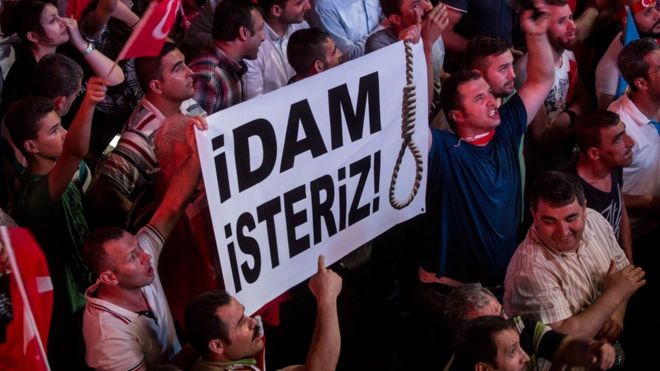 All military judges and prosecutors are to be investigated by the Defence Ministry and it has taken preliminary steps to suspend 262 who have been designated disloyal. In Ankara, 900 police officers have been dismissed, the purge extending to civil servants working in the environment and sports ministries. Roughly one third of Turkey's approximately 360 serving generals are being interrogated, detained for an uncertain period, perhaps until they confess under duress. As it is, of that number 99 have been charged, awaiting trial. It will seem a familiar process to them.
The country has transitioned from the turmoil and uncertainty of discreet conflict against the Syrian regime [not to arouse the wrath of Moscow]; the Islamic State which it once aided, and the Kurdish PKK which it has always hated. It is the administrative middleman between millions of Syrian refugees in Turkey and their desperate transit to Europe, where Erdogan felt confident his gatekeeper status would finally earn him entry to the European Union. That is now in jeopardy as is his due, with his crocodile statement that Turks insist on a return to the death penalty.
Under the state of emergency, a
cademics may no longer travel abroad, said to be a temporary measure to ensure that the risk of alleged coup plotters at universities planning to flee the country cannot materialize. TRT state television announced the removal from their Istanbul University posts of 95 academics. The state of emergency, according to Erdogan, will be of three months' duration to permit his government to take the swift action required to shut down any further avenues of dissent with his rule.
His goal to change the constitution to give the presidency imperial powers is certain to proceed. Just as emergency rule allows the president and his cabinet to bypass parliament to pass new laws and limit or suspend rights and freedoms as deemed necessary in their unopposed opinion. Who now, will after all, dare to oppose him and his minions? His courts have ordered the generals held in custody, charged with supporting Fethullah Gulen.
Former air force commander General Akin Ozturk, the alleged ringleader of the July 15 attempted putsch and General Adem Hududi, commander of the country's 2nd Army charged with countering threats from Syria, Iran and Iraq are out of commission, and no doubt nursing the debilitating physical blows they accidentally came across through interrogation into their desperate intrigues. To be joined by Erdogan's Air Force adviser, Lt. Col. Erkan Kivrak, disloyal despite his inner-circle status.
Meanwhile, dossiers outlining details of Gulen's actions are now in American authorities' hands. But without conclusive evidence that verifiable charges by Erdogan against Mr. Gulen are included, the insistence that the United States extradite the cleric from his home in Pennsylvania back to Turkey will not net Erdogan the response he insists upon. At which juncture he will be able to voice his displeasure by castigating the United States for being a co-conspirator in the failed coup.
At which point Turkey's continued membership in NATO may suddenly be considered moot.
Labels: Conflict, Coup, Democracy, Dictatorship, Erdogan, Turkey