Erdogan's Turkey
"It's absolutely horrific. They've used this coup attempt as an excuse, as a cover, to crack down on every journalist who is not in the pocket of the government."




"It was bleak. The worst part was being isolated. For more than two months, I couldn't talk to my husband or anyone else."




"She [heavily pregnant imprisoned wife of ISIS fighter] had been punched in the face while in labor and handcuffed. And the nurse later told her that her baby is Satan because of who her husband was."




Lindsay Snell, 32, American freelance journalist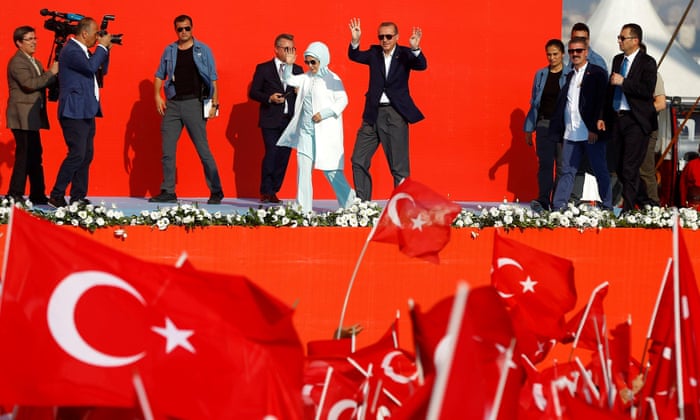 The Turkish government has thrown hundreds of journalists in jail since a failed coup attempt on 15 July.
Photograph: Osman Orsal / Reuters
"We have seen a steady and incremental crackdown on independent and opposition media."




Nina Ognianova, coordinator, Committee to Protect Journalists





"It's very hard. After [the coup] it became a kind of living hell for journalists to work in Turkey. It's the darkest period time in Turkish press history."


Can Dundar, former editor, Cumhuriyet



"For some time now, I cannot do news. It's depressing. Very bright young people are doing something that they call news, but it lacks perspective, criticism."




"There's a huge self-censorship. If you are critical about the government, they somehow find a way to affiliate you with PKK or [the] Gulen movement so that you're jailed until you prove that you aren't."




Zafer Uzgun [pseudonym], Istanbul journalist





"I don't want to say anything political, but this can't be accepted as the new norm. Terrorism is everywhere now and the government has no control. Something needs to be done. There is no life left in Istanbul."




Zeynep Ozman, Istanbul resident





"Nothing that the government is doing is helping make Turkey more secure. The crackdown on domestic dissidents is further destabilizing the country, and when it is not destabilizing, it is increasing the dangerous polarization here."




Asli Aydintashas, Turkish writer





"They are working to destroy our country's morale and create chaos by deliberately targeting our nation's peace and targeting civilians with these heinous attacks."




"We will retain our coolheadedness as a nation, standing more closely together, and we will never give ground to such dirty games."




Turkish President Recep Tayyip Erdogan
The 'we' of whom Erdogan speaks certainly alludes to himself and linking his persona with coolheadedness represents the height of absurdity. But such ludicrous statements commonly are expressed by this man whose incendiary character and rapid-fire conflicting positions have mystified and infuriated both his colleagues in NATO and his critics at home in Turkey, and they are legion, even as the more orthodox among Turks applaud the growing Islamist slant their president has led their nation toward.
In the process making enemies even of those, and most particularly of those Erdogan had formerly supported. The Syrian president whose exploits in attacking his Sunni Syrian citizens have earned him recognition as a bloody butcher is no longer considered a good neighbour by Erdogan, even as he himself continues to attack his own Kurdish civilian citizens as well as those next door in Syria. And the Islamic State jihadists whom Erdogan had once welcomed and aided, are now in the enemy camp.
But President Erdogan finds enemies everywhere; among the Kurds most certainly, but among others of his citizens whom he accuses of supporting his rival, cleric Fethullah Gulen, whom he accuses of being behind this summer's military Turkish coup attempt against the Turkish government of the Justice and Development Party. Now, Erdogan accuses the United States of vicious perfidy in allowing Gulen to live in exile in the United States, refusing his demand that Gulen be extradited to stand before the Turkish justice system as a traitor.
In his fury at the events of the attempted and failed coup, Erdogan has fired tens of thousands of civil servants, police, military personnel, lawyers, journalists and teachers. An estimated 26,000 Turkish citizens have been imprisoned, accused of being Gulenist supporters, working to overthrow the Erdogan regime. And Turks are terrified of increasing terrorist attacks launched by both the PKK in retaliation against the military attacks against Kurdish towns and villages, and by Islamic State.
The New Year's attack at a popular nightclub on the Bosporus where 39 people were killed by an Uzbek fanatic at the Reina nightclub in Istanbul following hard on an earlier attack, has left the country reeling, even while social media critics pointed out government rhetoric faulting New Year's celebrations as typical revelry part of
"other cultures and other worlds"
, might have precipitated the attack as an incitement by Islamists against unIslamic practices.
"Disturbing + not very difficult line to draw between official Turkish and New Years campaign + tonight's violence. Rhetoric has consequences"
, wrote Professor Howard Eissenstat from his vantage point as an expert on Turkey out of St.Lawrence University in New York State. Turks are not free to express their opinions without government backlash, and certainly journalists in Turkey face harassment and imprisonment in a country where press freedom is at an abysmally low ebb.
The Turkish government has shuttered over 100 broadcasters, newspapers and magazines since the July coup attempt. Turkey has become the most egregious imprisoner of journalists in the world, a sterling example of a sharp decline in freedom of speech. According to a recent report by CPI, 259 journalists have been imprisoned worldwide, with Turkey accounting for a full third of imprisoned reporters.
Journalists shout slogans and hold placards on January 10, 2016 during a march marking Journalism Day on Istiklal avenue in Istanbul as they protest against the imprisonment of journalists.
(OZAN KOSE/AFP/Getty Images)
Labels: Conflict, Erdogan, Journalists, Kurds, Syria, Turkey