Bringing a Message of Peace from the Land of War to the Land of Peace
"Peace be with you [

As-Salaam Alaikum

in Arabic]. True faith leads us to protect the rights of others with the same zeal and enthusiasm with which we defend our own [in Italian]."


"The only fanaticism believers can have is that of charity. Any other fanaticism does not come from God and is not pleasing to him."




"As religious leaders, we are called to unmask violence that masquerades as purported sanctity. Let us say once more a firm and clear 'No' to every form of violence, vengeance and hatred carried out in the name of religion or in the name of God."




"To counter effectively the barbarity of those who foment hatred with violence, we need to accompany young people, helping them on the path to maturity and teaching them to respond to the incendiary logic of evil by patiently working for the growth of goodness."




"[There must be an end to the] proliferation of arms [and] demagogic forms of populism."




"If they [arms] are produced and sold, sooner or later they will be used. Only by bringing into the light of day the murky maneuverings that feed the cancer of war can its real causes be prevented. National leaders, institutions and the media are obliged to undertake this urgent and grave task."

Pope Francis, Cairo, Egypt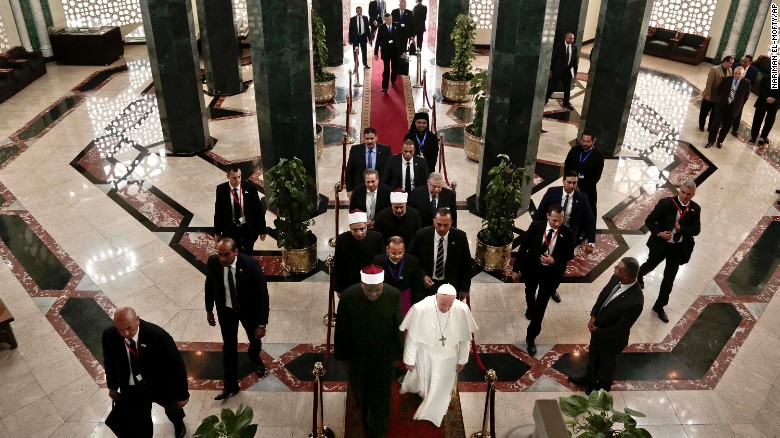 The Pope arrives at Al Azhar university in Cairo to meet with Sheikh Ahmed el-Tayeb ...
CNN/Al Azhar Media Centre
Pope Francis travelled to Egypt to deliver a message of peace. Years before he did so, newly-inaugurated President Barack Obama also travelled to Egypt to address what he was anxious to inform the universal Islamic community of, a change in relations between the West, led by the United States, and Islam. Since that time, violent, fanatic Islam has grown in influence among the faithful, an extremely small proportion of the umma, the worldwide faithful to be sure, but still representing hundreds of thousands devoted to the message of violent jihad.
The influence among Muslims worldwide of the message of violent jihad, although not taken up by all that it impresses, has considerable support of millions of Muslims, many of whom live in the West. Sectarian violence has proliferated with Sunni and Shia Muslims persecuting one another and committing atrocities against non-Muslims; Christians, Yazidis and others whom Islamofascists consider human dross they are obligated by Islamic calls to the faithful, to obliterate from the face of the Earth.
But it is the head of the Roman Catholic Church who has made a pilgrimage to the seat of academic power in Islam, to plead for friendship and a cessation of hostilities. Admittedly, launching a barrage of criticism and demands would elicit no co-operation from Islamic authorities. But the very Grand Imam of Al Azhar university, Sheikh Ahmed al-Tayeb, will not condemn Islamic State and its jihadi hordes, on the basis of the very fact that they are faithful to Islam.
A year and a half ago, Egypt's President Abdel-Fattah El-Sissi made a formal statement widely disseminated, of his opinion that Islam must undergo a change in its formative precepts to reflect the modern world in which we all live. He railed against the basic pillars of Islam that decree no other religion has the status of Islam in god's eye, and that it is the steadfast obligation of every Muslim to evangelize and spread the faith, a faith that arose out of slaughter of non-Muslims and which continues to pursue that path.
At the thousand-year-old, venerable institute of Sunni Islam learning, the two theocratic leaders of the world embraced and warmly assured one another that peace was what they both sought for their flocks. Speaking before a crowd at Al-Azhar, Pope Francis emphasized the value of knowledge and the search for an open-minded education to advance peace int he world, and to combat the "barbarity" of religious extremism. And even while Pope Francis's warmth toward Sheikh Ahmed al-Tayeb was touching, there are other issues.
Chief among them that though President El-Sissi himself called upon the Grand Imam to finally initiate a formal process whereby Islam could be turned toward enlightenment, nothing has ever come of it. The media in Egypt that leans toward support of its current government, accuses the Al-Azhar leadership of disinterest in reforming the religious discourse of Islam, and to purge of its canonical scriptures the outdated teachings that propel Muslims to hate those outside of Islam.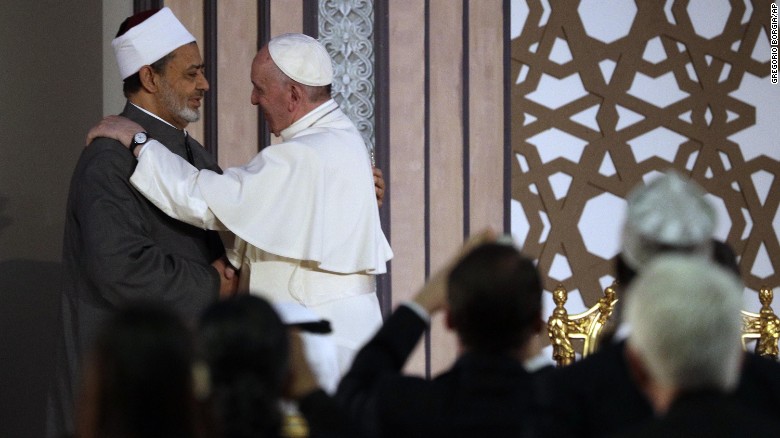 Pope Francis shakes hands with Sheikh Ahmed al-Tayeb, Grand Imam of Al-Azhar university, during a visit Friday in Cairo, where he rejected "every form of violence, vengeance and hatred carried out in the name of religion"
APP/Al-Azhar Media Centre
Labels: Christianity, Conflict, Egypt, Islam, Peace, Pope Francis