G7-Moscow Showdown
"[We -- the United States] are not going to have you [Russia] cover for this regime [Syria's Bashar al Assad] any more."




"Getting Assad out [of power in Syria] is not the only priority."




"This [advocating regime change] is something the entire international community has decided."




Nikki Haley, U.S. ambassador to the United Nations





"Russia must show the resolve necessary to bring this regime to heel. The Russians have influence in the region."




"They helped broker the original deal to put chemical weapons out of commission. This latest war crime happened on their watch..."




"By proxy Russia is responsible for every civilian death last week. If Russia wants to be absolved of responsibility for future attacks, Vladimir Putin needs to enforce commitments, to dismantle Assad's chemical weapons arsenal for good, and to get fully engaged with the United Nations peacekeeping progress."




Sir Michael Fallon, British Defence Secretary





"It has been noticeable this week that both Tillerson and Trump have said there is no future for Assad."




"One strand of what could come out of the G7 is that we say Assad has to go."




"[British Foreign Secretary Boris Johnson would be] hitting the phone] to ensure a very strong and very hard-hitting [statement over Russia's involvement in Syria receives general G7 agreement]."




British Foreign Office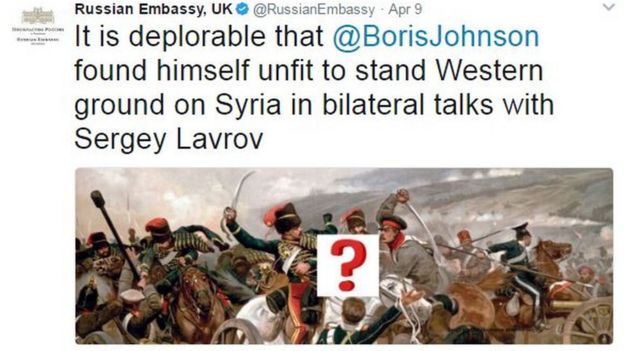 To all of which, the Russian Embassy in London, acting as a proxy for Moscow has indulged in some peculiarly Russian, but undiplomatic responses through a series of tweets provocative in the extreme. Suggesting, for example, the outcome of the situation where the G7 presumes to sit in judgement over Russian affairs could conceivably result in
"a conventional war"
as an outcome if the group of nations discussing the Syrian situation has the unmitigated gall to present the Kremlin with an ultimatum.
What a sea change in relations between Russia and the West. In a recognition at an earlier time that there was much to reach for in strengthening relations between Russia and Europe and North America, it was decided by general consensus to defuse Moscow's angst over its arms-length treatment by the West, through an invitation proffered to Vladimir Putin to join the G7 and it became, effectively, the G8.
When President Putin decided in his great wisdom to secure the Crimean Peninsula back into Russia's possession through an internationally illegal and most unneighbourly military grab, the other members of the G7 -- Canada, France, Germany, Italy, Japan, Britain and the United States -- concluded that the annexation of Crimea merited the disinvitation of Vladimir Putin's presence among the G7 nations. That snub did not endear the G7 to Mr. Putin.
The Russian Embassy also tweeted how "deplorable" it was that Mr. Johnson was
"unable to stand Western ground"
to attend scheduled talks with his Russian counterpart, and instead chose to cancel his appointed trip to Moscow. The Embassy was responding as much to Michael Fallon's warning that Russia itself is responsible for the deaths by sarin gassing of Syrian civilians "by proxy".
Not that Mr. Johnson will not attend to meeting Russian cabinet ministers and diplomats in Moscow at some time, just that he deferred his trip, preferring, after consultation with the American Secretary of State to give him the lead. Mr. Johnson is attending the G7 foreign ministers meeting in Italy where a consensus to demand President Putin pull his troops out of Syria and set Syrian President Bashar al-Assad loose of Russian aid is expected to result.
Both Mr. Tillerson and his colleague Hikki Haley have presented the world with a Trump administration turnabout, from their relaxed attitude about Assad remaining as president of a destroyed Syria, to a new attitude of hardline rejection of his continued presence as president of a country he has destroyed. Now, the American attitude is that Assad must go, Iranian influence must be resisted, and a political peaceful settlement of the civil war must be an achievable goal.
And above and beyond all that, Islamic State of Iraq and the Levant must be destroyed. That may be the priority issue, but the other is not far behind. To which the Russian Embassy was pleased to respond that should their president be presented with a withdrawal ultimatum the end result will be either a
"war of clowns, war of muses, a conventional war or a mix of the above"
.
One can only hope that the Islamic Republic of Iran is viewing all of this with some measure of concern; they may, after all, be close to next on the new U.S. agenda of dealing with the world's major supporters of terrorism; cleaning up Islamic State could be followed by a clean sweep of Hezbollah and the Iranian Republic Guard Corps. One can only hope....
Labels: Britain, Chemical Weapons, Conflict, G7, Russia, Syria, United States