Overlooking Human Rights Inconveniences
"[She] set out the sort of depth of expertise that there is in London and the U.K. in terms of financial services."




"[Also emphasizing] the depth of investment opportunities that there are in the U.K."




British Prime Minister Theresa May's Office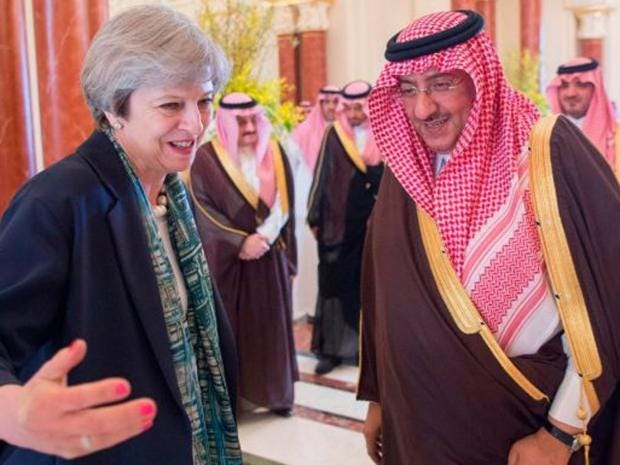 Theresa May with Saudi Crown Prince Muhammad bin Nayef in Riyadh on Wednesday
"It's important for me as a woman leader and as leader of the Government of the United Kingdom to maintain the relationships that are important to us as a country, for our security, and our trade for the future."
"But I hope also that people [women in Saudi Arabia] see me as a woman leader, will see what women can achieve and how women can be in significant positions."
British Prime Minister Theresa May
Britain's Prime Minister has uppermost in mind how she can convincingly charm Saudi royalty in the Kingdom of Saudi Arabia to look favourably upon the London Stock Exchange at a time when Riyadh is in the throes of raising cash through international markets, listing shares of Aramco, the largest oil producing company in the world. The country's economy has come on hard times with lower oil prices, at a time when it continues to have many extremely large expenses.
The Kingdom ranks as the world's third largest spender on military hardware. It buys billions' worth of military hardware from the United Kingdom alone, and British arms manufacturers have reason to be grateful, and they are. Saudi Arabia happens also to be Britain's largest Mideast trading partner. Britain exported 6.5-billion pounds-worth of its goods and services to Saudi Arabia in 2015. And the prospect of even more Saudi money coming its way is reason enough for Mrs. May to ingratiate herself with the Kingdom's royal family.
Because Saudi Arabia plans to list five percent of Aramco on its own stock exchange and is looking about for an international venue, Britain is hoping that the London Stock Exchange will be viewed favourably for that choice in Saudi Arabia's search for an international exchange. The Prime Minister was moved to explain in detail how advantageous it would be for Saudi Arabia to list in the United Kingdom, and at her side was the CEO of the London Stock Exchange.
There's always something amiss, to rain on an enterprising nation's parade of self-exaltation, and in the U.K. it's the Campaign Against Arms Trade, which claims its government has licensed over 3.3 billion pounds' worth of arms to Saudi Arabia in the past two years, since Saudi Arabia alongside its coalition initiated a campaign of bombing against Houthi rebels in neighbouring Yemen.
The little matter of the humanitarian crisis that has since emerged in a country like Yemen known to be desperately poor, where 82 percent of the population -- around 21 million people -- are in desperate straits, urgently requiring humanitarian assistance, does not reflect all that nicely on Britain choosing arms profits over the morality of providing the tools to kill thousands of civilians, wounding many thousands more.
But rest assured, Mrs. May took the time to politely, no doubt quite discreetly, discuss the humanitarian crisis in Yemen during her meeting with King Salman. For her efforts she was presented with the Order of King Abdulaziz, the founder of Saudi Arabia, King Salman's father, a distinction meted out to former U.S. President Barack Obama as well.
This, no doubt, for overlooking the inconvenient fact that the Kingdom has exported its viral strain of fundamentalist Islamist Wahhabism worldwide, giving rise to such distinguished violent jihadi groups as al-Qaeda and Islamic State, among others.
Much is being made of Prime Minister May's decision to eschew the obligatory head scarf in her meeting with Saudi Royalty. In this way demonstrating to oppressed Saudi women that gender does not stand in the way of achieving greatness. Of course, wherever Mrs. May met with the Saudi royals she took great care to cover herself modestly, wearing voluminous coats to cover any dress that might have appeared too suggestively feminine.
Saudi Arabia's King Salman presents British Prime Minister Theresa May with the Order of King Abdulaziz in the capital Riyadh on Wednesday. Bandar al_Jaloub AFP / Getty Images
Labels: Conflict, Human Rights, Oil Revenues, Saudi Arabia, Trade, United Kingdom, Yemen