The Addiction of Social Self-Immolation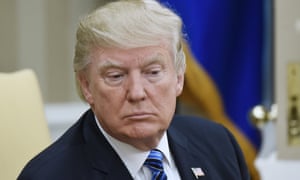 President Donald Trump, in the Oval Office of the White House. He has feuded with the Morning Joe hosts this week, who claim the White House tried to blackmail them.
Photograph: UPI/Barcroft Images
"It's a sad day for Americans when the president spends his time bullying, lying and spewing petty personal attacks instead of doing his job."




"Never imagined a day when I would think to myself, 'It is beneath my dignity to respond to the President of the United States'."




Mark Kornblau, public relations chief, MSNBC





"I heard poorly rated @Morning Joe speaks badly of me (don't watch anymore). Then how come low I.Q. Crazy Mika, along with Psycho Joe, came to Mar-a-Lago 3 nights in a row around New Year's Eve, and insisted on joining me. She was bleeding badly from a face-lift. I said no!"




U.S. President Donald J. Trump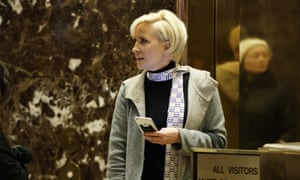 Mika Brzezinski in the lobby at Trump Tower, in November after the election.
Photograph: Evan Vucci/AP
Uncouth, nasty, venal, vain and untruthful. That's a mouthful. They are adjectives to describe a person of low morals and bordering on sociopathic in attitude and presentation. Clearly that description fits someone whose nurturance went astray as a child, who was raised in an environment less than ethical let alone moral, whose acquaintance with self-discipline and responsibility to self and to others was sadly lacking.
To match those descriptions to a crude braggart who is a threat to public decency creates no imaginative difficulties. But to a President of the United States of America? In this sad instance it's a match made in the lower regions of Hades, but it's the shoe that fits and he wears it with smug arrogance while defying the conventions of social demeanor and the universal demands of personal decency.
This is a man who automatically responds with venom to anyone who fails to admire those qualities that he so ably demonstrates. Should any criticism come his way he reflexively spouts contemptible character assassination worthy of a sixth-grader heading toward juvenile delinquency. He is coarse and never anything but unpalatable to decent people who wince each and every time he expounds on how irresistible he is to women in particular.
Those who fear him and appreciate the opportunity to fill high office in the White House present him as a man dedicated to overturning convention, a bluff, no-nonsense, business temperament who sees through artifice and challenges it. That's a fairly workable Orwellian explication worthy of an expert spinner, but the truth is the man is incorrigibly unfit to be in polite company, much less to inhabit the White House.
Reputedly his impulsive Twitter spouts represent the source of his inane and offputting commentary. But it is a habit that has become ingrained in this man to simply spout, whether verbally or through fleeting thumb keyboarding the insipid and insulting thoughts that crowd his mind, seeking release through the influence of social media to appall his critics and entertain his supporters.
A Quinnipiac University poll recently released revealed that 61 percent of responders feel their president should refrain from tweeting through his personal account. Reputedly, his aides have made efforts to persuade him to surrender Twitter entirely and forego his addiction. Perhaps a pathology, which is likely to represent what he clings to, is harder to put an effective stop to than a mere addiction.
Labels: Trump, United States