Holocaust Skeletons Rattling in Europe
"I feel personally attacked, but this is for me a much more dangerous and general problem that has to be dealt with. It's a pure and simple attack on basic academic freedoms, which we take for granted here in Canada. I'm dismayed."




"[I will not allow the] campaign of hate [to distract from revealing a piece of history]."




"What I found is huge areas of human misery that have not been reported sufficiently or never. These things are not palatable to Polish nationalists who believe in myths."




"It's [the political climate in Eastern Europe] to an extent aligned with the wishes of the Polish state, which makes it all the more, I would say, appalling [the campaign to delegitimize his research]."




"They [Poles who killed Jews during the Holocaust years] were realizing their own dream of a Jew-free Poland."




"At the same time, they were very ardent opponents of the German occupation. Nothing is simple here."




Professor Jan Grabowski, historian, University of Ottawa
Prof. Jan Grabowski is seen in his office at the University of Ottawa on Thursday, May 21, 2015. The history professor has received death threats for his work on the Holocaust in Poland.
(Jan Grabowski/The Canadian Press)
"He falsifies the history of Poland, proclaiming the thesis that Poles are complicit in the extermination of Jews."




"Grabowski fails to adhere to the fundamental rules of researchers' credibility. He uses vivid and exaggerated statements to create propagandistic constructions, rather than to provide an honest picture."




Polish League Against Defamation
German and Polish police, Poland, 1943.
Yulia Krasnodembsky, from 'Hunt for the Jews.
"The current attack on Professor Grabowsky by the Polish League Against Defamation, as in a recent public letter signed by more than 100 academics who have no expertise in the subject, is baseless, putting forth a distorted and whitewashed version of the history of Poland during the Holocaust era."




"We are confident that your university [University of Ottawa], which is a bastion of learning and freedom of scholarly inquiry, will give its full support to Professor Grabowski against those who seek to besmirch his reputation and curtail his work, and by extension, ours as well."




"[Professor Grabowski is a scholar of] impeccable personal and professional integrity."




International Holocaust scholars
The Government of Poland is very sensitive about the fact that so many of the most efficient death camps like Chelmno, Belzec, Sobibor, Treblinka, Auschwitz-Birkenau and Majdanek were located by Nazi Germany in Polish territory. Their establishment as extermination camps in Poland was quite deliberate, with the knowledge that there would be few protests from among the occupied population, so many of whom approved of the Final Solution. But the government is indignant when these death camps are described as "Polish", issuing swift corrections to label them as "German"; simply placed in Poland.
It is indisputable, because it is in the historical record that after the liberation of the death camps, releasing Jewish survivors who had by some miracle of fate escaped death for their value as death camp slaves and because the extermination machinery of the gas chambers and ovens could only process so many at a time, that not much compassion could be found in the Polish population for Jews.
Those Jews incautious enough to return to their home villages to reclaim their property soon discovered that the Poles who had taken possession of that property would not release them to the proper owners. Not only was there a stony reception at the reappearance of former Jewish villagers but violence was directed against them and the aura of deadly hostility was so great that many were slaughtered by Poles furious at their return.
Professor Grabowski knows very well that Poles suffered deprivation during the Nazi occupation of Poland. He also knows of the prevalence of hatred against Jews, that pogroms were commonplace, that anti-Semitism was presented in lock-step with the German dehumanization of European Jewry. As an eminent historian he is determined to peer back into history to discern details that Poland would much prefer to obscure and bury.
He is, however, determined to unearth and reveal for posterity's sake, all the ugly scars on the face of humanity that took place in Poland during the Holocaust years. Through the 25 years he has devoted to studying the Holocaust years in Poland he has concluded from what he has discovered that many Poles were not forced to collaborate with the Nazis. Rather they chose to kill Jews because to do so expressed their deep hatred for these, their fellow Poles.
Formerly, his work in uncovering these inconvenient historical realities had garnered the attention of Polish groups in Poland. What's new, he says, is that the campaign to discredit his professionalism has been imported to Canada. The Polish League Against Defamation has written two collective letters to the University of Ottawa denouncing the quality and veracity of his scholarship. He is being unmercifully hounded in his place of residence and his place of academic scholarship by foreign sources.
His publication
Hunt for the Jews: Betrayal and Murder in German-Occupied Poland
was awarded the Yad Vashem International Book Prize in 2014, appalling the league which named it "disturbing". One of the two letters sent to the University of Ottawa, had 130 Polish scholars signatures, none of whom have any connection to Holocaust studies. Professor Grabowski identifies some of the league's founders as ranking members of Poland's government, or ministerial senior advisers.
An estimated 5.5-million Poles were killed during the war. Of that total three million were Jewish Poles. Poland, and its collaboration with the Nazi regime is not alone. Other Eastern European and Western European countries also occupied by Nazi Germany saw fit to aid the Third Reich in its plan to destroy European Jewry, from Lithuania to France.
Canada's current Minister of Foreign (Global) Affairs has an unsavoury link in her own background as an ethnic Ukraine. Her Ukrainian grandfather, situated in Poland throughout the war years, operated a Ukrainian news outlet in complete collaboration with and support of the Nazis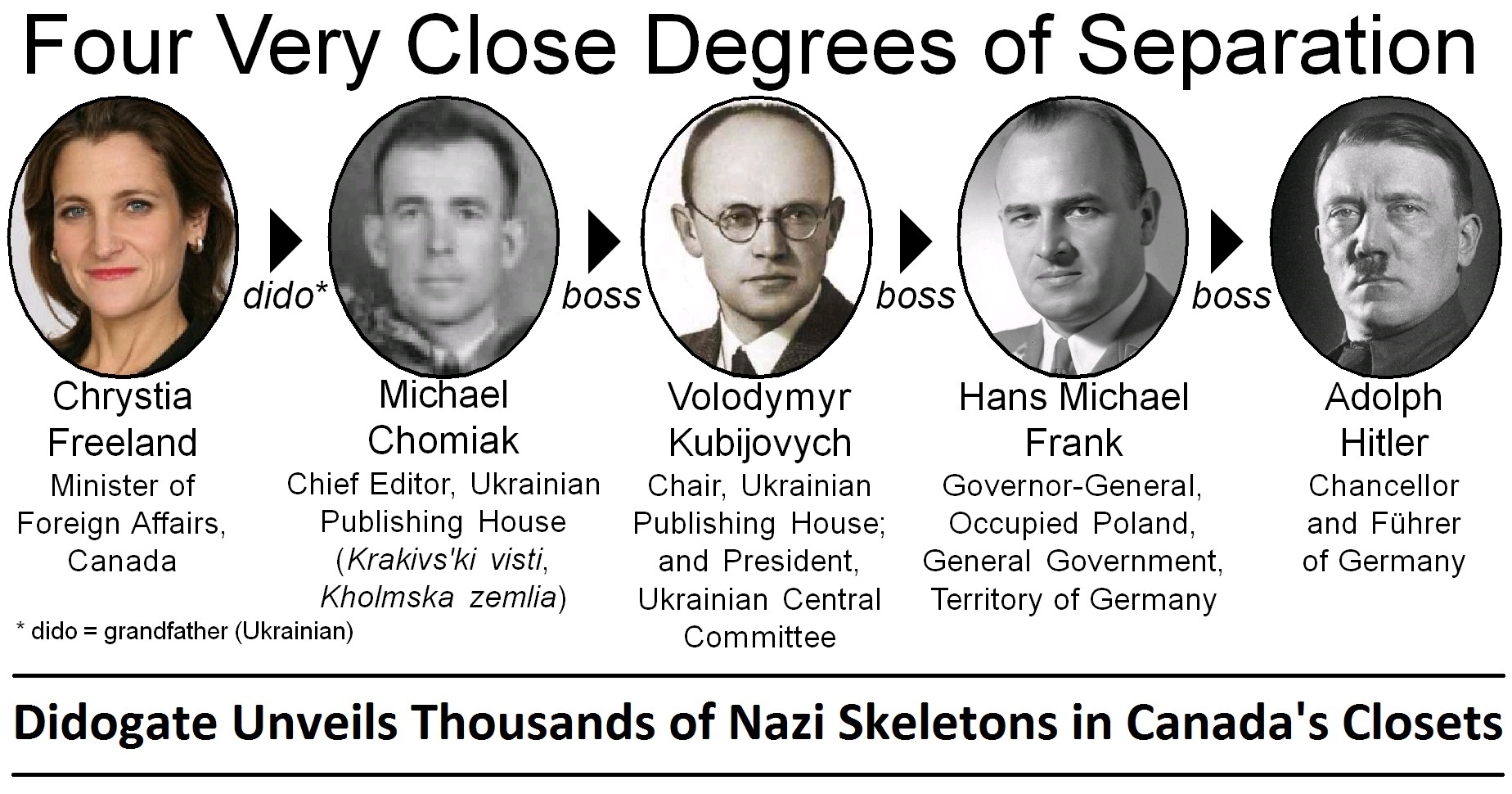 Labels: Academia, Anti-Semitism, Canada, Holocaust, Poland, World War II