Meeting His Match
"When Putin and Merkel meet, they sometimes speak in German (he's better in her language than she is in his), and Putin corrects his own interpreter to let Merkel know that nothing is lost on him,"




"Putin's brand of macho elicits in Merkel a kind of scientific empathy."




"Later, Merkel interpreted Putin's behavior. 'I understand why he has to do this — to prove he's a man,' she told a group of reporters. 'He's afraid of his own weakness. Russia has nothing, no successful politics or economy. All they have is this'."


George Packer of The New Yorker



"German Chancellor Angela Merkel predicted a drawn-out confrontation with Moscow. Breaking from her normally subdued political style, she even invoked the worst years of the 20th century in describing the West's conflict with Russia over Ukraine. 'After the horrors of two world wars and the end of the Cold War, this challenges the peaceful order in Europe', she said, referring to what she called Putin's 'old-thinking' view of Eastern Europe as Russia's stomping ground. 'I am convinced this won't succeed', she said. In the end, the West would win out against the challenge emanating from Russia, 'even if the path will be long and hard and full of setbacks', Merkel told a conference in Brisbane, Australia."




"It was in many ways the low point for Putin's deepening estrangement from the West. During the G20 summit of world leaders held in Brisbane over the weekend, the Russian leader was broadly ostracized by the most powerful figures at the table, and some of them were far less diplomatic toward Putin than Merkel has been. In greeting Putin on Saturday, Canadian Prime Minister Stephen Harper reportedly said, 'I guess I'll shake your hand, but I have only one thing to say to you: you need to get out of Ukraine'."


Time magazine, November 17, 2014
German Chancellor Angela Merkel talks to Russia's President Vladimir Putin at the start of the first working session of the G20 meeting in Hamburg, northern Germany, on July 7.

(Photo: PHILIPPE WOJAZER, AFP/Getty Images)
"We know what you are doing and you will not succeed. We do not want to return to the Cold War, or to be in a state of perpetual confrontation."




"It is Russia's actions which threaten the international order on which we all depend. Russia's illegal annexation of Crimea was the first time since the Second World War that one sovereign nation has forcibly taken territory from another in Europe. Since then, Russia has fomented conflict in the Donbas, repeatedly violated the national airspace of several European countries, and mounted a sustained campaign of cyber espionage and disruption."




"We know what you are doing. And you will not succeed. Because you underestimate the resilience of our democracies, the enduring attraction of free and open societies, and the commitment of Western nations to the alliances that bind us."




"The U.K. will do what is necessary to protect ourselves, and work with our allies to do likewise. Choose a different path [and help promote] international stability [by working with other Western nations, not against them]."




British Prime Minister Theresa May
Russian President Vladimir Putin has been the globe's notorious bad boy, drawing attention to his disregard for international norms, his contempt for what he regards as weak responses to situations requiring mediation, and his intervention in conflicts supporting the faction viewed by the West in black, bleak terms of murderous totalitarianism. His threats, implied and surreptitiously carried out despite evidence linking him to shameful exploits against the sovereignty of other nations have earned him and Russia sanctions he deplores as un-useful and discriminatory.
He is intransigent and arrogant, proud to display the Russian military's build-up of military arms reflecting technological advances in missile deployment. He and his regime have orchestrated malicious cyberwarfare events, shutting down critical state systems to shock and demonstrate to his neighbours what a long and dangerous reach he has. Having done so, he has reached even further, into the world of the West, beyond Europe to disrupt democratic institutions and the institution of free and fair elections, manipulating media to earn credits in voter fraud.
His aid to Syria's President Bashar al-Assad -- who without Moscow at his side had succeeded in flooding Europe with millions of Sunni Syrians desperate to escape being gassed, barrel-bombed, starvation-sieged, or arrested, tortured and slaughtered in the charnel houses his regime uses to still their civilian critics -- has been further evidence of this man's penchant for supporting the dark side of any situation involving conflict and survival.
Russia's return to prominence in the Middle East, in lock-step with America's withdrawal from its preeminent position of influence and power there has helped to further the usual destabilization of mistrust, tribal animosity and sectarian violence. Wherever the man goes, whatever he involves Russia in, however the Kremlin assents to acting under his orders, chaos follows. And, it seems, there are two women in their own positions of power and concern for global welfare who alone, call him to account. Russia responds with mockery.
🇷🇺
‏
Verified account
@mfa_russia
#
UK
Prime Minister
@
theresa_may
on
@
Russia
: "We know what you are doing". We know what YOU are doing as well. Dear Theresa, we hope, one day you will try Crimean
#
Massandra
red wine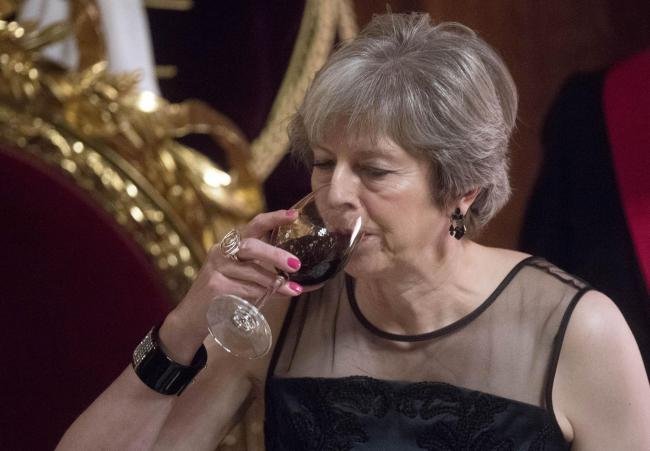 🇬🇧
🇷🇺
,
UK Parliament
,
UK Prime Minister
and
5 others
Labels: Angela Merkel, Cyber Espionage, Russia, Syria, Theresa May, Threats, Ukraine, Vladimir Putin