The Mystery of the 'Good Boy' Jihadist
"It appears that Mr. Saipov has been planning this for a number of weeks. He did this in the name of ISIS."

"He appears to have followed -- almost exactly to a T -- the instructions that ISIS has put out in its social media channels before, with instructions to their followers on how to carry out such an attack."

"What we are looking for is how has he touched the subjects of other investigations. It appears he will have some connectivity to individuals who were the subjects of investigation, though he himself was not."

John Miller, New York Police Department deputy commissioner for intelligence and counterterrorism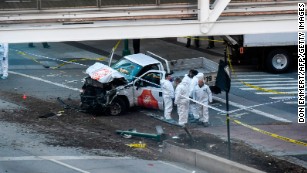 CNN
A man who had lucked in with the refugee lottery system to come to live and advance his future, leaving Uzbekistan for the United States, he took advantage of employment opportunities, met his wife from among those in the Uzbek community who had migrated to the U.S., had three children with her, was able to buy a home of their own in a solid middle-class neighbourhood, and was lauded by all who knew him as a very nice young man who could not possibly have committed the act of terrorism he has been charged with.
By his own account, however, he has been plotting just such a vicious attack against innocent people for the past year. Inspired by videos he downloaded to his cellphone which appeared to mesmerize him with their Islamic State message, he resolved to muster the 'courage' to surrender himself to martyrdom and in the process kill as many people as he could manage using the lethal weapon of a rented truck. A truck rental so commonly seen as not to arouse suspicion. Even though he had to struggle with the impulse to fly the black ISIL flag from it.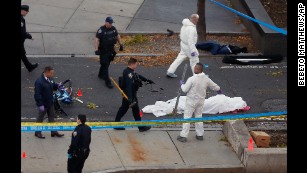 CNN
The same flag that he insisted he had the right to put up in the hospital room he was placed in, being treated for the gunshot wound to his abdomen, sustained after he had mowed down and killed eight people and seriously wounded another twelve. Having done which, he wasn't shy in informing prosecutors that the successful attack made his day, he "felt good" about having committed himself to the Koranic injunction to the faithful to engage in jihad.
Sayfullo Saipov, inspired by Islamic State videos, meant to ensure that his plans culminated in success, urged as he and all would-be ISIL types were to mount their attacks in crowded public spaces. Halloween, just perfect, a popular local and tourist attraction, where people would be most relaxed and vulnerable, riding bicycles on a bike path; made to order. Horrified onlookers watched with incredulity as the man sped toward his targets. Police responded expeditiously. But there was nothing that could have prevented the carnage.
Motor vehicles are now the weapon of choice, alongside knives, and he had both. Along with an Arabic note celebrating Islamic State and quoting Islamic scripture appropriate to his brave enterprise in the name of Allah. The name of Allah was invoked, of course, dedicating his enterprise to the most holy: "Allahu Akbar!" Israel knows all about vehicular homicide and flashing knives targeting its population, and warned the world that what starts in Israel spreads its deadly venom elsewhere.
Germany, Britain, France and now the United States have acquired latterly a fairly good idea of what Israel has been grappling with. Unsurprisingly all of those countries have absorbed a very large number of Muslims, many of whom approve of such violence targeting the deserving West. Just as in the other instances of raging jihadist massacres, this man drove the truck at high speed over a kilometre along the bike path to mow down cyclists and pedestrians, finally crashing into a school bus.
According to another truck driver from Uzbekistan living in the United States, his former acquaintance was argumentative, and
"not happy with his life"
. Mirrakhmat Muminov described a man whose luck was on the down slope; losing employment, losing his vehicle insurance, picking up traffic tickets, his truck engine needing expensive repairs. Mr. Muminov spoke of a man with a propensity to argue with friends and family.
"He had the habit of disagreeing with everybody."
"Sayfullo was a very kind boy at school"
, explained a former classmate in Uzbekistan who also moved to the United States.
"I don't remember him being aggressive, or having bad attitude with others. Overall, I remember him positive."
"He is not the kind of boy to hurt people, not the kind to kill people",
said another person, a former neighbour from the Uzbek community. Clearly a man with a split personality.