CIA Mission Afghanistan: "Hunt and Kill"
"We can't perform our mission if we're not aggressive."




"This is unforgiving, relentless. You pick the word. Every minute, we have to be focused on crushing our enemies."




"President [Trump] has made it very clear. We are going to do everything we can … to bring the Taliban to the negotiating table in Afghanistan with the Taliban having zero hope that they can win this thing on the battlefield."




"I think, history would indicate that high expectations for the Pakistanis' willingness to help us in the fight against radical Islamic terrorism, should be set at a very low level."




"Our intelligence would indicate the same, that is, I think, we should have a very real conversation with them about what it is that they are doing and what it is that they could do and about the American expectations for how they would behave."




Mike Pompeo, director, CIA





"The killers need to know they have nowhere to hide, that no place is beyond the reach of American might and American arms."




"Retribution will be fast and powerful."




U.S. President Donald Trump





"The American people don't mind if there are CIA teams waging a covert war there."




"They mind if there's 50,000 U.S. troops there."




Ken Stiles, former agency counterterrorism officer





"The expansion reflects the CIA's assertive role under its new director, Mike Pompeo, to combat insurgents around the world."

"The agency is already poised to broaden its program of covert drone strikes into Afghanistan; it had largely been centered on the tribal regions of Pakistan, with occasional strikes in Syria and Yemen."


The New York Times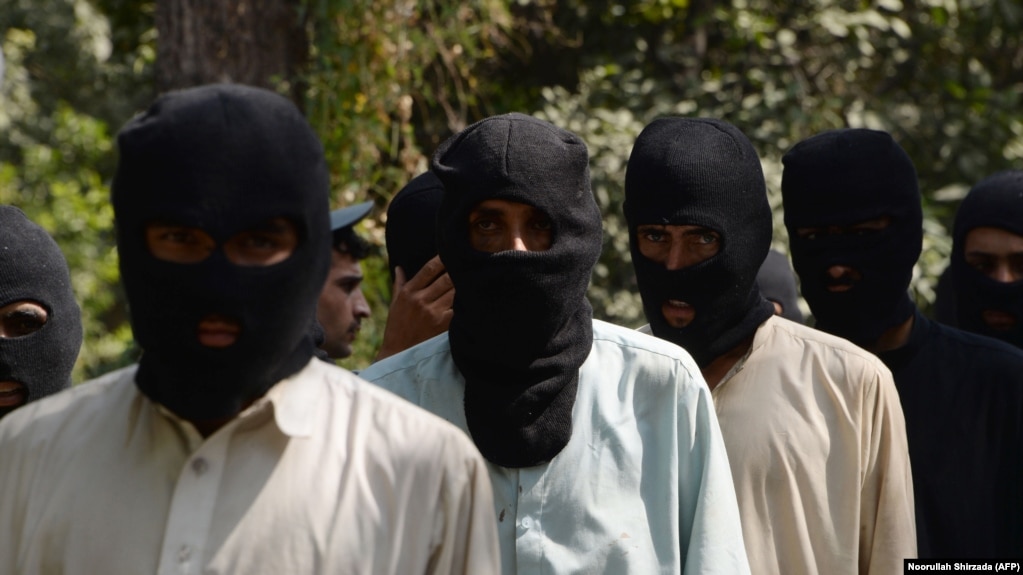 Alleged fighters for the Islamic State and Taliban
The plan is set to send small teams of elite experienced officers with the CIA and their contractors to work alongside Afghan forces in a new strategy geared to meet the challenge of guerrilla-type asymmetrical warfare. In essence, to beat the jihadi Islamist groups at their own game. Covert operations meant to echo the very same types of strategy used by the Taliban, by al-Qaeda, by Islamic State in Afghanistan. To meet their attacks which have been so successful in scoring mass casualties with those of the CIA with its more technologically advanced equipment augmented by the experience of special forces.
The hunt and kill strategy to destroy the Taliban, to offset their successes in exploding massive truck bombs even in supposedly secure areas of the country, targeting Afghan police and military along with government agencies; their success a hugely demoralizing series of events. Evidently the corruption permeating Afghan society, government, police and military is viewed as an insignificant detail. As is the penchant for Afghan members of the military to simply abandon their posts, including those given special military training by U.S. military experts.
While the CIA has been active in Afghanistan, its activity has been largely focused on al-Qaeda, while also training Afghan intelligence. Conventionally CIA officials have been content to leave large-scale counterinsurgency measures to the U.S. military in recognition of its vastly greater resources and manpower. But under its new director, evidently prepared to go all out with the CIA under his watch, a new direction has been launched.
The need to battle insurgents worldwide has mitigated toward a new, assertive role for the CIA. Drone strikes are on the cusp of being broadened; moving from the tribal regions of Pakistan toward Afghanistan itself. The Taliban are being placed on notice; not only will their elite commanders be in CIA crosshairs, but the rank and file as well. And with the CIA in its newly expanded role its missions will not be reported on widely to the public.
Formerly, U.S. Special Operations troops had their work cut out in the hunt for Taliban bomb producers. More currently, alongside Afghan commando forces the situation is re-focused on territory occupied by the Taliban and Islamic State where the teams reflecting CIA personnel concentrate on hunting down threats and retaking territory. These teams will be referred to as counterterrorism pursuit teams, managed by CIA paramilitary personnel from the Special Activities Division and operatives from the National Directorate of Security representing the intelligence arm of Afghanistan.
Elite U.S. troops from the Joint Special Operations Command will be included, but the major forces will be reflected by members of the Afghan militia, trained for years by the CIA's paramilitary officers. Indigenous militias have been used by the CIA in the development of informant networks for the collection of intelligence. Afghan militias will be working together with conventional troops to call in air strikes and medical evacuations under the Pentagon's Omega program where Special Ops forces are cross-transferred to the CIA.
The irony of course is the Americans' technological advantage in weaponry and surveillance, up against the simplicity-produced bombs representing a persistent blight upon American and allied forces in Afghanistan where the Taliban and the Haqqani network produce roadside bombs (IEDs), as a weapon of choice; inexpensive, rough and effective in killing military personnel with little cost in life to the insurgents. IEDs are simple, direct and lethal.
Whereas the new CIA operation is complex, wieldy and prone to desertion by Afghan (Pashtun tribals) allies who don't appear as dedicated to defending their own territory from the (Pashtun tribals) Taliban as the U.S. and allied forces are, on their behalf.
The CIA, keen to 'hunt' and kill Taleban, is reported to be about to start flying armed drones, such as MQ‐9 Reapers, for the first time in Afghanistan.
Credit: US Air National Guard photo/Senior Airman Michael Quiboloy 2014.
Labels: Afghanistan, Al-Qaeda, CIA, Islamic State, Taliban, United States