A Profession Under Siege
"This was an attempt to take me away and turn me into a silent statistic. My worry is that the next time they come for me, it could end up in something much worse."




"The car suddenly stopped right in front of me... and it just braked in the middle of the road."




"Four guys came out - they were all armed, they had AK-47s. One of them had a pistol."




"I realized I was being abducted... and I started resisting. I started screaming and shouting and saying 'let me go, let me go'. They were saying 'shoot him if he resists' - in English - and then they said 'shoot him in his leg'."




Taha Siddiqi, bureau chief, Indian television channel WION





"It is public knowledge that the military establishment is annoyed with Taha's Twitter activity."




"What has happened is worrisome but not surprising."




Ibal Khattack, Pakistan representative for Reporters Sans Frontieres
An award-winning journalist known for his critical reporting of Pakistan's powerful military has said he narrowly avoided abduction after his taxi was stopped by armed men.
CNN
The 2014 winner of the Albert Londres Prix award, equivalent to the Pulitzer Prize, but a French award -- Taha Siddiqui -- has written articles for a number of international publications, including
The New York Times
. He is also, as it happens, hugely unpopular with the Pakistani military establishment. And that would be as a result of his frequent criticism of the powerful entity.
When he was recently stopped on January 10 by a dozen armed men in plain clothing at the airport and dragged from the cab he had taken to the airport, he was battered by them and threatened with death. While the cab driver was ordered to vacate his vehicle, Mr. Siddiqui was ordered back into it, but managed, miraculously, to leap away and into another cab whose driver took him a mere hundred meters and asked him to leave.
Meanwhile his attackers took Mr. Siddiqui's tools of the trade, his laptop, data drives, phone, passport and luggage. His major tool, Mr. Siddiqui managed to take with him to freedom as he escaped their clutches, and that was clearly his brain. Bolstered by his uncorrupted sense of justice and dedication to writing truth and reality so all would know.
Journalists and those who exhibit the reckless effrontery of criticizing he Pakistani military have for years been exposed to a game where they are viewed and then treated as the ducks during hunting season. Extrajudicial killings, torture, intimidation, disappearances, all play a vital part in the military's determination to erase the potential for public disclosure of their corrupt affairs.
The Pakistani military's Inter-Services Intelligence,
(ISI, spy agency)
stands accused by human rights investigators of responsibility for those threats and attacks against journalists. The ISI is known to have supported both the Taliban and al-Qaeda, and it has been well-infiltrated by Islamist jihadis.
According to Syed Mustafa Tanveer, the police superintendent of Islamabad, the incident of the attempted abduction of Mr. Siddiqui is under investigation. One unofficial military spokesman speaking anonymously, scoffed at the very notion that anyone could, as Mr. Siddiqui claimed he did, escape an attack by security agents.
Mr. Siddiqui described the siutation that once he reached a police station he asked the investigating officer to inform him as soon as anyone was arrested.
"When I said that, he just looked right at me and laughed out loud. Right to my face"
, said Mr. Siddiqui.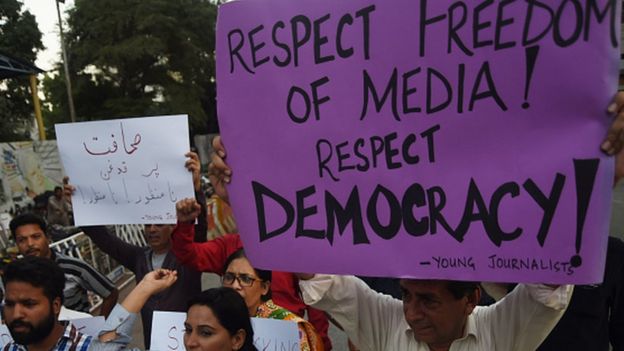 Labels: Islamism, Journalists, Pakistan, Threats, Violence