Whoops! Another Shithole Country! We See You, Pakistan!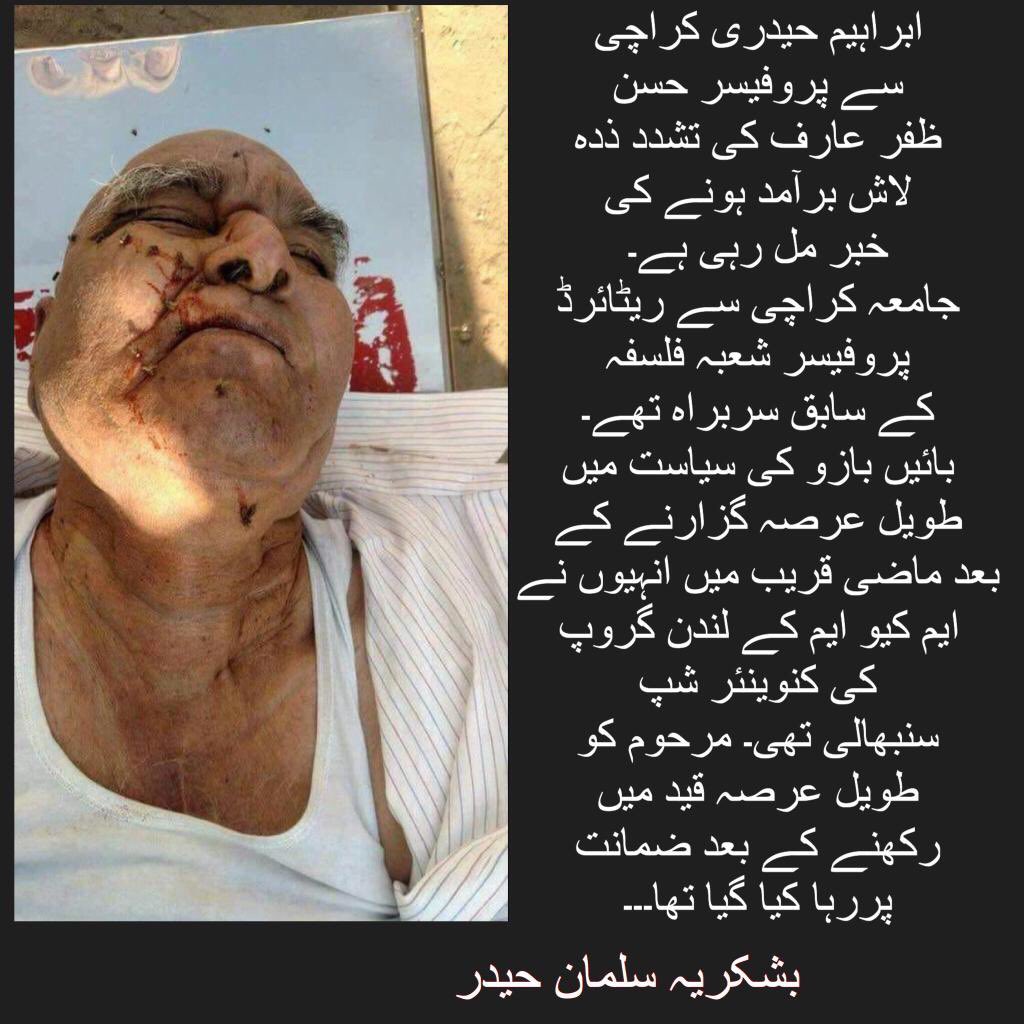 ਤਾਰੇਕ ਫਤਹ Retweeted



This is how the Mullah-Military Mafia of #Pakistan silences its political critics. Look at the battered and bruised body of Prof. #HasanZafarArif, a leader of the @OfficialMQM who disappeared & was later found on the back seat of his abandoned car with torture marks all over
ਤਾਰੇਕ ਫਤਹ Retweeted


I hate to share videos of dead bodies on social media, but since authorities in Sindh claim that Dr Hasan Zafar Arif's body did not bear any mark of tortures, I'm constrained to take exception to standard rules (this video contains pictures of his tortured dead body):

https://twitter.com/twitter/statuses/952561417185570817
If it weren't for the fact that U.S. President Donald Trump is such an unmitigated mountain troll who stumbled into Twitter and couldn't find his way out, his raw statement of resentment that the United States had become a dumping ground for migrants, expressing his annoyance through the crude language he seems to favour, sending politically correct critics into paroxysms of righteous rage, his 'shithole' characterization of the collective dysfunction of countries that barely function, where leaders prey on their own populations and misery is indiscriminate would be seen as accurate enough.
His undiplomatic choice of words has offended the polite, courteous world at large. That same world that knows very well indeed that many African countries generally, and Middle East and South Asian nations function with a degree of corruption. persecution and brutality that designates them quite accurately as 'shithole' countries. If the same amount of outrage were expended on Syria, Pakistan, Afghanistan, Iran, Turkey, Nigeria, Democratic Republic of Congo, Rwanda, Somalia to name but a few, for the human misery and torment they impose on their own, the United Nations would condemn them as the shitholes they are.
In Pakistan, police fired live ammunition at a stone-throwing mob in Kasur, in eastern Punjab province enraged over the rape and murder of a eight-year-old girl who had been abducted in the absence of her parents who happened to be on a pilgrimage in Saudi Arabia. The little girl had been en route to a home near her own, to study the Koran when she was abducted.
"We will not bury our daughter until her killers are arrested"
declared her father, Ameen Ansari. Will that restore honour to the family, more precious than the life of a child?
On social media, condemnation against the government for failing to arrest the criminals involved in this tragic atrocity that followed the sexual assault of six other little girls in recent months, enraged people who attacked the police station in the area. Two people were killed while protesting. Police were shooting directly at the protesters. A hugely respected cleric Tahir-ul-Qadri at the little girl's funeral blamed the chief minister of Punjab for failing to
"protect lives and honour of innocent girls"
in the province.
"Honour"? These Islam-obsessed people, backward and ignorant, are rankled about
honour
. The bestial attack on children abhorred, but coming second place to honour? All the requisite hallmarks of a shithole country. One that denies it tortures its prisoners, then sends their corpses back to their families for burial. On the way to his assignment with Death, the professor whose activities in a political party the regime opposes appears to have himself been abducted, tortured, his body left to be discovered in the back seat of his car.
"The body was found from the back seat of the car even though he was driving and Ibrahim Hyderi was not even in his route."




"We started looking for him after he did not return home till late night and his cellphone was also switched off."




Qamar Arif, deceased's brother
"Prof Arif, a man of principle, was a harmless personality. He wanted due rights for the poor class, including Muhajirs."




"He was abducted on December 9, and for 24 hours yesterday, law enforcers kept him in illegal confinement and then killed him extra-judicially just because he was a supporter and representative of Altaf Hussain."




Syed Qasim Ali Raza, head, MQM-L (Muttahida Qaumi Movement) international secretariat
The Pakistan government's surrender to demands of an Islamic extremist group jeopardizes the last chances for Christian mother Aasiya Noreen (Asia Bibi) to overturn her death sentence for "blasphemy," sources said.
Christians in Pakistan suffer grave discrimination. Charges of blasphemy against Islam are grounds for incarceration and death. Those who defend Christians are themselves susceptible to deadly attacks by Islamist fundamentalists in Pakistan. Pakistan, the neighbour to Afghanistan, which has supported the Taliban, arming them and inciting them to violent attacks to destabilize their neighbour. Pakistan's relations with India are corrosive and deadly, sending Islamist terrorists on missions to commit atrocities in India and in disputed Kashmir.
Pakistan, where Osama bin Laden found helpful haven in Abbottabad, adjacent a Pakistani military officers' compound. Pakistan, which arrested and charged with treason, a medical doctor who owned the house next to the bin Laden compound, because he cooperated with the U.S. CIA before the Navy Seals launched their mission to take al-Qaeda's chief out of commission.
Pakistan qualifies as an absolute shithole of a country; the pretense that it was an ally in the war against terror and took billions from the U.S. Treasury based on that premise is enough to make any sane man lose his mind
(even someone like Trump afflicted with a scrambled mind to begin with)
and use inflamed language to describe a country for just what it is.
Labels: Brutality, Conflict, Corruption, Islamofascism, Pakistan