Fighting Extremism? Simple Solution: Fighting
"The biggest things these extremists get from it [Islamist jihad] is community. They treat each other with love and they hate everybody else."




"I can't lose my Spartan warrior reputation. That is my legitimacy in the prisons."




"From Ali's point of view, 'This is one of the guys I have been preaching to kill for years'."




Usman Raja, pioneer, mixed martial arts fighting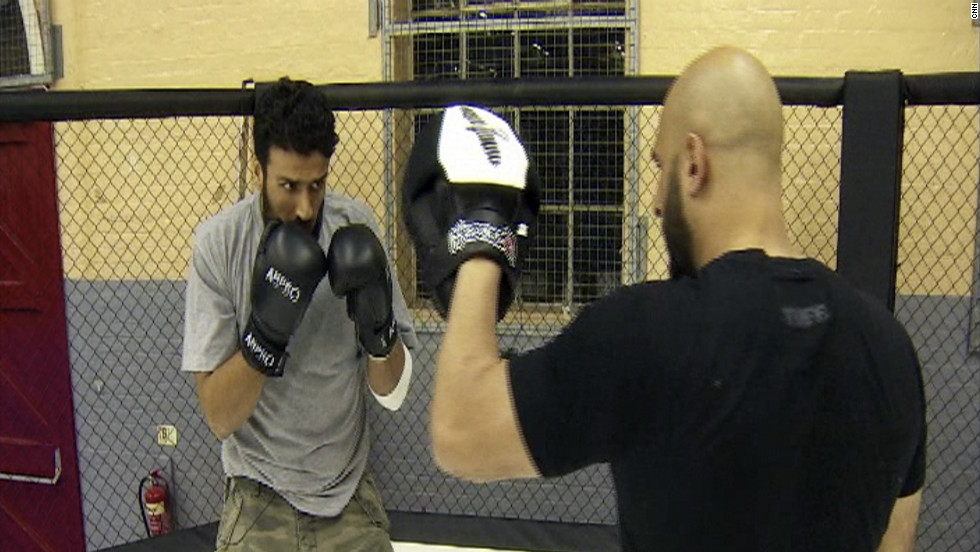 Usman Raja, (right), whose mix of martial arts and theology is deradicalizing convicted terrorists like Abu Bakr Mansha (left)
"That is where the mixed martial arts come in. It gives him street cred, and a starting point to have some of these conversations [with young men at 'risk']."




"Usman has taken on some of the most hard-core, extreme cases that the U.K. has to offer. And he has a very good success rate at getting them back into productive roles in society."




Douglas Weeks, radicalization expert, Unity Initiative
Mr. Raja speaks knowledgeably on the history of Islam and enjoys peppering his conversations with anecdotes about jihadists. He speaks of a former top leader of a London-based extremist group, Al Muhajiroom. That Ali Beheshti, that leader, incensed at a publisher who produced a novel about the Prophet Muhammad spent four years in Belmarsh prison for setting fire to the publisher's house. He made his point, evidently, and paid the social-justice price for his criminal act.
Mr. Raja, however, turned Mr. Beheshti's life view around evidently, meeting with him five days weekly for an entire year-and-a-half, training him in fighting, bringing him to the gym to spar with a white British soldier. The soldier was so impressed with Mr. Beheshti's acquired fighting skills that he said,
"Congratulations, we are really proud of what you are doing"
. Mr. Beheshti must be proud himself in gaining approval by the very lot he once swore to fight; volunteering now with the Unity Initiative.
The Unity Initiative is part of Mr. Raja's project, helping to reintegrate over 40 released prisoners who had been convicted of terrorism offences in Britain. Over 180 young Muslims have been counseled by Mr. Raja, referred to him by members of their own Muslim communities or by law enforcement authorities. To his knowledge, none has gone on to commit a terrorist act. Yet. Instead of arguing militants away from their convictions, Mr. Raja forms personal relationships.
Building their sense of engagement in a community, vigilant to determine when and whether the ideological arguments gradually fall into disuse at a time when British militants are returning from the fields of conflict in Syria and Iraq to the United Kingdom. Mr. Raja's work has become so well known that he has been consulted by the Los Angeles Police Department and the Combating Terrorism Center at the U.S. Military Academy, for advice on how they might proceed in similar circumstances.
A Home Official official has said that Usman Raja, pictured, has an 'ability to inspire' former terrorists to re-think their old ways
Usman Raja, the son of Pakistani immigrants, became a habitue at a gym in an area dominated by the British army base in Aldershot, where he lived with his mother and his first experiences were fighting and brawling with the sons of soldiers slurring his Pakistani heritage. Soon he was making a name for himself in East London gyms. He considered joining other young British Muslims in the jihad against Bosnian Serbs who sought out his help in acquiring fighting skills.
Instead, he was influenced by a Malaysian Muslim scholar given to preaching a tolerant style of Islam and that led him to voluntary social work. Here's hoping his skillful prowess at mixed martial arts continues to impress those looking for the life-skills he purveys, and that he continues his success story turning them away from jihad-influenced violence to a type of societal-approved violence of physical skills.
Labels: Britain, Immigrants, Islam, Jihad, Sports