Assurances Fail to Reassure
"When they said 180 soldiers were coming, I thought 'whoa, why are they coming'?"




"Especially so long after everything happened."




Liz Coates, 57, Salisbury





"We are fed up being kept in the dark. Everyone is saying it's fine, but there are police everywhere and now the army."




"How can it be fine?"




David Bayfield, 76, Salisbury Family Butcher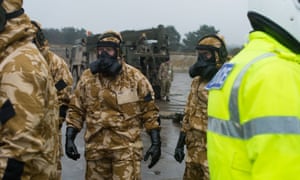 Members of the Royal Tank Regiment prepare for deployment in Salisbury city centre.
Photograph: Cpl Pete Brown/MoD/EPA
Police and members of hundreds of special troops who received training in chemical warfare have arrived in Salisbury in the wake of a deliberate targeting of a former Russian spy who operated on behalf of MI6, and his daughter with a now-identified nerve gas that has them struggling for their lives in hospital. The work of removing contaminated materials fell to specialists from the RAF and Royal Marines, forwarding the materials to a nearby defence laboratory.
Sergei Skripal and his daughter Yulia, 66 and 32, have survived the attempted assassination. But the deadly agent used on them has claimed another victim whose condition is serious as he is tended to in hospital; the contamination he has suffered considered critical to his survival just as it is to the Skripal father and daughter. Det.Sgt. Nick Bailey who was one of the first officers to go to the Skripal house is thought to have been contaminated there.
His vehicle has been impounded for further investigation. Hundreds of people in Salisbury where the chemical attack took place have been advised, because they had gone to the same pub and restaurant that the Skripals had that day, to take care to wash all the items of clothing and jewellery they were wearing that day. Investigators now seem to believe that Sergei Skripal had come in contact with the nerve agent in his own home, but the new slow-acting chemical took effect hours later.
So that everywhere the father and daughter went, they left trace amounts of the nerve agent behind them, with the result that a wide area was contaminated, leaving people who had also been in those same places vulnerable to contamination. The British government is awaiting laboratory results on examination of what is thought to be a a new strain of nerve agent. At which time should the analysis definitively point to Russian involvement sanctions would be announced.
The public is less than reassured on being told there is no threat to public health, while at the same time they see hundreds of specialized troops converging on the area, with agents of the Falcon Squadron, Royal Tank Regiment in full contamination gear, head masks included. Even as they are themselves informed to take careful measures to cleanse their belongings in case of contamination, they are being informed no danger exists to public health; they can be forgiven their skepticism.
Police in full chemical protection suits were stationed at the Salisbury cemetery where Skripal's wife and son's ashes are buried, and where the father and daughter had placed flowers and other objects at the graves on Sunday. Both the mother and the son had died under suspicious circumstances, now leading investigators to the theory that they too may have been targeted in an apparently new plan conceived by the Kremlin to warn anyone contemplating betraying Russian interests of what may lay in store for them.
"It's a very challenging investigation. It's obviously a very challenging environment to work in."




"And I guess these very vivid images that people are seeing just reminds people of what our first responders, what our forensics people, what our investigators do and may find themselves doing, and the professionalism and courage that takes."




Met commissioner, Cressida Dick
Military personnel wearing protective suits continue investigations into the poisoning of Sergei Skripal in Salisbury, England. Picture: Getty Images Source:Getty Images
Labels: Britain, Chemical Weapons, Russia