Sexual Exploitation and Threats, Bangladesh
"We want justice. Our girls must grow up safely and with dignity."




"We protest any forms of violence against women, and authorities must ensure justice."




Alisha Pradhan, Dhaka, Bangladesh
An 18-year-old student of an Islamist madrassa, Nusrat Jahan Rafi, convinced her family to agree to allow her to launch a complaint with police, that the principal of the madrassa had called her into his office and there had taken the liberty to touch her repeatedly, sexually, 'inappropriately'. Her family was prepared to assist her in the filing of her complaint with police. Police responded by arresting the principal.
When Rafi reported the assault on March 27 a video recorded the local police chief while registering her complaint, informing her that the incident was
"not a big deal"
.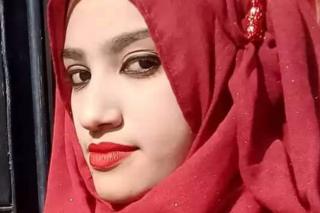 Nusrat Jahan Rafi was doused with kerosene and set on fire at her school in Bangladesh. Less than two weeks earlier, she had filed a sexual harassment complaint against her headmaster.
Family handout
The arrested principal, a man of influence, was infuriated as were his supporters while influential local politicians gave their support to the man. 17 people were eventually arrested as the complaint resulted in a lethal vengeance attack. Interrogations revealed that the principal while in prison ordered that Rafi be attacked, an attack that should take place during the day, with an effort made to make it appear as though she had committed suicide.
Her family informed Human Rights Watch that they had received death threats warning them to drop the case against the principal. Rafi informed her family she had been lured to the roof of her school in the town of Feni on April 6, and there she was ordered by five people wearing burqas to withdraw sexual harassment charges against the principal. She refused. Her hands were tied. She was doused in kerosene and set afire.
She spoke to her brother while in an ambulance on the way to hospital. He recorded her testimony on his mobile phone. Four days later in a Dhaka hospital, the burns covering 80 percent of her body took her life. A violence that has moved Bangladesh to protests, with concerns over the plight of women and girls in a Muslim nation of 160 million people.
Sexual harassment and violence more frequently go unreported. Victims of sexual violence are intimidated. The legal process they are subjected to in their attempts to seek justice is lengthy and not guaranteed to bring justice. The police chief who registered Rafi's complaint was later removed for negligence in her case. In most instances social stigma restrains women from lodging complaints.
Rafi's family met in Dhaka with Prime Minister Sheikh Hassina who promised that those responsible for her daughter's death would be punished. It no doubt helped that tens of thousands of people attended Rafi's funeral prayers in Feni. According to Banaj Kumar Majunder, head of the Police Bureau of Investigation, the 17 people arrested in connection with the case included ruling party members.
Labels: Bangladesh, Female Subjugation, Islamism, Murder, Sexual Predation