The Scourge of Its Evil Resurgence
"There's an ideological pattern that is common."




The world is seen as in a bad shape, and what hinders it becoming a better place are the Jews."




Gunther Jikelo, expert on European anti-Semitism, Indiana University





"Today, mainstream European and North American politicians, even presidents, premiers and prime ministers, don't hesitate to flirt with or embrace overtly anti-Semitic messages and memes."




David Nirenberg, dean, Divinity School, University of Chicago





"Globalization and especially the crisis of 2008 have strenghtened a feeling of being at the mercy of mechanisms that we do not understand, let alone control."




"From there it is only a small step to classical conspiracy theories, which have always formed the core of anti-Semitism."




Stefanie Schuler-Springorum, head, Center for anti-Semitism Research, Berlin





"The crisis surrounds Hussein Al-Taee, a new member of parliament from the Social Democratic Party (SDP), which won a narrow victory in the April 14 elections."




"A few days after the Finnish elections, Al-Taee, the son of the governor of Najaf in Iraq and a pro-Iranian regime advocate, was exposed for having spent eight years posting anti-Semitic, anti-American and homophobic comments on Facebook. For four of these years, Al-Taee served as an adviser on Middle Eastern affairs to the Crisis Management Initiative (CMI), a state-run conflict-resolution firm founded by the former Finnish President Martti Ahtisaari, and currently headed by former Finnish Prime Minister Alexander Stubb."




"Al-Taee's campaign had centered on his CMI credentials as someone who worked at 'bridging peace'."




"Although Stubb publicly condemned Al-Taee's hate-filled social media comments -- which included comparing Israel to ISIS and referring to Facebook founder Mark Zuckerberg as a 'Jew doing what a Jew does best: F***s up everybody to gain everything' -- he has not been asked why a pro-Iranian regime advocate was working for CMI in the first place."




Kenneth Sikorski, author of the political website TundraTabloids.com, Finland





"Omar, a Somali-American and one of two Muslim women in Congress, posted on Twitter in 2012 that 'Israel has hypnotized the world, may Allah awaken the people and help them see the evil doings of Israel.' She drew condemnation in February even from fellow Democrats after she implied that Jewish politicians in the U.S. were bought."


Gregg Re, Fox News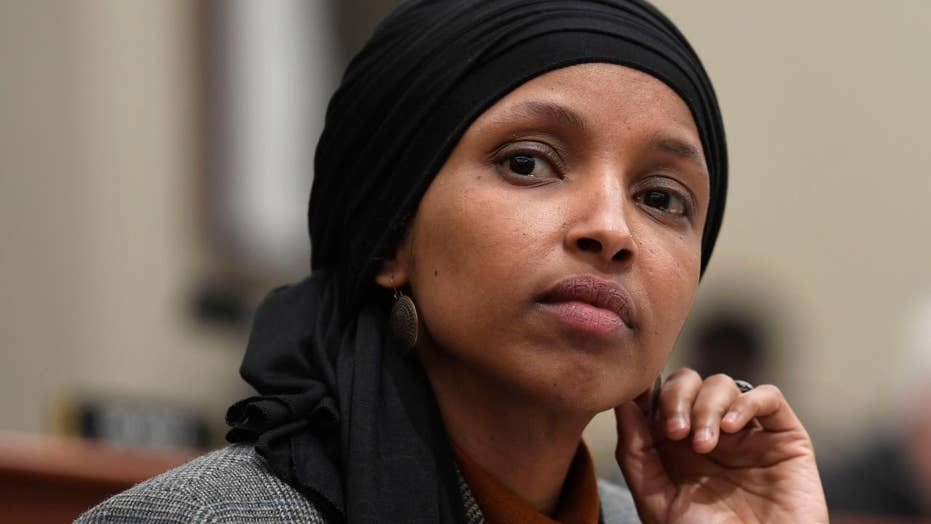 U.S. Democratic Representative, Ilhan Omar's infamous anti-Semitism
"Jewish groups gathered outside the UK Parliament to demonstrate against anti-Semitism. The Jewish Leadership Council, an umbrella organization for several Jewish groups and institutions in the UK, said that there was 'no safe space' in the Labour Party for Jewish people. 'Rightly or wrong, Jeremy Corbyn is now the figurehead for an anti-Semitic political culture, based upon an obsessive hatred of Israel, conspiracy theories and fake news', the chair of the Jewish Leadership Council, Jonathan Goldstein, said."


Vox
Vox
"My opinion on the matter has changed following the ongoing brutalization in German society. I can no longer recommend Jews wear a kippa at every time and place in Germany."




"[About 90 percent of the anti-Semitic crimes in Germany are committed by far-right activists], although there are Muslims who have been living here for a while and watch Arab channels in which a murderous image of Israel and of Jews is shown."




"Many of them [Germany's police forces] don't know what's allowed and what's not. There is a clear definition of anti-Semitism and cops should be taught it during their training,"




Felix Klein, Germany's anti-Semitism commissioner





"France has the largest Jewish population in Europe and the third largest in the world. Anti-Semitism in the country springs not only from fringe online groups but also from a long history of Jewish persecution and a contemporary anti-establishment surge. Today, Jewish historians and advocacy groups say, the far-left, the far-right, and radical Muslims—groups with few shared interests, historically—are finding common ground in anti-Semitism and the gilets jaunes. And as they do so, the language of anti-Semitism is shifting, making it particularly hard to track and filter as new laws would demand."


Jess McHugh, The New Republic
Graves vandalised with swastikas at a Jewish cemetery
(Frederick Florin/AFP/Getty Images)
Signs, signals, symbols, symptoms of anti-Semitism are rising steadily in all countries of the world. Coincidentally the world is absorbing ever greater numbers of Muslim immigrants, haven seekers, refugees from their native Muslim-majority countries bringing with them their visceral hatred of Jews and of Israel. Their presence in the millions dwarfs the Jewish historical presence throughout Europe. Muslims in the Middle East fight against the very thought of 'normalization' with a Jewish state in 'their' Islamic geography, claiming the land never was part of Jewish heritage.
And now that Germany has six million Muslims, a burgeoning population displacing indigenous Germans in many towns and cities of Germany, the 200,000 Jews living there find themselves living an uneasy existence. France, as Europe's nation with the largest Muslim demographic has become a dangerous place for Jews to remain. Threats are viral and attacks are deadly. French Muslims teeming in the banlieues where French law and order dare not venture, represent a threat to all that is European, both socially and legally.
Jewish Labour lawmakers in the United Kingdom have left their party as it becomes ever more heavily ingrained with anti-Semitism, led by Labour's Jeremy Corbin whose idea of partners for peace is Hamas and Hezbollah. Jewish cemeteries across Europe have become favourite hunting grounds for Jew-haters whose notorious actions topple gravestones or daub them with Swastikas and messages for Jews to depart countries not their own, but then Israel is not their own, either.
Anti-Semitism post-Second World War was kept under wraps. In this current age of geographic destabilization and political barking, it has lost some of its stench for those who feel entitled to hound, harass, threaten and violate the human rights of Jewish populations wherever they are. Jews are looked upon increasingly as a threat to national identity; is their loyalty to the state where they live, or is it unreservedly to Israel? A pretext for singling Jews out as unique in this respect.
At a time when Arab Sunni-majority countries in the Middle East have decided that the strongest, most militarily capable in their midst might balance the scales against the aspirations of Persian Shi'ite ambitions is worthwhile being finally accepted as a legitimate presence in the Middle East reflecting their historically ancient Judean presence, Europe and North America, long the recipient and beneficiary of diaspora Jewish professionals in every aspect of civilized and social advances have turned against their Jews.
"Sweden will host a conference of international leaders to combat antisemitism in October 2020, the country's prime minister announced on Friday."




"While the conference will likely highlight that Malmo's status as a refuge for Danish Jews fleeing Nazi occupation, as well as a home for thousands of concentration camp survivors after the war, the city has in recent years become a symbol of the antisemitism that has plagued the 20,000-strong Jewish community in Sweden. Emanating mainly from elements of the city's large Muslim population, the climate of fear in Malmo has resulted in the shrinking of its Jewish community by 50 percent."




"Lofven's presence in Malmo on Friday was the result of a controversy over antisemitism in the ranks of the ruling Social Democratic Party's youth movement."




"Members of the SSU youth league in Malmo were recorded chanting the slogan, 'Long live Palestine, crush Zionism!' at an international workers day rally on May 1."




the algemeiner
A 'Bagelstein' cafe in Paris targeted with antisemitic graffiti.
Photo: Twitter.
"The General Assembly of the Church of Scotland has voted to adopt the International Holocaust Remembrance Alliance's working definition of antisemitism."




"The move was initiated by Reverend Dr. Richard Frazer — the convener of the Church and Socity Council — who pointed out that antisemitic incidents in the UK were 'at a record high for the third year in a row'."




"The adoption of the IHRA definition, he added, would 'aid the Church in challenging antisemitism'."




the algemeiner
The Church of Scotland Offices in Edinburgh.
Photo: Kim Traynor via Wikimedia Commons.
Labels: Anti-Semitism, Europe, Islam, Israel, Middle East, Muslim Migration, North America