Facing Consequences at Home
"It's the Chernobyl of the Islamic Republic."




"The establishment has three major problems: corruption, inefficiency and inconsistency, and the plane crash once again laid bare the inefficiency and inconsistency in the system."




Saeed Leylaz, economist, former adviser to Iran reformist president Ali Mohammad Khatami





"The Iranian regime's inadvertent murder of 176 people -- most of them Iranian -- in the tragic plane accident may limit their ability to further avenge Soleimani's death."




"Iranians are tired of the cycle of violence and retribution, and are brutally aware that it is Iranian civilians who invariably pay the highest price, not the regime and not the United States."




Karim Sadjadpour, senior fellow, Middle East program, Carnegie Endowment for International Peace, Washington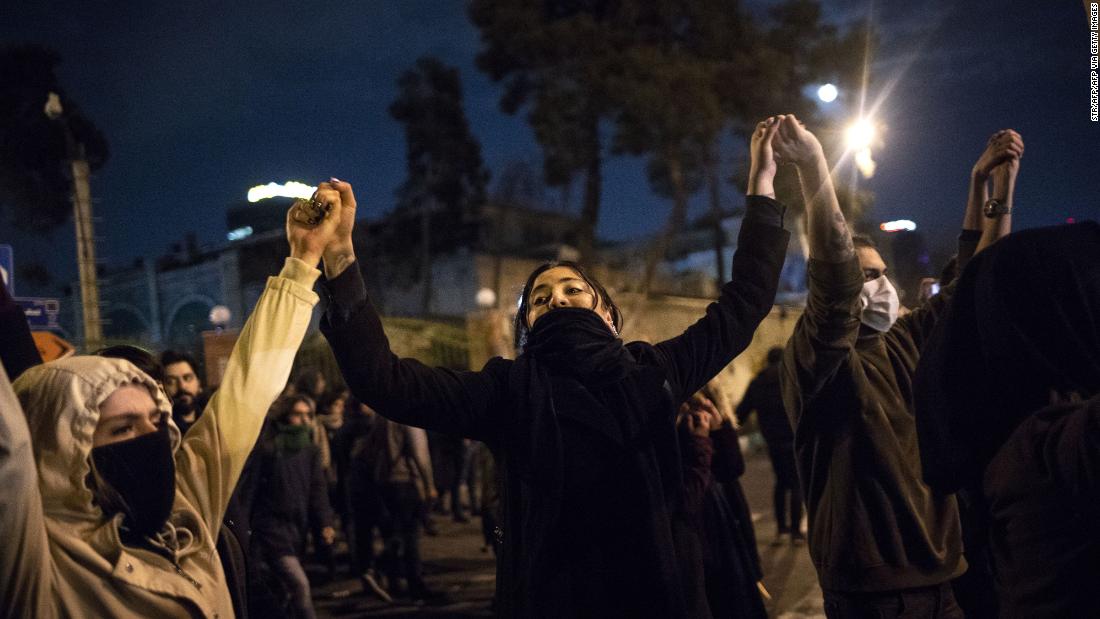 Iranians held hands during a demonstration in front of Tehran's Amir Kabir University on January 11, 2020.
Backlash from the Iranian regime's insistence that it had no part in the downing of the Ukrainian Airlines flight that killed 176 passengers and crew just minutes after take-off from Tehran International Airport on Wednesday morning has brought Iranians back to the streets of cities in the country, despite months of protests late in 2019 that cost the lives of an estimated 1,500 protesters in the ferocity of the regime's response. Iranians are simply so enraged at their government that they've set aside personal safety once again to have their voices heard.
Crowds of people assembled outside both Sharif University and Amir Kabir University of Technology where many of the victims studied; Iranian students headed for Canada on student visas. Video emerged on the Internet of students deliberately bypassing the opportunity to walk over painted American and Israeli flags on the entrances to their universities; insults that the government encourages and hoped would deflect attention from them to the nation's purported enemies.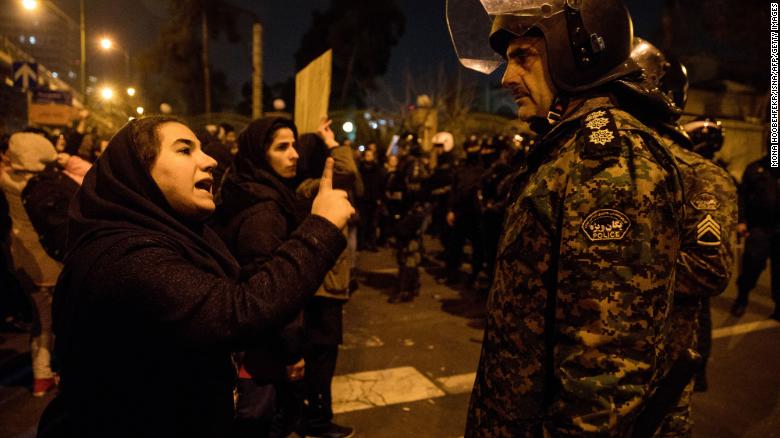 A woman attending a candlelight vigil scolds police at Amirkabir University, Tehran.
The crowds chanted anti-government slogans as protests re-emerged in Tehran, calling for the Supreme Leader Ayatollah Khamenei's ultimate sacrifice of martyrdom:
"Death to the dictator!"
Police dispersed protesters, leading to violent clashes. The U.K. ambassador to Iran present at the vigil outside Amir Kabir in mourning of students who lost their lives in the fiery crash of the shattered plane, was arrested as the tribute turned violent.
Security forces were out blocking entrances to city squares and landmarks where demonstrators intended to gather in their anti-regime force. Over 230 civilians have been killed since Iran threatened to retaliate for the death of Al Quds Force Commander Qassem Soleimani, Iran's terrorist mastermind. Any sympathy evoked among Iranians by his dispatch appears to have evaporated in the public rage over the deaths of so many other Iranians; 56 at a stampede during Soleimani's funeral, and the rest on the passenger jet.
That number, added to the 1,500 killed during late 2019 months of protests throughout Iran, puts into perspective just how much this regime cares about its citizens. Iranian media had claimed for days that up to 80 U.S. troops had died when the IRGC air defence units fired missiles at two bases in Iraq and Syria ... and then fired those same missiles at the Ukrainian airliner. The Guardian Council saw itself under intense scrutiny and pressure from public outbreaks of furious denunciation.
More reformist and competent electoral candidates for parliamentary elections set for February 21 were demanded by the public for the legislature to attain some balance between moderates and hardline conservatives. According to local media reports, however, the Council's announcement that it has completed vetting candidates, finds that the result has been the exclusion of dozens of current MPs, mostly moderates, shut out of running again.
Supreme Leader Ayatollah Ali Khamenei and President Hassan Rouhani have attempted to distance themselves from the coverup of the air crash, insisting they had discovered the true cycle of events late Friday.
"With all of my being I hang my head"
, Foreign Minister Javad Zarif said in a condolence message on Sunday, while a posting by an aide to President Rouhani warning domestic media not to report accusations by Australia, Canada and the U.K. that the airliner had been shot down shortly after takeoff, stated regrets in Koranic verse.
Everyone appears eager to proffer public apologies of remorse, having trustingly repeated lies the government pressed on them to exonerate themselves from responsibility over the shooting down of the passenger liner. Accidents, of course, can happen. And so can repercussions of unimagined ferocity when those in charge make deliberate decisions they think they can live with, then discover the difficulty of living with them after the fact.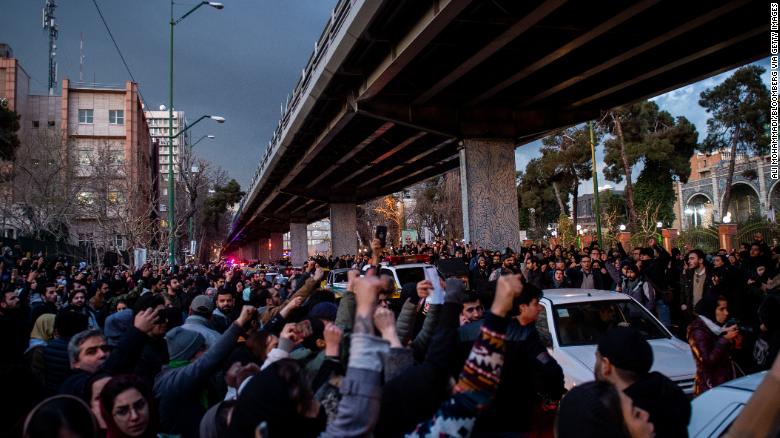 Demonstrators chant during a vigil for the victims of the Ukraine airliner crash in Tehran on January 11.
Labels: Accountability, Crisis Management, Iran, Political Realities, Protests, Ukraine Air Disaster