Resolving Antipathy
"It is likely that by carrying out such violence, anti-India elements in Pakistan may be testing the resolve of India's new government, led by [Mr.Modi], on terrorism and how he responds to such acts of violence."




Sameer Patil, national security expert, Mumbai think tank Indian Council on Global Relations
Pakistan's institutionalized hatred for India has seen its secret intelligence agency and the Pakistani military infiltrated by Islamists who conspire with fanatical jihadi groups to launch terrorist attacks against Indian interests and Indian military in disputed Kashmir, as well as in Afghanistan. While the government of Pakistan officially deplores attacks by its non-government Islamist militias against Indian targets, like the horrific atrocity perpetrated in Mumbai in 2008 that killed 166 people, it is itself responsible for the level of hatred endemic within the country.
Pakistan has for decades been involved in trying to exert its political will on Afghanistan. To that end, it has encouraged, trained and weaponized the Afghan Taliban, to foment unrest within the country and to ultimately win the administration of Afghanistan, until it was invaded by the U.S.-led NATO/United Nations forces to unseat the Taliban from power and to apprehend al-Qaeda and Osama bin Laden, honoured guests of the Taliban.
The Government of Pakistan's encouragement of the Taliban was akin to a Frankenstein story; once aroused and nurtured the monster could not be controlled, leaving Pakistan ultimately with a Taliban of its own, rivalling and battling government forces.
Over $2-billion has been invested by India in helping Afghanistan development of roads and power projects. Because India has invested time and effort and funding in the assistance of Afghanistan, post-Taliban rule, Pakistan became more invested than ever in its rivalry with India.
Islamist fanatics armed with machine guns and rocket-propelled grenades attacked the Indian consulate in Herat in Western Afghanistan, opening fire from a nearby building. The paramilitary Indo-Tibetan Border Police stationed at the consulate held off the attack until Afghan forces were able to counter the attackers, three of whom were killed in an ensuing gun battle.
The SITE Intelligence Group, monitoring extremist websites identified Ansaw al-Tawhid as having threatened India.
Although Herat may be considered one of the safer Afghan cities, in September 2013 Taliban assailants launched an assault on the American consulate there, killing four Afghans. Many foreign embassies and consulates are protected by high walls and multiple gates, along with security forces, none of which appear to faze the insurgents.
But India remains targeted ... by a 2013 bombing in Jalalabad, killing six children and three adults, and another two attacks on the Indian embassy in Kabul in 2008 and 2009, killing a total of 75 people. Indian interests are attacked by groups such as Lashkar-e-Taiba, responsible for the Mumbai attack, with assistance from the Pakistan military, as well as by the Haqqani network in the country's tribal mountainous areas.
Afghanistan is in the position of a proxy, manipulated and exploited by Pakistan whose real purpose is to strike at India. The two nuclear-armed countries have had strained relations ever since Pakistan separated from India to become its own sovereign state, resulting in a violent mass migration. India, which has within its borders almost as many Muslim citizens as Pakistan itself, third in numbers only to Indonesia, walks a tightrope of moderated balance.
Despite the most recent violence, India's newly elected prime minister has extended a hand of friendship, taking Pakistan entirely by surprise, inviting his Pakistani counterpart to attend his inauguration, surprising and pleasing India's large Muslim demographic.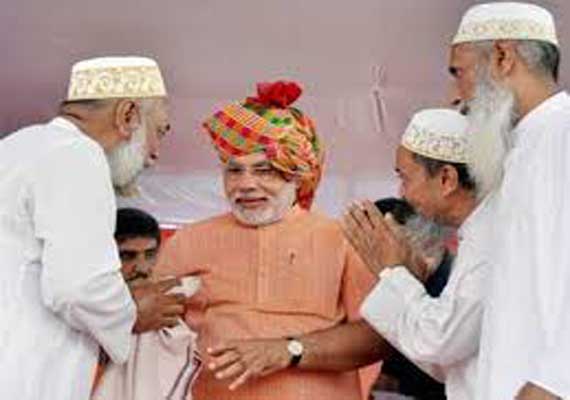 India TV
"It's a very good step by Mr. Modi. Although we can't expect all the festering wounds to heal overnight, but yes let me concede a very positive start has been made. We now hope that the issues between the two would also be solved in the near future"
, Maulana Jalaluddin Umari, president, Jamat-e-Islami Hind, told IANS.
"Poor relations with Pakistan are in no one's interest. Both countries end up spending more than they normally should on defence, ruin bilateral trade and ultimately the common man suffers"
, commented SOR Ilyas, member of the All India Muslim Personal Law Board.
"It's a very happy start to a new innings."
This is India reaching out to Pakistan. What has historically and currently been seen is the results of Pakistan reaching out to thump India, time and again. There, then, is Mr. Modi's response. What, then, will be Pakistan Prime Minister Nawaz Sharif's?