The Human Flotsam of Conflict
"This exceptional migrant situation has dramatic human consequences. Calais is a mirror of conflicts tearing up regions of the world."




"If we want to solve this problem in Calais, if we want to prevent the networks of smugglers from driving vulnerable men, women and kids to Calais, we need to work on this problem in its origin."

"We need to work on this from the migrants' countries of origin and follow their path which leads to the European territory."




French Interior Minister Bernard Cazeneuve





"Smugglers sell migrants the notion that Britain is the only El Dorado for a better life."




Emmanuel Agrius, deputy mayor, Calais





"Two thousand migrants didn't arrive just like that."

"We can't possibly imagine it's a wave of 2,000 migrants. Let us be clear: Those are 2,000 intrusions on the site. To compare, about three weeks ago, it was around 500."

Calais police Officer Gilles Debove




"The authorities will now work with migrants to inform them about the potential dangers they could face on the A16."

"They need to be aware that they are putting their lives in danger."

Gaetan Genel, spokesman, Nord Pas de Calais region, France




"In Calais, the French government has already been pushing for extra resources and extra police resources. And the UK government will be pushing up to 17 million pounds ($26.5 million) more to ensure the security of the Eurotunnel."

"[France and Great Britain agreed to work together] to return migrants, particularly to West Africa, to ensure that people see that making this journey does not lead to them coming to Europe and being able to settle in Europe."

British Home Secretary Theresa May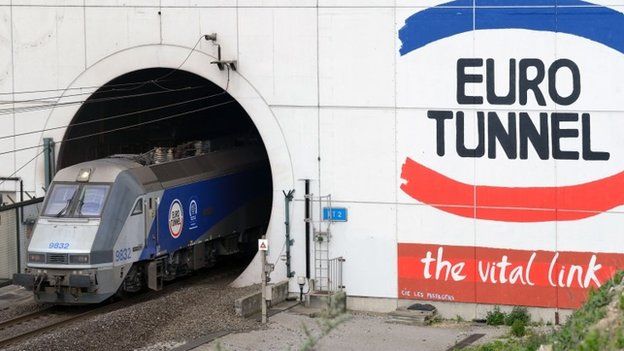 French authorities and Eurotunnel, the private company operating the tunnel between France and Britain stated that about two thousand attempts on each of two consecutive nights were carried out, to storm through from France to Britain taking place with migrants looking to find their way through to a new life. According to Britain's home secretary "a number" of those migrants made it through successfully.
In recent weeks barriers set up around the Eurotunnel site has spurred attempts to cross into Britain. The 50-kilometre Channel Tunnel, used by passenger trains and freight services to connect France and Britain is under siege. People are risking their lives to attempt the successful breaching of tunnel safeguards against migrant entry.
One migrant had been crushed to death, another injured critically, electrocuted, amidst tens of thousands of breach-of-security attempts, fuelling a crisis on the channel. Pressing north toward both France and Britain migrants flee conflict, the oppression of dictatorship and grinding poverty, flooding in from Africa and the Middle East.
Migrants who initially land in Italy, speedily attempt to make their way north from southern Europe. Two ships unloaded their miserable human cargo on Wednesday; one with 435 passengers along with 14 cadavers, and the second carrying 692 migrants. Many represent families from Syria, according to Giovanna De Benedetto, spokeswoman for Save the Children, in the port of Messina.
Britain is increasingly alarmed over the influx of foreigners, while French officials are concerned about the thousands of migrants living in encampments representing lawless sites scattered in the Calais area. A few succeeded in leaving Calais for Britain by boarding trains covertly. Caught on the French side, they are freed to return to the camps.
Those detained on the British side may have their applications for asylum considered. Many choose to remain hidden aboard trucks rolling off trains until the trucks stop for fuel, when the migrants leap off and disappear. Eurotunnel authorities insisted they had blocked over 37,000 attempts since January. Since June, nine people have died, including a mid-20s Sudanese man crushed by a truck.
"It's become a phenomenon which is beyond our means"
, said John Keefe speaking for Eurotunnel.
"We're just a small transport company operating in a little corner of Europe."
Attacks, according to Mr. Keefe, on the fences are organized.
"This is very clearly criminal gangs or human traffickers who co-ordinate attacks on the fences."
The Wednesday night mayhem caused truckers on either side of the Channel to be backed up for miles as the highway became a parking lot. Cargo trucks were backed up in Calais for several kilometres. British police stopped all movement on a highway near the British end of the tunnel.
Ultimately, mused Home Secretary May,
"The answer to this problem is to ensure we are reducing the number of migrants who are trying to come from Africa across into Europe, that we break that link between making that dangerous journey, as it often is for people, coming to settle in Europe."
Ultimately, the only way to halt the tide of migrants fleeing Africa and Middle Eastern countries like Syria and places like Gaza is to persuade Islamists and Islamist governments that it is their duty to those who rely upon their governments to protect and shelter citizens both from government oppression and the danger posed to them by fanatical Islamists who see their duty to Islam in persecuting Muslims.
america.aljazeera.com
Labels: Africa, Conflict, Europe, Islamism, Middle East, Migrants, Terrorism