Turkish Kurdish Psychosis
"We are obviously in discussion with our Turkish ally constantly on Syria. We continue to think that we don't want to further militarize the situation. We obviously understand that they have their national security interests as well, but we don't think that further militarization right now is the way to go. [The Syrian opposition continues to] gain ground in Syria and has started to hold greater territory."
"I don't think we are at a point where we are going to see -- or we are hearing greater calls for an immediate external military operations into Syria."
"The public message [U.S. advice to Turkey] that I said here, that we don't want and don't think that further militarization is the way to go right now, is the same thing that we're delivering in private."


Patrick Ventrell, director, press office, U.S. State Department, 2012






"The US of course recognizes the PKK specifically as a terrorist organization. And so, again, Turkey has a right to take action related to terrorist targets. And we certainly appreciate their interest in accelerating efforts against ISIL [ISIS]."




White House spokesman Ben Rhodes, July 2015
Turkey refuses to negotiate with
"terrorists"
. Ankara has the PKK listed as a terrorist organization. The 30-year conflict between Turkey and the PKK has been mutually destructive. But yet a ceasefire was agreed to in 2013 and now it is undone.
"It seems Erdogan wants to drag us back into war.

When things reach this level and when all of our areas are bombed, I think by then the ceasefire has no meaning anymore"

,
stated
PKK spokesman in Iraq, Bakhtiar Dogan.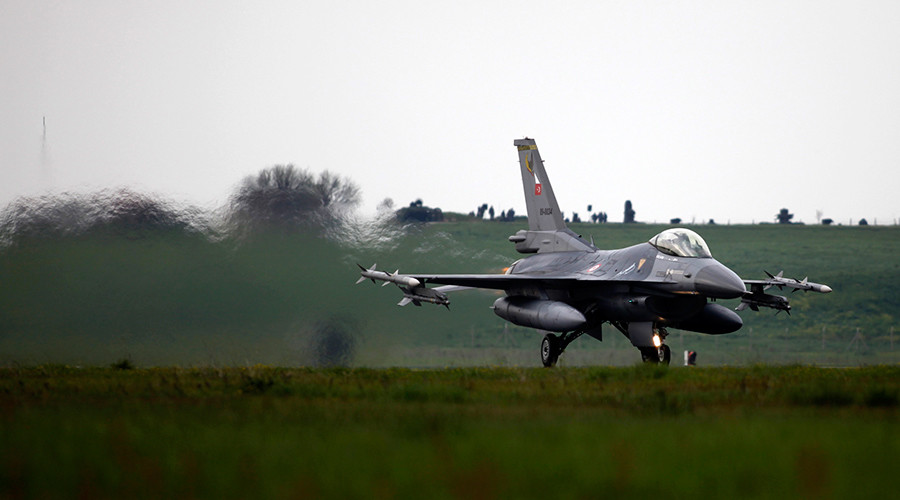 The PKK is the militarily active group within Turkey acting on behalf of the Turkish Kurdish population, anxious to somehow, finally attain a homeland of their own. The Kurds represent the largest ethnic group denied their own land. They are dispersed in their ancestral homelands which just happen to overlap into Iran, Iraq, Syria and Turkey. And Turkey, with its overall population of 75 million people has a Kurdish demographic of 20 million.
On Saturday, while declaring its intention to begin bombing ISIL, and making no distinction between the terrorist jihadis and the Kurds, Ankara dispatched warplanes to bomb Kurdish military bases as well. Turkish bombers were sent on three separate missions to destroy logistics positions, warehouses, barracks and PKK bases in northern Iraq. This, Ankata claims, is retaliation for PKK attacks against Turkish security forces and police.
Turkey subsequently called a NATO meeting to discuss its security concerns not only about Islamic State (IS, formerly ISIS/ISIL) but the PKK as well. Taking off from the Diyarbakir air base, four F-16 fighters hit targets in Hakurk in northern Iraq, local media confirming the airstrikes:
"At around 9:00pm (6:00pm GMT), Turkish planes started bombing some of our positions in two areas [north of Dohuk and north of Arbil]"

,
stated Bakhtiar Dogan.
There are reports in the media that roughly 50 PKK camps were hit in three separate air operations with up to 300 bombs dropped on PKK positions.
"It is not possible for us to continue the peace process with those who threaten our national unity and brotherhood"
, stated Turkish President Recep Tayyip Erdogan.
"Those who exploit the people and the state's tolerance and patience will receive the answer they deserve as soon as possible."
And since Turkey striking out at the Kurds who alone from among all the militias in the geography have been capably responding to Islamic State's violently barbaric aggression, and competently reclaiming territory taken by the ISIL 'caliphate', it isn't quite in the best interests of NATO, or the United States, which has given air cover to the Kurdish military, and the European Union to accept Turkey's psychotic attacks on Kurdish positions.
Turkey called an urgent NATO meeting to discuss the situation; ostensibly to render their self-defence position and make their claims for security and defence a NATO prospect. NATO responded with a statement that it stands in
"strong solidarity"
with Ankara against
"terrible acts of terror"
. NATO, and the United States, needless to say, would like Turkey as a NATO member to begin pulling its weight against ISIL, alongside the U.S.-led airstrikes.
On the other hand, the 'terrible acts of terror' demonstrably would register Turkey's violence against the Kurds.
The Syrian Kurdish YPG's push-back against Islamic State has been a success story. Western allies now have the headache of balancing gains against losses; Turkey's entry in the air raids on the jihadists, offset against its sanctimoniously destructive attacks against the Kurdish positions.
"Reconciliation should continue"
, said the Dutch NATO ambassador, stating what other officials have also remarked upon. The EU urged
"proportionality"
against the PKK.
The YPG's estimable role in the allied war against ISIL, particularly in besieged Kobani, was on the cusp of earning it removal from international terrorism lists. When the PKK killed a Turkish army sergeant near the border with Iraq all bets were off. When ISIL struck Suruc earlier, killing 32 socialist Kurds and wounding 100, as they rallied preparatory to moving into Kobani to help rebuild schools and medical clinics, the issue was clearly one that could be shrugged off.
Now, Ankara is giving equality of response to both ISIL and the PKK, and so much for proportionality. And Erdogan, livid with rage has threatened Kurdish MPs with investigation into
"connections to terrorism"
. The main Kurdish political party, the HDP, which won seats for the first time to parliament in June threw Erdogan's Justice and Development Party's majority into minority status.
It is that issue which drives the Turkish response to the PKK.
Labels: Conflict, Islamic State, Kurds, NATO, Turkey