Streaming Out of Syria, Afghanistan, Eritrea
"Unfortunately, we sleep here on the ground without anything. It was very cold."




"Suddenly the weather has turned to cold and raining. We couldn't sleep well because in an hour or half an hour we wake up because we're feeling cold."




Muhammed Dakiri, Syrian asylum seeker, Tovarnik, Croatia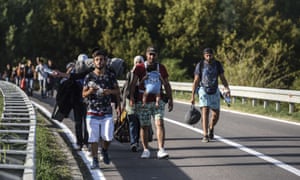 Refugees walk towards the Croatia-Serbia border near the town of Bezdan on Thursday.
Photograph: Armend Nimani/AFP/Getty Images
The migrants are not welcome to stay in Croatia because the country hasn't the infrastructure nor the financial means of supporting their needs as they flood through in their tens of thousands. But people are not without compassion, and volunteers made available to those suffering the privations of the journey and lack of shelter, tents, warm clothing and other supplies to help make them feel less abandoned.
It was the tents and the warm clothing that were abandoned by the suffering migrants at the first word of the train they were awaiting to carry them on further into Europe, had arrived. They were anxious to be taken to Austria. Police attempted to hold the crowd back, but were soon overwhelmed as the migrants shoved themselves into the packed rail cars.
Nothing stems the tide of migrants streaming out of the Middle East, South Asia and Africa. It is estimated that among the refugees about 40% are Syrians, and the rest come from elsewhere. There is a thriving black market of Syrian identity papers for sale at the cost of $1,500. Migrants are eager to take possession of them, since being able to show those papers they will be given priority treatment. They all want to be recognized as refugees, not economic migrants.
Even though dire economic conditions in some instances can result in threats to existence as morbid as the threats occasioned by conflict. About fifteen thousand migrants crossed from Hungary and Croatia into Austria over the weekend. Croatia, with its population of 4.2-million, has seen 27,000 people entering since refugees began surging through less than a week earlier.
In the eastern Aegean the search continues for survivors from sinking boats. Nearly three dozen people were rescued by the Greek coast guard. The weather has turned, increasing peoples' sense of urgency. First they sweltered in their travails under intense heat, and then cool weather entered and with it copious rain. And people are vulnerable to these weather excesses, living without shelter.
Hungary has closed its border with Serbia, setting a chain reaction in Croatia and Slovenia, forcing people to rush from one European border to another, desperate to find their way north to Austria and Germany. Hungary has constructed a steel barrier at its border post with Croatia, installing a giant metal gate that slowed the flow of refugees, but failed to stop it.
People arrive on foot after walking from the Hungarian town of Hegyeshalom at the border with Austria, to take buses and trains to emergency shelters in Vienna and elsewhere while local officials struggle to find places where the refugees can find shelter and food elsewhere than in the camps sprinkled across Austria, overcrowded and swelling with earlier arrivals.
Labels: Afghanistan, Africa, Conflict, Europe, Middle East, Refugees, Syria