Russia's Best-Laid Plans ...
"[Should government forces be seen to be advancing, Sunni Syrians] who have been on the fence will be convinced that it's time to go. You would expect another wave of refugees to try to head toward Turkey and eventually to Europe before the regime closes the border."




Ghanem Nuseibeh, CornerstoneGlobalAssociates, U.K.





"Syria may be beyond any solution, Half the remaining population has escaped the war zones and they lack jobs or homes."




"Many of the towns have suffered a great deal of damage."




Anthony Cordesman, Middle East analyst, Center for Strategic and International Studies, Washington.





"Russia's intervention anticipates a resolution of the Syrian conflict through de facto partition. The Reuters news agency reports that, months ago, Iran proposed the joint offensive, now underway, to save the dictatorship of President Bashar al-Assad from imminent collapse. Maj.Gen. Qassem Soleimani, commander of the Islamic Revolutionary Guards Corps elite Quds Force, is depicted poring over maps of Syria with Russian officials in the Kremlin."




Hussein Ibish, senior resident scholar, Arab Gulf States Institute, Washington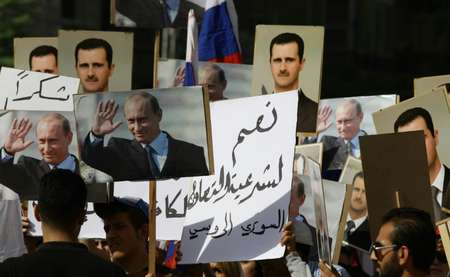 Louai Beshara (AFP)
Mr. Ibish holds that Moscow is primarily interested in securing the rump portion of Syria remaining in the regime's control; the air and naval bases near Latakia and Tartus. Forays into northern trouble spots like Aleppo aside, Iranian and Hezbollah forces are concentrating on the strip running from the Lebanese border up to Damascus, on to port cities and the coastal heartland of the Alawite Shiites loyal to Assad.
Syria is effectively, and likely permanently partitioned with the Kurdish north, the "caliphate" of Islamic State in the north and east, and other parts of the country held by nationalist Sunni rebels and Islamist militias. Russia's intervention in Syria, claiming to be focusing on the Islamist jihadis of the Islamic State, while steadily bombing the Syrian rebels, revealing their intention to support Bashar al-Assad's war against his own people, has given huge benefit to Islamic State.
The Syrian rebels, along with the Syrian Kurds have been battling the Islamic State terrorists. With Russian bombs hitting rebel targets, Islamic State militias have been handed a gift, the freedom to remain unobstructed in their ongoing gains; slow and steady does it now for them. The U.S.-led airstrike coalition has made few inroads in their pledge to destroy Islamic State.
The American fiasco of $500-million spent fruitlessly to train anti-Islamic State rebels to produce a paltry few fighters to do the ground battle that the Western coalition is intent on evading, has failed.
Which explains, according to Mr. Ibish, why it is that General John R. Allen announced his resignation. Not too thrilled at being in charge of a farce, one that has achieved little for all its vaunted successes in changing the violent landscape. Moscow, on the other hand, is obviously elated at the gap left by America's withdrawal from its former potent position of power in the Middle East. Moscow can now boast of its strengthened ties to Iran, Iraq, Hezbollah, a truncated Syria, and Shiite militias.
If Moscow is gambling on this alliance helping to ensure that Islamist jihadis won't spill over into the Caucasus to enliven the Russian Federation's response to potential Islamist challenges, the outcomes of this initiative, never predictable in the volatile cauldron of the Middle East, may yet surprise them exceedingly unpleasantly.
Russia may be less powerful militarily than it once was, but it is still capable of mischief-meddling, its memory of Afghanistan perhaps having receded too far for recall.
News of the first Russian casualties have been reported. Of course, Moscow has denied that any Russian troops have been dispatched to fight alongside the regime and Hezbollah, just as the Iranian Republic has denied that they too have dispatched 1,500 of their own military to shore up Syrian defences.
But shells struck Syrian government positions near Latakia where some 20 Russians were stationed, held to be 'volunteers', not at all regular Russian servicemen. A fable the world is familiar with, after the annexation of Sevastapol and the Crimean Peninsula; another adventure that the world has not yet heard the last of.
And Europe would do well to brace itself yet again in expectation of yet another massive influx of Syrians desperate to escape the deadly predations of their leader.
Labels: Hezbollah, Iran, Islamic State, Rebels, Russia, Syria, United States