Standing on the Nobility of Principle
"There are powerful nations who are also refusing to be part of the International Criminal Court [and] they've got these unfettered powers to then refer matters to the ICC."




"The ICC has lost its direction, unfortunately, and is no longer pursuing that principle of an instrument that is fair for everybody."




Obed Bapela, South African cabinet minister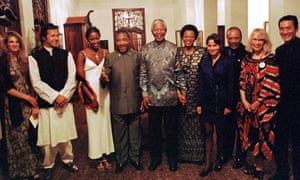 Nelson Mandela is pictured with guests at a party in South Africa in 1997. The interaction of Charles Taylor, Naomi Campbell and Mia Farrow at the event is likely to come under the spotlight at The Hague when Farrow and Campbell appear as witnesses at Taylor's war crimes trial.
Photograph: Sipa Press / Rex Features
South Africa's ruling African National Congress has decided it will no longer have any formal association with the International Criminal Court. It is a matter of principle, of fairness. African countries are enraged that it appears that the ICC is guilty of anti-African bias, favouring the West and holding African leaders to account for purported crimes that Western leaders would never be held accountable for.
Of course, Western leaders are not known for discriminating against various segments of their populations and leading national efforts at their extermination. The same cannot be said of African countries, from Somalia to Liberia, Sudan to Rwanda and more. Their complaint is that the ICC has taken to prosecuting Africans solely for conduct unbecoming national leaders.
The United States and European countries have been courteously exempted from being called to account when their leaders have been accused of war crimes or crimes against humanity. Have such charges ever been levelled? That the presidents of Kenya and Sudan have been charged in The Hague is infuriating to the African continent. Presidents and senior government officials should be immune from prosecution, according to the African Union.
It rankles that although the United States, Russia and China are not signed on as members of the international court, as members of the permanent UN Security Council they are able to instruct the ICC to investigate cases; unfair and hypocritical, according to African leaders. And so, the ANC national general council has approved withdrawal from the ICC for South Africa.
South Africa had invited Sudanese President Omar al-Bashir to an AU summit held in Johannesburg in June. This is a man accused and found guilty of genocide and war crimes, with an ICC arrest warrant in his name and that of other Sudanese government officials. For their part in directing the deaths of tens of thousands of Darfurians, the mass rape of their women, the exile from their homes and deadly persecution by the Janjaweed.
South Africa as a signatory to the ICC;s international treaty was obligated to arrest Mr. al-Bashir and was ordered to do so by the ICC. A South African court also issued a similar order for arrest. But the ANC invited him to enter the country and to leave when he wished, without interference. South Africa has its forgiveness of Mr. al-Bashir in common with the Arab League and the Organization of Islamic Cooperation.
To their great shame, an invitation has been extended to the Sudanese butcher to attend a major Africa-India summit to take place in New Delhi in late October, as well as an Africa-China summit for December in Johannesburg. There is a precedent, however. The great, noble human-rights champion Nelson Mandela when he was head of the ANC and president of South Africa had invited blood-diamond thug Liberian President Charles Taylor to a dinner at the presidential palace.
And then there is the search for African warlord Joseph Kony whose Lords Resistance Army slaughtered thousands and victimized thousands of abducted African children, transformed into child soldiers and murderers. He is being hunted by U.S. Special Operations forces on behalf of humanity. Thought to be hiding in a lawless enclave between Sudan and South Sudan, territory controlled by Sudan's al-Bashir.
If the ICC focuses on African leaders it is because African leaders distinguish themselves by their murderous rampages against their own people, even as African Islamists carry on their own carnage against Africans whose governments will not protect them from the ravages of African human-rights abusers, both militias and government militaries.
Labels: Human Rights, International Criminal Court, South Africa