France's War With Islamic Jihad -- Giving Love a Chance/Again
'While the band is now home safe, we are horrified and still trying to come to terms with what happened in France."




'Our thoughts and hearts are first and foremost with our brother Nick Alexander, our record company comrades Thomas Ayad, Marie Mosser, and Manu Perez, and all the friends and fans whose lives were taken in Paris, as well as their friends, families, and loved ones."




"Although bonded in

grief with the victims, the fans, the families, the citizens of Paris, and all those affected by terrorism, we are proud to stand together, with our new family, now united by a common goal of love and compassion."




"We would like to thank the French police, the FBI, the U.S. and French State Departments, and especially all those at ground zero with us who helped each other as best they could during this unimaginable ordeal, proving once again that love overshadows evil."




Eagles of Death Metal statement
The sons and daughters of France have been sacrificed to the brave new would of conquest, by the sons and daughters of France of those who swarmed into the country in waves of immigration from Morocco and Algeria and Turkey from the 1960s and who have lived in the nation of fraternity, liberty and equality ever since, yet some among them have simmered in the stew of tribal ferment, leavened with grumbling disaffection, led to a place of conflict by the dictates of Islamist jihad. From whence came plots and violence.
Among those who launched the November 13 attacks in Paris, the city of light whose illumination was dimmed in blood, were French Muslims. Muslims, yes, but French citizens, born and raised in the country. And nor was this the first time that French-born Muslims have launched their deadly hatred against their country of birth. Mohamed Merah who gloried in the murder of Jewish children in 2012 in Toulouse as well as those who mounted the January Charlie Hebdo and kosher supermarket attacks were French-born citizens.
But Paris is also home to the suburban banlieues where French police dare not venture unless adequately prepared wearing full-dress battle gear and driving suitably armoured vehicles. In France there are over 750 of these 'no-go' zones where non-Muslims enter at their potential peril. There, radical imams reign and Muslim gangs roam, their criminal activities unseen and unnoted with a resigned deliberation. Those imams and gangs appear to control many of the prisons in France. Muslims being overrepresented in the prison population at 70%. There, non-Muslims are threatened, finding it useful to convert to Islam for the sake of self-preservation.
According to a 2014 survey result, 16% of French find it in them to approve of the Islamic State. That number rose steeply to 27% among people between the ages of 18 and 25. Among European states, France and Belgium can boast that they have higher representation of their citizens fighting with the Islamic State than any others. Hundreds have returned to their European countries of origin to meld back into the population and occasionally pop back out to render a live demonstration of the skills they attained abroad. They serve another function; that of mentoring other European Muslims.
French intelligence has identified over ten thousand French Muslims who are classified as extremely dangerous, linked with
"jihadist activities"
and registered in official
"S files"
, but the wherewithal to maintain vigilance on their activities let alone where they happen to be at any given time is sadly lacking. Moving in to arrest those most suspected of planning terrorist attacks would risk initiating a countrywide series of violent rioting. Those identified as having been involved in the November 13 assaults were among the multitudes registered in
"S files"
.
Triacetone triperoxide (TATP), the explosives used in the bombs utilized in the Paris attacks, is powerfully sensitive to friction, temperature change and impact. It requires someone expert in the field of bomb-making and suicide belts containing the chemical to produce such munitions. Shortly before the November atrocities, French judge Marc Tredivic who was charged with overseeing the major Islamic terrorist cases in the last decade warned that the situation in France was
"getting worse"
, was
"out of control"
and
"radicalized groups"
in the country could
"carry out attacks resulting in hundreds of deaths"
. His warning was acknowledged by rewarding him in a transfer to a court in northern France, assigned to petty crimes.
Five months following the January attacks, French Prime Minister Manuel Valls, while despairingly decrying the malevolence of Islamist jihadists admitted that the French people had little option but to
"adapt to Islam"
, since obviously, all too many Muslims in France had not
"adapted"
to French values. Last month he said that
"Islam has to stand up to jihadism"
, as though hoping that Muslims would themselves denounce and take internal steps to completely disavow the violence that emanates from Koranic interpretations of regrettable provenance. French citizens must have taken great comfort in hearing the French Council of the Muslim Faith offering
"condolences"
to the victims' families.
They took pains to reiterate that Muslims were French citizens too, and they too were
"victims"
, and care should be taken to avoid placing them in a position of social opprobrium leading to their being
"stigmatized"
. January's mass slaughterers were, according to French President Francois Hollande, merely
"a horde of murderers"
dedicated to a
"mad cause"
and clearly from among the country's citizenry
"France has no enemy"
. Now that several weeks have passed, the tenor of his utterances have mellowed, and
"terrorism"
no longer finds a place in his statements, nor does
"war"
.
French police did what they had to do: they mounted an effort to
"intervene"
in the Paris suburb of Saint-Denis, to complete the sweep of the jihadists who had created that unfortunate incident which has now dissolved into history, leaving France to quietly nurse its wounds and return to hapless vigilance and its program of bombing insurgents in Syria. But those missions target Islamic State, clearly not real Muslims, since truly devout Muslims support peace and all Muslims insist that theirs is a religion of peace. And any who might wish to argue that vital issue must be prepared to be labelled -- horrors -- Islamophobic.
Now, peace and lightness of being, hope for the future and love everlasting permeates the social atmosphere. It might be termed appeasement anywhere else; in France it is life as it is. An interplay of interests and ideologies but all assembled under the comforting, time-honoured rubric of social justice in liberty, equality and fraternity. This where John Lennon's
Imagine
played before the Bataclan Theatre is clearly justified, in fact, a dire requirement to balm torn hearts.
All you Need Is Love; Love Me Do
, is sung by people assembling on the Place de la Republique. Banners reading
"universal brotherhood"
are unfurled.
The
"resistance"
of Paris can be found not necessarily in increased vigilance and swift reaction to intelligence warning, but in the far more civil and universally trusting music of friendship, of meeting friends in a bar or outside patio to share drinks and melancholic but hopeful toasts to friends missing. A short video clip of a man reassuring his fearful child that
"They have guns, but we have flowers"
, attains iconic status. Mosques are decorated with heart-shaped stickers with
"We love you"
and
"We share your pain"
written within the hearts.
Generous beyond a fault.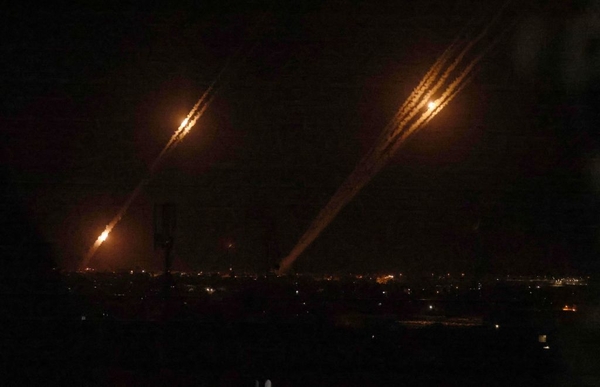 Labels: Atrocities, Islamism, Paris, Peace