Speaking Past the Plea for Rescue
"Duterte's [Philippine-president-elect Rodrigo Duterte] boastful brand of violent impunity should be a path to prosecution, not a platform for political office."




Human Rights Watch





"He might appear to be insensitive to women, but during his time as mayor [of Davao City, Philippines] he supported policies on behalf of women and programs for children."




Luzviminda Hagan, congressional representative, Gabriela [women's rights group]





"His jokes are his connection to the common man. He knows what he is doing. He is a lawyer. He graduated from one of the top law schools. He passed the bar."




"He is a very intelligent fellow."




Benny Gopez, Filipino businessman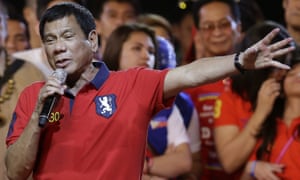 President-elect accuses bishops – who criticised him for calling the pope 'a son of a whore' – of hypocrisy, saying they have asked him for favours ... The tirade comes after Duterte cursed the pope in a speech in December
Photograph: Aaron Favila/AP
"It appears my government [Canada] has abandoned me and my family in this endeavour. We've [three remaining hostages of Abu Sayyaf] been here for eight months. I came to your beautiful country in good faith and in peace, and here I am [abducted, threatened with beheading]."




"One of us has already been murdered [Canadian John Ridsdel]. We hope that you can work on our behalf as soon as possible to get us out of here. Please, the sooner the better. We're three-quarters dead right now."




Robert Hall, former Calgarian, hostage of Abu Sayyaf
The pleas of Robert Hall, spurred on by his very real fear of death, threatened by the same fate that befell his fellow Canadian several weeks ago when the ransom demand of $8-million dollars each for the release of Marites Flor, abducted with Mr. Hall, Mr. Ridsdel, and Norwegian Kjartan Sekkingstad who had operated the Holiday Ocean View Samal Resort off the southern coast of Mindanao will have fallen on deaf ears.
The simple fact being that the controversial new president of the Philippines is adamant that he plans to carry on his country's refusal to pay ransom to the Islamist jihadis who favour kidnapping foreigners as a means of extracting whopping sums of money from foreign governments to fund their jihad. European governments with the exception of Britain do respond to ransom demands while others like the United States and purportedly Canada, do not.
In one of his statements respecting the abduction situation Mr. Duterte advised in no uncertain terms that anyone unfortunate enough to be abducted by the jihadis boasting of their association with the Islamic State, should say their prayers and appeal directly to god, because the government of the Philippines is not prepared to do business with criminal terrorists.
Some might venture to say that in his former persona as mayor of Davao City, the president-elect himself had a penchant toward thuggishness. He could claim in his mocking defence that his thuggishness was practised in defense of the rights of the citizens of the city, and that he fully intends to bring to the office of president of the Philippines the very same techniques that brought down the criminal element in Davao.
The 71-year-old Mr. Duterte certainly has had experience, as a crime fighter, a prosecutor and no-holds-barred mayor proud of having stomped on criminals, giving them measure-for-measure the same kind of treatment they meted out to citizens. There were reputed to have been over a thousand extrajudicial killings in Davao during the 20 years this man was mayor.
During the presidential campaign the crude-talking Rodrigo Duterte boasted that he himself killed criminals, claiming the justification was that they were resisting arrest. Should he be elected, he promised, he would pursue criminals and kill them himself and should there be any resulting controversy he would use the power vested in him as president to issue a presidential pardon on his own behalf.
Despite what might seem to an unaware observer hearing his boastful statements and crude references to rape as expressions of unsuitability for public office, people who know him speak of him as a shrewd politician and a technocrat observing the need to help the needy. The Public Safety and Security Command Center built under his watch in Davao boasts live feeds from closed-circuit cameras throughout the city.
Close by, a dedicated building has a fleet of new ambulances and fire-trucks dispatched through an emergency call center, complete with a specially equipped ambulance for children, and a larger vehicle used as a hospital-on-wheels. All civic, social services provided free of charge to patients, and these are services unavailable elsewhere in the Philippines, reflecting their past mayor's values and priorities.
Human Rights Watch is not impressed. Without denying his achievements on behalf of those he served, there is the dark side of his administration and his personal attachment to fighting corruption and crime with extrajudicial violence. The thousand vigilante killings sully his record on human rights entitlements. But even as HRW accuses him of those violations, there are others who laud his straightforward defence of the defenceless.
But for the defenceless who are in the unfortunate position of being held as pawns in the battle of Islamist jihadists against the government of the Philippines it is futile to the look to that government to come to their aid, to prevent them from becoming beheading statistics carried out by the vicious jihadis whose first order of business is raking in millions, and second order instilling terror.
Labels: Canada, Hostages, Islamism, Jihad, Philippines, Terrorism