Opening Day Drama for Rio Olympics 2016
"The security services found a suspicious package close to the cycle road race finish line in Copacabana and as a precaution decided to perform a controlled explosion."




"There is no impact to the race, which is ongoing."




Rio 2015 spokesman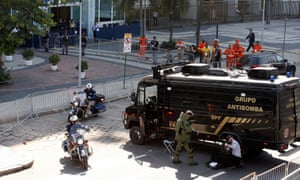 A bomb squad investigate after carrying out a controlled explosion near the finish line of the men's cycling road race.
Photograph: Javier Etxezarreta/EPA
According to eyewitnesses -- always more reliable than official accounts, though this time official accounts were corroborated -- a controlled explosion took place near the finish line of the race. First, of course, was to move everyone out of the way for the bomb disposal squad. So, suspense to begin with, not only on the fields of competition but outside them. A controlled explosion of a small unattended bag, an extremely nervous-making precaution.
This, after the earlier apprehension of a cadre of Brazilians claiming they represented Islamic State interests in disrupting the Summer Olympics where large, tight clusters of sports fans are just begging to be picked off by ISIL, anxious to declare itself present everywhere, including South America, and prepared to wreak maximum damage -- even if those apprehended appear to have been organized along the lines of wishful thinking.
Protesters in convincing numbers maintained a high decibel of resistance to Rio's self-congratulatory introduction of the world to these 2016 Summer Olympics. Which likely never before have been held in a country whose president will not make an appearance, despite that she had been the moving force behind the successful bid for the honour of bringing in a world-class event to a country whose demographic of poverty is jaw-droppingly wretched for a country that so lately advertised itself as a proud member of BRIC.
With in excess of 85,000 police and military guarding athletes, officials and spectators, Brazil is prepared and on guard for thee and them, too. Radical Islam begone! Petty crime; well, this is Rio. A network of security cameras and drones will maintain a tight watch on the city and particularly on the Olympic venues. Those of particular security interest to authorities are being tracked.
And, of course, tourists beware; petty pickpocketing crimes remain par for the course. Gangs of local criminals have already succeeded in stripping tourists to the Games of their possessions in beachfront swarmings. Violence has surged in lawless favelas surrounding Rio but slums are nowhere in sight of the Olympic sites, so the drug gangs are unlikely to venture outside their traditional victimized
havens.
Preferring to remain in business it's wise to stay clear of paramilitary police and military units, forces accused of operating death squads. The lethal solution to the commission of crime. Residents of the city are not easily fazed, long accustomed to kidnapping, murder and mayhem. But exotic terrorism imposed from abroad? Not so much; the paramilitary forces are welcomed. Given the new Portuguese-language ISIL website hoping to recruit Brazilians.
Terrorism experts visualize on the other hand, that ISIL-connected jihadis might arrive directly from the Middle East or Europe, coming in on some of the flights flying directly in from Europe, the Middle East and Turkey. Land border crossings between Brazil, Paraguay and Argentina may beckon where weapons are known to be smuggled; why not terrorists? Making it a requirement to screen all entering Olympic venues by military reservists.
Let the Games begin! Oh, of course, they have. On track to be a somewhat lugubrious affair what with the fear of terrorists, mosquito-carrying diseases, crime-ridden streets, sullen indigenous residents of slums whose basic infrastructure necessities of life have been overlooked while billions have been dedicated to hosting an immense party for the sporting world.
Look, they're handing out the medals already, a gold here, a silver there, and a reproachful bronze now and again. World champions of enduring fibre and skills intent on showcasing themselves and bringing reflected glory to their nations; what could be wrong in all of that?