Preparing for Another Inevitable Neighbourly Overture
"The probability of escalation and conflict remains very significant. We don't rule out full-scale Russian invasion."




"In case the situation in the east and in Crimea flares up, we will have to introduce martial law and declare a mobilization."




Ukrainian President Petro Poroshenko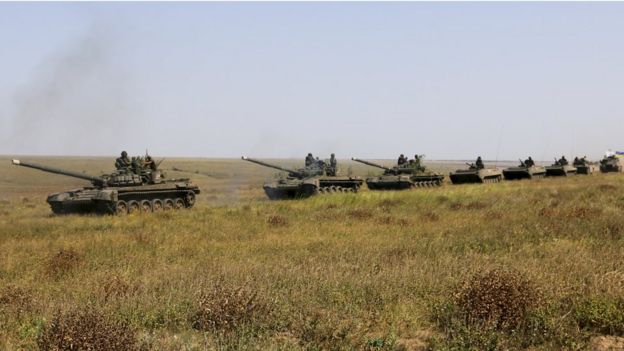 Russian President Vladimir Putin views Moscow's annexation of Crimea and the build-up of the Russian fleet in its newly-acquired Black Sea peninsula as Russia's just due. It was obviously wasted in Ukraine's possession and begged to be restored to Russia in view of the fact that as far as Putin is concerned Ukraine isn't much of a country in any event, but one that owes its existence to Russia but just isn't willing to concede that inconvenient point of view.
Mr. Putin's extravagant and stunning imagination conjures up answers to everything, presenting scenarios making sense to him, but to no one else, other than his docile supporters. Ukraine is plotting subversive action in Crimea, sending in stealth agents to undermine Russia's position in Crimea as its rightful owners. And Russia will not stand for this. After robbing Ukraine of a significant piece of geographic territory, Putin now claims Ukraine is underhandedly attempting to reclaim it, courting all-out war with poor little Russia.
Somewhat akin to Moscow's claims that it was two of Ukraine's jet fighters that shot down the Malaysian airliner jet as it flew over the Donbas region, not, as international authorities and Ukraine insist, the ethnic Russian Ukrainian rebels who used a Buk missile supplied to them by Moscow, who shot it down, thinking they were hitting a Ukraine warplane. So much evidence has been uncovered to implicate Russia and the rebels that it remains incontrovertible, yet here is a Russian 'investigator' clearing the rebels and 'proving' that Ukraine was responsible.
Getty Images
Private investigator Sergey Sokolov claims that his agents, having investigated the site of the deadly crash and examined evidence, concluded that no shrapnel from a Buk missile was present and that a phone intercept he acquired between two CIA agents give ample proof they planted two bombs on MG-17. Incredible? Not at all; this is Moscow's retort to the international investigation concluding that it had supplied the missile and the rebels had used it to disastrous effect.
"The driving force of the operation were CIA agents and the Dutch security service also had a part to play as the bombs were put on the plane in Holland and this couldn't have been done anywhere else. This terrorist act was a pretext for firstly intensifying sanctions on Russia, secondly to show the world that Russia is a barbarian country and thirdly to strengthen the presence of NATO in Europe, particularly Ukraine."
What? Russia a barbarous country?!
And so, there! Case closed. Collusion by Ukraine with the CIA and Dutch security services ensured the world would blame faultless Russia. And since that fateful day, matters have only progressed from bad to worse. Conflict between government forces and Russian separatists has intensified while in the past 24 hours alone the rebel forces have shelled government positions ceaselessly; over 800 artillery and mortar rounds have been launched.
The government of Ukraine has announced that Russia is once again sending in troops, cash and weapons to the separatists. Russia deployed an advanced S-400 surface-to-air missile battery to the Crimean Peninsula, capable of hitting targets over 250 kilometres from the launch site, paired with a radar array. Representing one of Russia's most advanced surface-to-air defence systems. Only it isn't a defensive, but rather an offensive operation Mr. Putin has in mind.
Russia's navy has brought in marine units from its Southern military district to the Crimean peninsula with contingents of artillery, airborne infantry, aircraft and surface-to-air batteries stationed in Sevastopol. Ukraine has ample reason for nervous anticipation of the near future. Once the missile system alone is operational it will be capable of targeting aircraft well within Ukrainian airspace.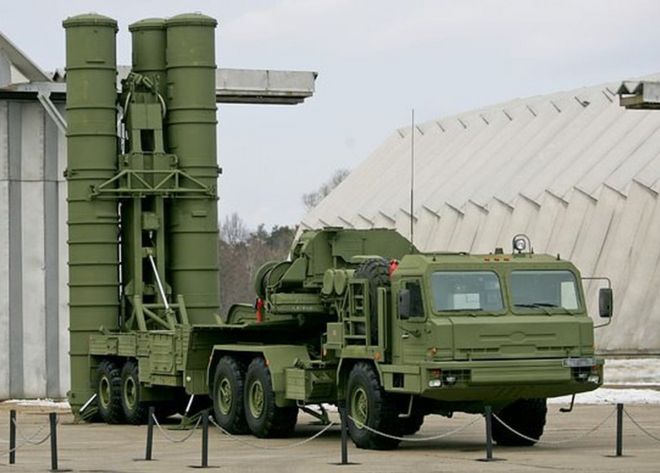 Russian defence ministry