Be Afraid, Be Very Afraid
"We were really surprised when the president came out to announce it [list of officials charged with involvement in illegal drug trade]."




"First, our defence is the truth. If you are not guilty, why should you be afraid?"




Samsudin Dimaukom mayor, Datu Saudi-Ampatuan, Philippines





"How are the lists being prepared? Who are the sources?"




"If they have evidence, they should file charges, and that's the only time they should disclose the name [of those the new government asserts are involved in the drug trade]."




"He's now a runaway train. It's very revolting to me. So far, the victims of the summary killings are the lowly ones, the powerless, who cannot afford lawyers, who cannot seek audiences with the president."




Senator Leila de Lima, former chairwoman, Philippine Commission on Human Rights





"He's doing what he [President Rodrigo Duterte] promised. He's not surprising anybody."




"People like him because he is an action man."




Ramon Casiple, executive director, Institute for Political and Electoral Reform





"Please, don't order me. [Do not create a crisis] because I will order everybody in the executive department not to honour you [Chief Justice Maria Lourdes Sereno, Philippine Supreme Court]."




I'm not a fool. If this continues, you're trying to stop me, I might lose my cool. Or would you rather I declare martial law?"




Philippine President Rodrigo Duterte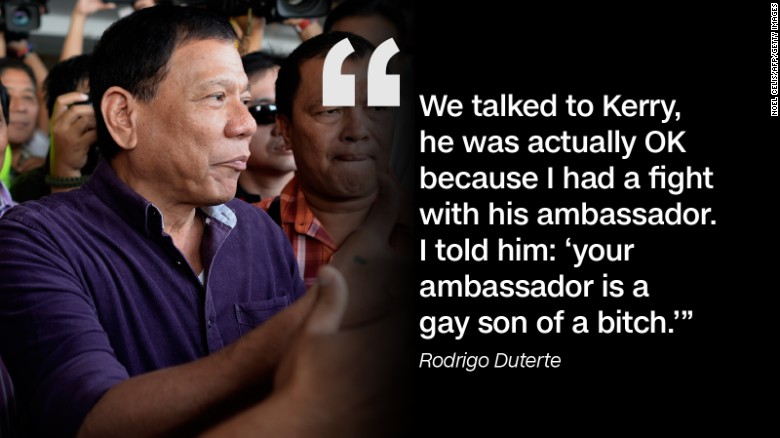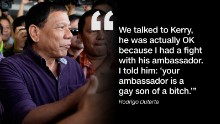 President Duterte, in his fresh new role from mayor to president, prepared to launch on the entire country the controlled police and vigilante anarchy that he imposed upon a once-drug-ridden, violent city transforming it into a rigid bastion of law and order, is undertaking a similar sweep of the entire country, to rid it of its drug-and-criminal-gang underclass and its reputation for being one of the most violence-driven countries in the world.
He is embarking on that ambitious aspiration through imposing his own brand of violence, crediting it with his past successes in tamping down crime. In the process a lot of people are being killed, most of them poor and defenceless, the vulnerable among the population who have no defences against the machinery of a state. The chief justice of the Philippine Supreme Court had the unmitigated gall to uphold institutional law and order in defiance of the president's decrees.
She instructed the seven justices appearing on a list that President Duterte produced naming one hundred and fifty high-placed officials involved, he claims, in the illegal drug trade, not to submit to arrest as ordered by the president, without a warrant. Chief Justice Maria Lourdes Sereno also announced her intention to investigate any allegations of the judges' connection to the drug trade.
"To safeguard the role of the judges as the protector of constitutional rights, I would caution them very strongly against 'surrendering' or making themselves physically accountable to any police officer in the absence of any duly issued warrant of arrest"
, wrote the chief justice, clearly at odds with the presidential order that all 150 named individuals turn themselves in to authorities within 24 hours, or they would be hunted down.
Shock and fear inspired over 600,000 drug users and dealers who had legitimate fears for their lives to respond by turning themselves in to authorities. Most were returned to their homes after police took their statements, with the understanding that they will face investigation at some later date. Since President Duterte called for the killing of drug dealers, an estimated 800 people have been killed by police or vigilantes in the few months since taking up his position.
Many of these unfortunates were gunned down in the street, a cardboard sign left beside the bodies identifying them as drug pushers. Many whose names had appeared among the 150 officials released by the government and read aloud one by one on public television last Sunday by President Duterte declare their innocence, and their support for the president's program to wipe out drugs and dealers.
The announcement of the names represents an invitation to a free-for-all from vigilante groups more than eager to go out on the streets and do their duty to the government. President Duterte's careful reading out of the 150 names on television is widely regarded as an invitation to kill by a man who states he is himself prepared to embark on such killing sprees to rid the country of drug dealers.
According to a Pulse Asia poll, Duterte received a 39 percent vote on election day. More recently, with his clean-sweep plans stated before the election took place now being implemented, his popularity has soared to 91 percent.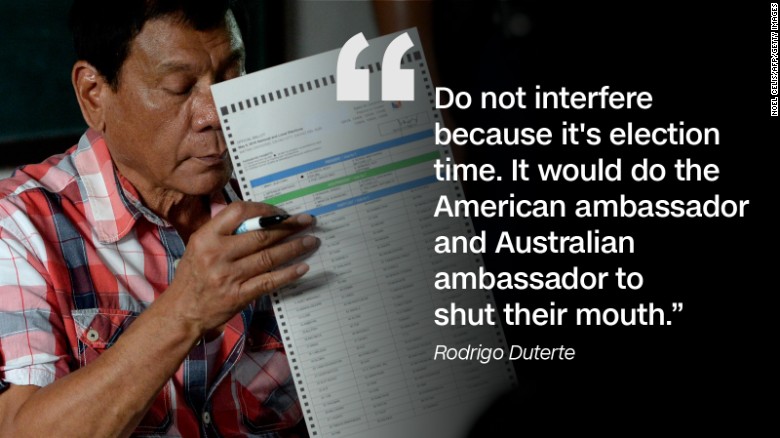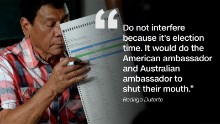 Labels: Drugs, Injustice, Justice, Philippines, Violence