Serendipitously Benefiting Bashar al-Assad

"People are going about their business and children are even playing in the street."




"A Russian warplane is above us right now, but it is not signalling that it will drop anything. We are praying that it won't strike."




Mohamed Omar, civil defence volunteer, Aleppo





"We are trying to remain hopeful."




"We need petrol and food, fresh produce. We have been depending mostly on vegetables that we grow ourselves. We are currently just trying to survive the day."




Mohib Abdelsalam, 26, emergency responder, Aleppo Revolutionaries group





"We haven't heard any planes in the sky, and we haven't documented any [ceasefire] violations in our area."




Abu Muhammad, activist, lawyer, Kafranbel, Idlib provinc

e



"We've seen violations by both sides. We're continuing to monitor this very closely."




U.S. State Department spokesman Mark Toner





"The UN convoy from Turkey to eastern Aleppo is still in [the] customs area on the border this morning because of lack of de facto assurances of safe passage by all parties," Laerke said.

"The convoy is ready and will move as soon as conditions allow."

Jens Laerke, spokesman, UN humanitarian office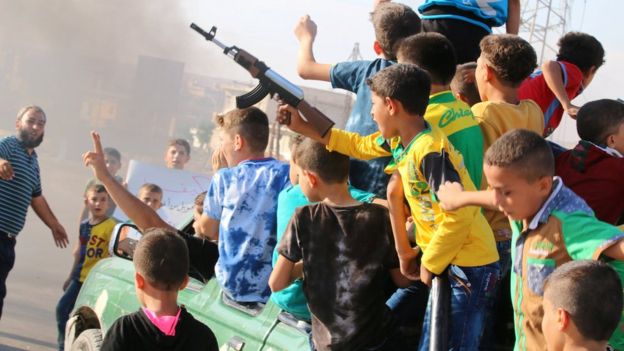 According to United Nations reports, between 250,000 and 275,000 people in rebel-held parts of Aleppo, under siege since early July, are still awaiting the delivery of medical and food aid. The convoys, fully provisioned, have been positioned at the Turkish border, prepared to enter at any time but they have still not been given clearance. They carry a month's supply of food for 40,000 people, but 48 hours after the ceasefire began, they remain stuck at the Turkish border town of Cilvegozu.
The emergency priority of delivering aid to the besieged eastern part of the city is being held up by lack of agreement between the two sides in the conflict, amid safety concerns. The major point of contention is Bashar al-Assad's government insisting on its imperative to control any aid that flows into the city.
"It's crucially important [that] the necessary security arrangements"
be made to enable the convoy to proceed, emphasized UN Secretary General Ban Ki-moon.
"I have been urging the Russian government to make sure that they exercise influence on the Syrian government, and also the American side to make sure that Syrian armed groups, they also fully co-operate."
The Syrian regime insists it must be in control of anything and everything that happens in the ruined country; it will only permit aid to enter once it is co-ordinated through its own auspices, and those of the United Nations, to reach Aleppo.
Syrians in government-controlled areas of Aleppo have no fears of being bombed, since it is only the regime and its allies that are equipped and capable of bombing the civilians they target in the east. In Aleppo where life is 'normal', it can be enjoyed, something that Sunni Syrians have not experienced in five years. No shortage of food, gas or medical supplies let alone electrical power to enjoy lives of normalcy in those areas loyal to a butchering regime.
Whatever else happens, Bashar al-Assad stands to gain from the ceasefire that has been extended for an additional 48 hours. The issues bargained by U.S. Secretary of State John Kerry and his Russian counterpart Sergei Lavrov are plans to coordinate attacks against the two major terrorist groups in Syria, Islamic State of Iraq and the Levant, and the al-Qaeda-linked
(but disengaged to appear more 'moderate')
Jabhat Fateh al-Sham will relieve, if they are successful, the regime from two main sources of opposition.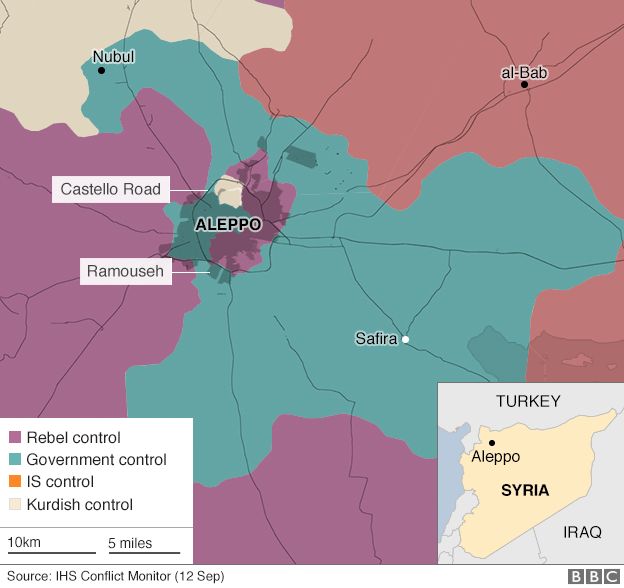 Labels: Ceasefire, Conflict, Islamic State, Rebels, Russia, Syria, United States