Erdogan's War On Turkey's Kurds
"My bag is packed for prison. Everybody has a bag in their house for prison. Now, everyone can be arrested at any moment."




"They [Erdogan's AKP party] wanted to win the elections here but failed to do so, so now they are having a coup against us [Peoples' Democratic Party: H.D.P.]."




Feleknas Uca, member of Parliament for pro-Kurdish H.D.P.
Kurdish supporters who live in France, chant slogans and display Kurdish flags during a rally to protest against Turkish President Recep Tayyip Erdogan, at Republique Square in Paris, Saturday, Nov. 5, 2016. Authorities in Turkey detained 11 pro-Kurdish lawmakers early Friday as part of ongoing terror-related investigations, including both party co-chairs Selahattin Demirtas and Figen Yuksekdag and other senior officials, the Interior Ministry said.
(AP Photo/Francois Mori) (The Associated Press)
The failed July coup that Turkish President Recep Tayyip Erdogan charges was the work of Fethullah Gull and his followers, emboldened Erdogan to include the Kurdish parliamentarians and mayors of Kurdish towns in his wide-sweeping arrests of those he has identified as enemies of Turkey, as "terrorists" doing their best to bring Turkey to its knees. His vendetta against the Kurds in particular, but any part of his own society, much less those in the international arena that oppose his dictatorial rule is implacable.
He was first incredulous then enraged when the Kurdish-linked Peoples' Democratic Party came out of the 2015 general election with six million votes, entitled to 80 candidates sitting in Parliament. That this Kurdish-linked party succeeded in taking votes away from Erdogan's ruling Justice and Development Party, meant that Erdogan's and the A.K.P.'s plans to manoeuvre toward changing the constitution to give greater powers to Erdogan and to enable him to virtually become president in perpetuity was foiled.
A later election result brought the A.K.P.'s majority back to where this plan could be achieved. But it was when the attempted military coup took place , blamed on Fethullah Gulen, that Erdogan was handed his opportunity to emasculate any meaningful opposition to his imperial rule. Linking the Gulenist strategy to the Kurdish ambition for a sovereign state of their own, despite the fact that the Gulenists Islamists are equally as harsh as the A.K.P Islamists against the Kurds, Erdogan launched his battle against both.
Detaining and arresting tens of thousands of Turks he and his party held responsible for the attempted coup, and over 100,000 who have been let go from their employment on charges of sympathizing with the Gulenists, he has gutted his country of suspected enemies of the Justice and Development Party, giving him free reign to continue his plans for a caliphate with himself as its head. He is forging ahead and there seems no stopping this power-demented dictator.
In the largest Kurdish city in the world, Diyarbakir, co-mayors Gultan Kisanak and Rirat Anli were charged with terrorism and placed in prison. Foreign journalists are officially barred from the city. Selahattin Demirtas, leader of the H.D.P., was imprisoned with nine other H.D.P. members of Parliament as Erdogan's crackdown on Kurdish "terrorists" proceeds apace.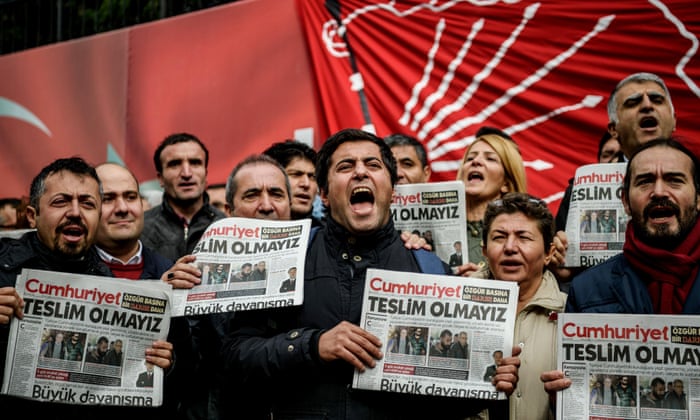 The newspaper Cumhuriyet, known for its secular stance, is the government's latest target.' Demonstrators protest against the arrest of the paper's editor-in-chief last week.
Photograph: Ozan Kose/AFP/Getty Images
Over 150 newspapers and allied media outlets have been closed and around 120 journalists imprisoned in pretrial detention, lacking court hearings. In November the European Parliament responded to the A.K.P.'s assault on democracy, voting against Turkey's European Union membership, to Ankara's reactionary rage. Erdogan used that opportunity as he has on previous occasions to utter a threat that he could abandon the agreement cutting off the flow of refugees from Syria to Europe.
Although the entire country has been embroiled in the political crackdown imposed by Erdogan on his enemies, real and imagined, it is the southeast of the country, majority Kurdish, that has experienced the government pitted against it, despite the absurdity of government charges of a Kurdish role in the failed coup. Jailing H.D.P. officials and those of allied parties, where 45 mayors of Kurdish towns have seen arrest, has provoked a backlash.
The year 2016 has seen 2,700 local Kurdish politicians with links to the H.D.P. incarcerated even while Erdogan's government implausibly denies that the failed coup has been used as a handy screen behind which government can act against Kurdish aspirations with total impunity.