Resisting ICC Charges of War Crimes
"In the name of God, I deny all these charges."

"I read and understood the documents, but not the charges because they are against the L.R.A."

"The L.R.A. is Joseph Kony, the leader. But I am not the L.R.A."




"LRA [Lord's Resistance Army] committed atrocities in northern Uganda, and I am one of the people against whom the LRA committed atrocities."




"But it is not me personally who is the LRA."




Dominic Ongwen, former brigadier-general, LRA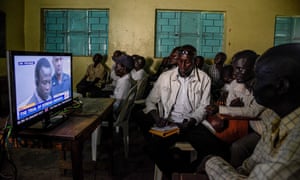 People in Lukodi, Uganda watch the screening of the ICC trial of Dominic Ongwen.
Photograph: Isaac Kasamani/AFP/Getty Images
This plea for understanding is called chutzpa. It is like a man pleading for mercy after killing his mother and his father on the basis that he is now an orphan and to be pitied and treated with grace and mercy reflecting his new parentless status. But Mr. Ongwen, who has been charged with crimes against humanity and is being tried before the International Criminal Court in The Hague, has a fairly good grasp on the sensitive sensibilities of the leading left, susceptible to compassion for the oppressed.
"This has actually polarized debate in the county, whereby there are those that think he's a victim [and] should go through the reconciliation process."




"But there are also others -- especially when you get to the communities he allegedly attacked . . . who say he was vicious during the attacks, and they would like to see him face trial."




Sarah Kasande Kihika, head, International Center for Transitional Justice, Uganda





"The co-operation with the Ugandan authorities is a very constructive and a very positive one."




"And the co-operation that we do need in order to ensure that our judicial work will take place . . . is being provided."




Herman von Hebel, registrar, International Criminal Court
A dilemma has arisen to face the International Criminal Court of late. With African countries, now including South Africa, alongside Burundi and Gambia threatening to dissolve their membership in the ICC with their claims that this international justice body targets only Africans, ignoring crimes that the West is responsible for. Of course, the fact that so many African countries engage in unspeakable atrocities committed against their own civilians or that of neighbouring countries might give one clue as to the reason why.
On the other hand, eastern Europe has had its taste of criminal justice proceedings, and the court by all accounts is preparing to get started on others; Syria, for example, Russia as another example. We should live so long. Not that it has always been successful, since African and Middle Eastern countries chose to ignore the ICC designation of Sudan's president as a refugee from justice having committed atrocities in Darfur earning the label of one who has committed crimes against humanity.
Interpol
Mr. Ongwen placidly denies he is guilty of having committed any of the 70 odious war crimes he has been charged with. Let alone crimes against humanity, including murder, rape, torture and sexual slavery. Most of which were committed through violent attacks on refugees being sheltered in camps for the internally displaced while conflict raged all around them. But of course, Mr. Ongwen committed no such acts of human degradation and vile and violent abuses of human rights. It was the Lord's Resistance Army.
And he was orphaned to the LRA, torn by them from his family when he was reputed to be between the age of nine and 14. At that tender age, when most boys only fantasize they have control of deadly weaponry, he was given his own to carry and to use. The prosecutors, it seems, have seen no reason to challenge his assertion that he was forced to become an LRA member; what other choice would an abducted child, beaten, fearful and threatened have, after all, to secure his own life?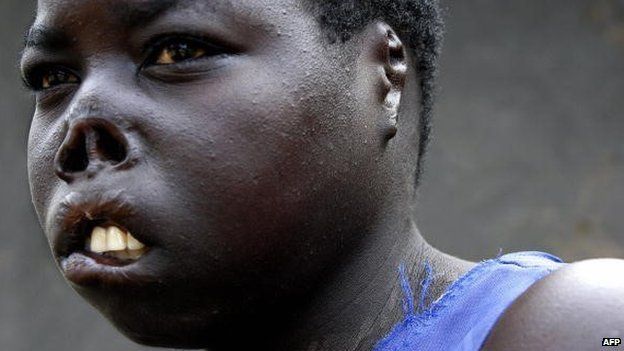 And he was transformed over the next 25 years, it seems, all against his will and intent, to become a conscienceless killer. And he managed to succeed to such a degree that he became notorious, feared and despised as he executed his duties, never thinking to remove himself from the carnage that deluged Uganda, then neighbouring countries. Joseph Kony's quaintly named terrorist group was responsible for killing 100,000 people while an estimated 1.7 million in Uganda were forced from their homes.
The United States had involved itself in the 2011 search for Joseph Kony and at the same time, placed a $5-million bounty on the capture of Dominic Ongwen, ample evidence of his wide-ranging criminal actions preceding his well-earned reputation as a vile and violent crusader against decency and human rights. He was eventually taken by rebels in the Central Africa Republic and passed to American Forces in 2015, a "brigadier-general" in the LRA.
Labels: International Criminal Court, Lord's Resistance Army, Uganda, War Crimes