Vast Fields of Mass Killings From Saddam to ISIL
"He may be there [expansive field by the side of a road, laden with corpses]. Or he may be there [large area where soil had recently been moved]."




"I don't know his destiny, his fate. At the very least, I need to find his body."




"This is the important thing for us. So we can have a funeral."




Zaman Mijwal, Iraqi soldier, Hamam al-Alil, Iraq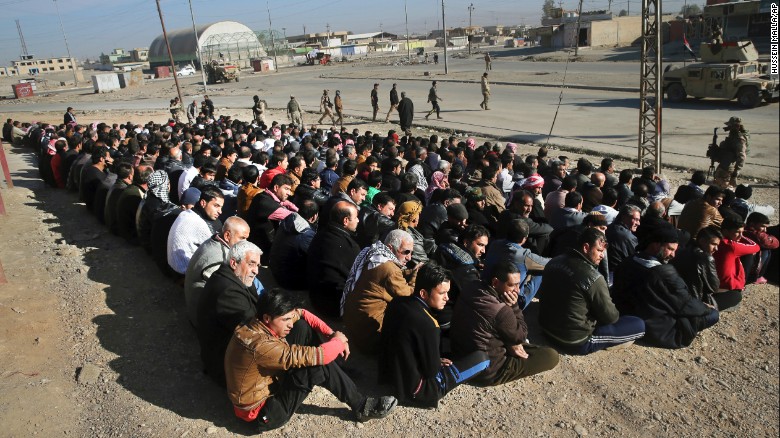 Mosul operation: Iraqi-led forces push into key city --
CNN
His older brother Munther lived in a village close by. But the family hadn't heard from him in weeks, and fear the worst. He was a former policeman. During the period when Islamic State of Iraq and the Levant jihadis have been trying to hang on to Mosul, while being challenged by a coalition led by the Iraqi military, the ISIL fighters had been selecting from nearby villages all those whom it knew to be eligible for death, and that included former police and military aligned with the Iraqi regime.
Everywhere that the security forces of Iraq regain territory from Islamic State, it has become a predictable finding, they will come across a mass grave holding hundreds of bodies. There has been a long tradition of mass graves in Iraq. During the tyrannical reign of Saddam Hussein mass graves became a familiar disposal solution to hold the countless victims of the man who led his country into a backlash of atrocities and death against any who might venture to challenge his supremacy.
Symbolic of decades of Iraq under the relentless fist of a man who had to be obeyed and certainly not challenged, as Marsh Arabs and the Ayatollahs of Iran discovered for themselves. Iraq and Iran appeared equally matched in the madness of their investment in war against one another, a war that went on and on and met a stalemate; no solution, no winner, countless losers inhabiting mass graves. Each countries ruled by despots considering the population sacrificial fodder through which they would achieve their ends.
The U.S.-led invasion that led to the collapse of the Baathist Sunni regime of Saddam dismissed the national military, leaving trained officers in Saddam's army unemployed and bitter. Many of those officers now represent the senior jihadis embracing Islamic State's caliphate, bitterly at war with the Shiite-led government of Iraq, now closely aligned with the Islamic Republic of Iran, with the Republic's al Quds Division of the Republican Guard and its proxy militia Hezbollah, fighting alongside government troops. Aided as well by Iranian-supported Shiite militias.
Kurdistan's semi-autonomous region has sent its Peshmerga army, strangely enough allied with the Turkish military, to aid the Iraqi military in vanquishing the Islamic State caliphate, to retake Mosul, the country's second largest city, from ISIS. It might even seem like a seamless transition for Saddam's former officers to now represent the top ranks of ISIL's fighters. As clear a representation of sectarian-centric hatred and conflict as any.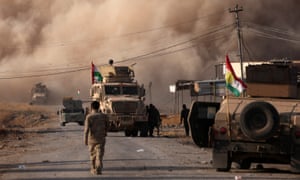 Smoke rises during clashes between Peshmerga forces and Islamic State militants in the town of Bashiqa, east of Mosul.
Photograph: Azad Lashkari/Reuters
Former policeman Jamal Abul Younis has some haunting memories that he will recall for the rest of his life, but he did manage not to become one of the nameless, faceless corpses littering one of the mass graves. He hid in a hole in the ground, behind an air-cooler, in the floor of his house, comprised of dirt.
"Each one hour"
he said,
"was like one year"
. As one of a few surviving witnesses to the killings in Hamam al-Alil, he describes watching eight minibuses driving to the area of the mass grave recently discovered.
Ironically, Saddam Hussein himself hid in a hole dug in the dirt, his famous "spidey-hole", from which he was dredged and taken prisoner, back to Baghdad, to stand trial and execution. Now his former brigade and security force commanders faithful to his tyrannical vision of Sunni exceptionalism under a regional madman, are meting out death to any they can identify as Shiite Iraqis, and particularly those who act in the same security-military capacity under the al-Maliki government as they did under the Saddam administration.
There, as he hid, Abul Younis heard one gunshot following another, as all of the captured former police and military men were killed in a mass orgy of death.
"I saw Daesh bury 200 bodies over here"
, he said, motioning to the area where an estimated one hundred were killed in the town's outskirts.
Human Rights Watch, however, believes that number is much higher, that at least 300 people were killed on that site.
Hundreds of people were herded by the Islamic State jihadis, he said, as much as thousands from villages nearby, bringing them to Hamam al-Alil.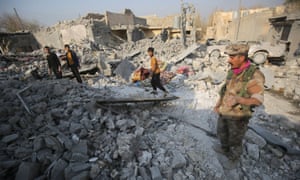 Iraqis inspect the damage at a site in the Hamam al-Alil area, about 14 kilometres from the southern outskirts of Mosul.
Photograph: Ahmad Al-Rubaye/AFP/Getty Images
They were used as human shields on the possibility that American airstrikes would occur. Then they separated out the former policemen and they were ordered to be killed.
"I cannot believe I am still alive"
, Abul Younis said. The International Commission on Missing Persons, Netherlands-based, estimates that up to a million Iraqis will be forever unaccounted for, encompassing the war between Iran and Iraq, Saddam's mass killings, chemical strikes against Kurds, and recent sectarian conflict.
Few of the bodies being disinterred are ever identified by DNA testing.
"The most difficult thing is when my grandson asks me about his father"
, said Abu Marwan in Diyala Province where the Islamic State presence is now just a bad memory.
"I answer, 'He is on a trip and will return one day'."
And as the Iraqi military clear out former ISIL strongholds, the civilians whose homes they were, are being singled out, the men and the youth, for close scrutiny by the regime and Shiite militias to ensure they pose no threats -- sometimes becoming revenge-fodder in the process.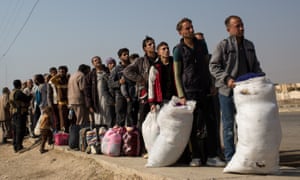 Men wait to go through and ID and security check at a civilian screening point after fleeing Mosul in Gogjali, Iraq.
Photograph: Chris McGrath/Getty Images
Labels: Atrocities, Conflict, Iraq, Islamic State, Shiite, Sunni