Hunting A Mass Murderer: No, Not Bashar al-Assad
"[A] soldier of the caliphate [left the ISIL calling mark in Istanbul's Reina club's New Year's party to] let infidel Turkey know that the blood of Muslims that is being shed by its airstrikes and artillery shelling will turn into fire on its territories."




Islamic State statement of claim





"He is absolutely a killer and he probably shot at humans before."




"The attacker is a determined, faithful, practical, cold-blooded expert and knows how to get results ... he probably fired bullets in real clash zones."




Abdullah Agar, counter-terrorism expert, Turkey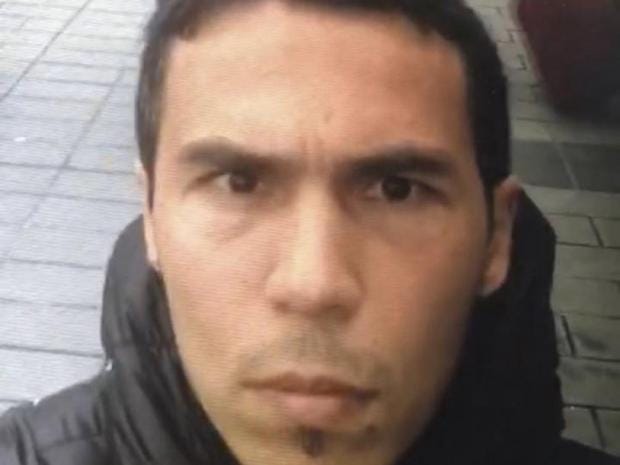 Undated handout photo released by Turkish police of suspect who killed 39 in an Istanbul nightclub on New Year's Eve
The mass shooting on New Year's Eve in Istanbul's hip nightclub targeting revellers succeeded in killing 39 people, two-thirds of them foreign visitors to Turkey. That Islamic State characterizes Turkey as 'infidel' is emblematic of the deadly rift between the fundamentalist fascists and other Muslim groups, matching the depth of dysfunction recognized in the animosity between Sunni and Shiite as true followers of Islam.
Turks, in fact, are becoming increasingly Islamist under Recep Tayyip Erdogan.
And it was he who welcomed Islamic State leaders to Ankara, shielding them from Western interference, hoping they would unseat Syria's tyrant busy slaughtering his Syrian Sunni subjects. It was also Turkey's choice to aid ISIL's black market sales of petroleum products gained from taking possession of Iraqi and Syrian oilfields. Under pressure as a member of NATO, and expectations from the United States, Erdogan had little choice but to disavow ISIL.
But anchoring his war with Turkey's and Syria's Kurds, there is also Erdogan's hatred for Bashar al-Assad's Shiite regime slaughtering Sunnis. So a perfect storm has descended upon Turkey thanks to consequences falling in place from Erdogan's impulses. While the PKK targets Turkish military bases, Islamic State aims its deadly attacks directly at civilians, distinguishing the modus operandi of the two having nothing else whatever in common but Erdogan's deadly animus.
ISIL took no time in announcing that Turkish military operations against Islamic State in northern Syria, spawned the response that targeted the New Year's Eve celebrants in Istanbul. With the aid of a long-barrelled rifle -- the assailant since identified, his wife arrested, among others implicated in the plot -- killed a policeman and a civilian outside the club before making his entry to fire at the 600 people within it.
The gunman somehow escaped notice, even though he had to extract the weapon, load and prepare it for use, then go on to scatter shots at the dense targets the nightclub interior presented. In the panic of the moment of people attempting to escape death -- and the agony of the 70 who did, but were wounded, the sound and the fury of terror launched on people least expecting their celebration to turn into desperate mourning -- the terrorist made good his escape.
Turkish authorities have released some information they have gleaned from their investigations. That the attacker had engaged in combat training somewhere, and likely spent years fighting with ISIL before leaving wherever he had been, to dispatch himself to Turkey for a deliberate purpose. Travelling with his wife and children to deter suspicion that might arise over the presence of an unaccompanied man, he rented an apartment in Konya, paying for a three-month rental.
After a month in the city of 1.2 million he set out for Istanbul where he spent several days before launching his attack. He is seen in a video, taking a prolonged selfie, touring Istanbul's Taksim Square. His wife, arrested during the search for her husband's whereabouts, denied having any knowledge of the fact that her husband was a member of ISIL. Strange, since it is felt he operated out of Syria, and wives of Islamic State are held to be the female counterparts of their husbands' jihadist obsession.
He is being tentatively identified as a Uyghur, a member of a Turkic ethnic group, though he is said to have flown from Kyrgyzstan to Istanbul on November 20.
Sputnik News -- Ozan Kose, AFP
Labels: Islamic State, Terrorism, Turkey