Imposing Stability on South Sudan
"Having completely failed in the international state-building project, now we're going to move to an international takeover? With what army?"




"Would the same international bureaucrats that undertook massive state-building experiments in Iraq and Afghanistan come to Juba [South Sudan] to lead another failed political intervention?"




John Prendergast, founding director, Enough Project*, South Sudan
There was much celebration when the United Nations and Sudan agreed that a democratic vote should be taken, that resulted in overwhelming support in Sudan's southern region for separation from Sudan and full sovereignty. The world's newest nation, South Sudan was born but a few years ago in 2011, a result of the Sudanese government and the rebel south meeting in ongoing, brutal conflict, enlisting the support of global powers rallying to the south's insistence on independence.
It was a separation between an Arab-Muslim population in Sudan whose contempt as inferiors for the black Sudanese tribal population was manifest in its exploitation and malign treatment, leading to violence and displacement, along with the slaughter of civilians in response to the South Sudanese militia attacks on government forces. Darfur presented as a signal place of mass atrocities committed by Sudan against black farming communities.
South Sudan is one of the poorest countries in Africa. And it remains beset with violent clashes between its two main tribes. But instead of a new nation finding its balance and creating nation-wide institutions to benefit its people in honour of its independence, its failure to prosper and to create stability, with the Dinka and Nuer militias in brutal conflict, killing one another, raping women, and slaughtering civilians has ensued.
The concerned academic community and prominent politicians outside South Sudan have, in the face of millions of South Sudanese starving, displaced and in danger of ongoing bloodshed, recommended the solution of placing the new nation under trusteeship. The trusteeship to be given a nominal six-year period, with United Nations support, to determine whether its politicians could work toward a solution to resume independence.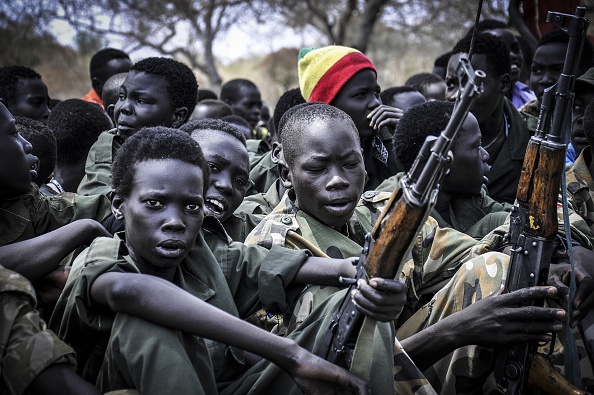 James Solomon Padiet, a lecturer at Juba University, feels the presided, Salca Kiir, a Dinka, has not been given adequate time to deal with the instability. He, and the Dinka, the nation's most populous ethnic group, are fiercely opposed to an international takeover, however temporary. Mr. Padiet, not a Dinka, characterizes the very notion of trusteeship as "offensive" in light of his belief that the nation has promising politicians who would make good leaders, but haven't had the opportunity.
The South Sudanese had suffered enormously from the military of the central Sudan government. The Arab majority had massacred the black populations, taken away their children to be used as slaves. Yet the initial euphoria in Juba at independence could not prevent the return of ancient tribal and political rivalries, the ethnic tensions that arose and along with a desire to control oil export profits.
Once a breakdown occurred between the Nuer and Dinka political leaders, their militias sprang into action, challenging and killing one another. The United Nations peacekeepers in South Sudan have been non-interventionist. There is hope that a coalition of African countries may intervene to help guide South Sudan's aspirations to stability become reality.
*

The Enough Project, an atrocity prevention policy group, seeks to build leverage for peace and justice in Africa by helping to create real consequences for the perpetrators and facilitators of genocide and other mass atrocities. Enough aims to counter rights-abusing armed groups and violent kleptocratic regimes that are fueled by grand corruption, transnational crime and terror, and the pillaging and trafficking of minerals, ivory, diamonds, and other natural resources. Enough conducts field research in conflict zones, develops and advocates for policy recommendations, supports social movements in affected countries, and mobilizes public campaigns
Labels: Africa, Conflict, Oil, South Sudan, Tribalism