Serving the People : Father and Son
"I would ask him [his father] how we would continue in his absence. He would say: 'I have put up the building. Now you have to paint and decorate it'."




"The staff [of his father's humanitarian organization] is sometimes hesitant when they don't know how to use a computer. We're trying to train them. It's a slow process."




"Now I'm alone [after his father's death]. I don't feel like leaving his room empty. I still sleep on a cot near his, because that's where I'd slept for the last few years."




"He wanted to make Pakistan a social welfare state without participating in politics. That was his dream, and this will be my aim as well; to go from village to village, to make a parallel setup that can help improve people's lives."




"In smaller districts, you can find advanced weaponry at local police stations, but when you go to the local hospitals, there's no advanced equipment."




"Our ruling class is not ready to give services to the people."




Faisal Edhi, Edhi Foundation, Karachi, Pakistan





"He carries this huge responsibility on his shoulders."




"He is upbeat, and with a lot of public support, he can do it."




Dr. Seemin Jamali, head of emergency services, Jinnah Postgraduate Medical Center, Karachi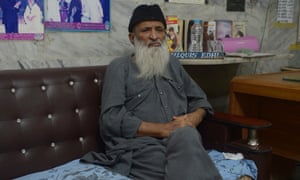 Abdul Sattar Edhi's foundation provides hundreds of ambulances and medical centres across Pakistan.
Photograph: Rizwan Tabassum/AFP/Getty Images
Faisal Edhi is 40, half of his adult life has been spent working for the Edhi Foundation, founded by his father, Abdul Sattar Edhi. Mr. Faisal administers the affairs of the foundation. His father
was
the foundation. The elder Mr. Edhi died in the past summer but his philanthropic network to which he dedicated his life is a vital part of Pakistani society, outside government. It is the foundation that provides badly needed emergency services and welfare services to the population.
It provides what the government makes no effort to do.
Pakistan's largest free ambulance service is operated by the Edhi Foundation through a network that also includes shelters, nursing homes, orphanages and morgues. All of which are run by volunteers who appear at disaster zones and crime scenes, hauling along stretchers and shrouds. The cities of Pakistan depend on the functions of the Edhi Foundation.
"Without the Edhi Trust one does not know how Karachi would cope with its victims of violence"
, noted urban planner Arif Hasan, in the 1990s.
Now, the massive job inherited from his father has become Faisal Edhi's problem. He is attempting to transition the foundation from a voluntary and antiquated organization into a more efficient, modern one, using updated technology to expedite services and maintain record-keeping. The younger Edhi cannot possibly match his father's pace, where he personally met with people requiring assistance with issues from adoptions to ambulances.
"I'm stretched"
, the struggling Faisal Edhi admits.
But it is the personal, intimate grief he experiences at the loss of his father, that haunts him. Even so, there are things that excite him in enlarging the scope of the foundation's services, among them a new project to train midwives, nurses and paramedic staff at a hospital. That's the anticipatory part, the other part of his concerns relates to raising operating funds, entirely through voluntary donations from individuals.
The foundation is struggling with a new challenge whereby Islamic charities have been undercutting individual donations. Additionally, Faisal Edhi accuses the government of interfering with the importation of ambulance vehicles.
The foundation does have its critics, those who were dissatisfied that the elder Mr. Edhi took in abandoned babies, and saw no difference between aiding Muslims and non-Muslims, leading them to accuse him of apostasy. His own tribal community, the Bantva Memon ethnic group, refused often to greet his father. But he is determined to continue his father's policies including his refusal to accept donations from donor agencies, let alone any government.
"It [the foundation] has always been supported by ordinary Pakistanis"
, Faisal Edhi insists.
"I will not go to paradise where these type of people [religious and political groups] go. I will go to heaven where the poor and miserable people live"
, declared Adul Sattar Edhi before his death.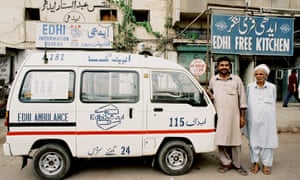 An Edhi Foundation ambulance outside the Edhi Free Kitchen.
Photograph: Majority World/Getty Images
Labels: Charity, Human Relations, Pakistan