Manufacturing Culture Clash
"The fundamental difference between Chinese and Americans is that the Chinese have a bias toward speed."




"Americans like to process things, think it through from all angles."




Eric Venetti, vice president for human resources, Fuyao Glass America, Moraine, Ohio
Chinese industry is investing everywhere around the world, from Africa to Latin America, Canada to the United States. Think about it: the global demand for inexpensive consumer products led to China emerging as a manufacturing giant, able to produce a wide range of products at much lower costs than anywhere else, due to their enormous work force willing to work long hours for low wages. And when manufacturers in Europe, North America and elsewhere found themselves unable to compete, factories were shuttered and Chinese goods kept being exported to a waiting global public.
And here's a situation in the State of Ohio where in a Dayton, Ohio suburb an abandoned General Motors plant was transformed by Chinese investment into a producing glass factory. After all, U.S.-based auto manufacturers go through millions of windshields annually. The Chinese company, Fuyao Glass Industry Group resourcefully reasoned why not move their manufacturing closer to where their clients were located?
And the population of Moraine, having lost a large employer, suddenly had a replacement where they could rely on employment for three thousand workers earning a salary once again. This is but one factory; from the year 2000 forward Chinese investment has soared to $120-billion in the U.S. alone. Half of that total emerged since early 2016, reflecting China's status as one of the U.S.'s largest sources of foreign direct investment.
fuyaousa.com
On the surface it appears like a relationship tailor-made for agreement that it works for all concerned. But not so fast. The United Automobile Workers union has launched a complaint campaign against Fuyao, which is also facing a lawsuit brought by a former manager, claiming he was dismissed simply because he wasn't Chinese.
Another employee complained that the company disciplined workers for workplace absence if they failed to request paid time off far enough in advance. While yet another former employee claimed the company had exposed him to harsh chemicals resulting in his arms being blistered and what's worse, ending up with a diminished lung capacity
(despite his having been dismissed for excessive absences.)
The Occupational Safety and Health Administration had fined Fuyao last fall for over $225,000 relating to violations in workplace safety, though an agreement was later reached reducing the fine to $100,000 with the assurance of corrective measures being taken. Mr. Vanetti, speaking for the company, described an improved work atmosphere, and that many of the safety measures were already underway before the OSHA settlement was reached.
Still, workers complain that the company had increased the presence of Chinese supervisors, despite that it had left the deliberate impression it meant to bring in American managers. The company, according to one worker, demonstrated faint interest in training, sharing responsibility with or engaging with American employees. An example was brought forward by another employee who was fired in late May.
"The Chinese look at us and say, 'No need',"
said Nicholas Tannenbaum when employees experience problems with equipment and ask to have the equipment temporarily shut down to deal with the problem.
"They're jumping on moving conveyors to fix it as the line is running
", he complained. According to Fuyao's chairman in Beijing, the plant productivity
"is not as high as we have in China. Some of the workers are just idling around."
"He hasn't ever had probably this type of pressure from a work force"
, observed Mary Gallagher, director of the Lieberthal-Rogel Center for Chinese Studies at the University of Michigan, who explained that entrepreneurs like Fuyao's Cao Dewang often hire migrants for their factories who come from rural areas to the big cities in China, looking for employment and prepared to be submissive.
An interesting corollary to this situation is that when WalMart established itself in Canada, particularly when placing their big box stores in Quebec, workers there insisted on unionizing. Infamously, many of the American states proudly extol themselves as "right to work" states, which translated means no unions are present. In Canada, the presence of unions is more common. WalMart preferred to shut down their store rather than submit to the pressure of Canadian workers in Quebec.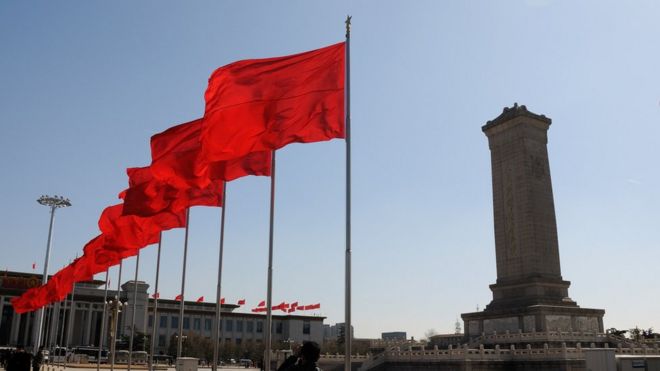 Labels: China, Controversy, Employment, Social-Cultural Deviations, United States