The Living Legend and the Live Reality
"Her story give[s] us hope, that's why we, too, want to go to school and become something in life."




"We have to bear all pains like hunger to go to school. We barely eat once a day here. We have not eaten since morning because government people no longer bring us food for about two months now."




"I want to become a soldier so that I could help my community to fight and kill Boko Haram, because they are not good people."




Fatima Ali, schoolgirl, 15, Maiduguri, Nigeria





"This is part of my girl power trip, visiting many parts of the world. I am here now because of the Nigerian girls. Fighting for them and speaking up for them."




"They have lived in the period of extremism."




"[I hope they will] live with their family, live a normal life. And the government must unite so that they should make sure that these girls are released [those schoolgirls remaining in Boko Haram captivity]."




"Boko Haram themselves should learn that in Islam, such things are unacceptable. This is against humanity, this is against Islam."




Malala Yousafzai, Pakistani Nobel Peace laureate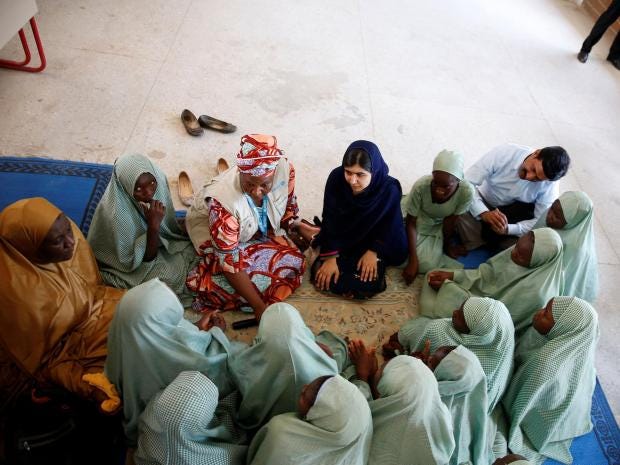 Nobel laureate Malala Yousafzai seen in a group discussion with some of the students of Yerwa Girls school in Maiduguri, Nigeria
The young woman whose experience of being shot in the head by Taliban tribesmen intending to silence her and make an example of a young girl whose outspoken criticism of their violence and their misbegotten Islamist determination to keep girls and women out of sight, wearing dark burqas and niqabs to cover their faces, keeping them in their homes, disallowing music and celebration, destroying their schools and killing their teachers became a symbol of heroic resistance in her struggle, championed by the West.
She has since as she grows into adulthood, become a spokesperson for the need to see that girls and women in the world of Islam and where poverty and ignorance resides, receive an education. She recently toured internally displaced camps in and around the Nigerian city of Maiduguri, sheltering thousands from the violence that Boko Haram strikes in the country. Their abduction of hundreds of young schoolgirls from Chibok made world headlines.
Some of those girls in their mid-teens were 'married' to Boko Haram militants and bore their children. Some, managing to free themselves and appearing with their children in their villages, have been spurned and isolated and threatened, spurring them to find haven in the refugee camps. Boko Haram had used some of the schoolgirls as suicide bombers, leading their former neighbours and family members to view them all with suspicion and abhorrence.
Malala Yousafzai is no longer the defiant schoolgirl of 15 who had to undergo emergency surgery to save her life. She is now a advocate for educating girls and women, herself now a celebrated young woman of 20. She is intelligent and forward-looking, courageous and determined. Yet she fails to recognize that the Taliban who tried to murder her and Boko Haram which has tormented poor villagers, torching their homes, slaughtering the men, abducting the women and girls are indeed symbolic in their actions of Islamic values.
Meeting with over a hundred girls who were rescued and must remain for their own safety in the capital in internment camps, she informed the media she was unhappy the girls have not been permitted to fully reunite with their families. Their families no longer trust them, their families are shamed that their village neighbours consider them to be Boko Haram converts, and have defiled tribal and religious dictates that girls remain virgin until marriage.
The normal life that Malala Yousafzai envisions for these girls has been destroyed by Islamic heritage, culture and values; they are outcasts. And the government which administers Africa's largest, most populous country, with an abundance of natural petroleum resources has failed its population, both Christian and Muslim whose futures have been darkened by Boko Haram predation.
Nigeria's northeast is home to three million children where 1,400 schools have been destroyed by the Boko Haram insurgency. Over 2,295 teachers in the region were slaughtered by Boko Haram since 2009, according to the United Nations children's agency.
All the grievous ills, the mass slaughter, the rapes, the dislocation and the crisis in food scarcity and refugees represent the handiwork of Islamofascists loyal to the core to Islam, the Koran and the Hadiths. And the governments, like that of Nigeria, whose response is insipid to the threat of their people are in effect, colluding with the terrorists by default.
Labels: Atrocities, Boko Haram, Malala Yousafzai, Nigeria, Schoolgirls