Turkey's Long March for Justice
"With the current changes it is impossible for the opposition to talk in Parliament. The opposition has to look for other places to do its work, and in this case, it's the march."




"If we have to pay a price, we will pay for it [through arrests]."




"Why did we march? We walked for the non-existent justice. We walked for the rights of the oppressed, for the imprisoned lawmakers, the jailed journalists ... We walked for the academics who were thrown out of universities."




"No one should think the end of this march is the end. This march was our first step."




Republican People's Party leader Kemal Kilicdaroglu, Istanbul, Turkey
The March for Justice, a protest long-distance trudge initiated by the Republican People's Party began in Ankara on June15, and was meant to continue after the goal of trudging the 450 kilometers to reach Istanbul by July 9, made for a lot of very sore feet and ankles. Throughout each day the marchers, thousands of them, including about 30 Turkish lawmakers from the main opposition party, walked 25 kilometers in heat of up to 35C. At night they settled down to sleep in rented trailers or hotel rooms.
Their route included marching up mountains in pouring rain. One marcher experienced a lethal heart attack on the march. More people joined them as the march progressed, until their numbers swelled to ten thousand and counting coming in afresh. They were expressing their outrage over President Recep Tayyip Erdogan's state of emergency declaration that gave the authorities in Ankara the opportunity to round people up wholesale, accusing them of helping to plot the failed coup of 2016.
Most legitimate opposition of any kind was swiftly stifled by the government. Turks watched in dismay as 40,000 people were arrested, among them over 170 journalists who wrote stories the government took issue with. Included also was the arrest of over a dozen lawmakers, and the suspension or firing of over 140,000 Turkish workers, among whom were several thousand academics and tens of thousands of teachers, prosecutors and civil servants taking issue with the Islamist government.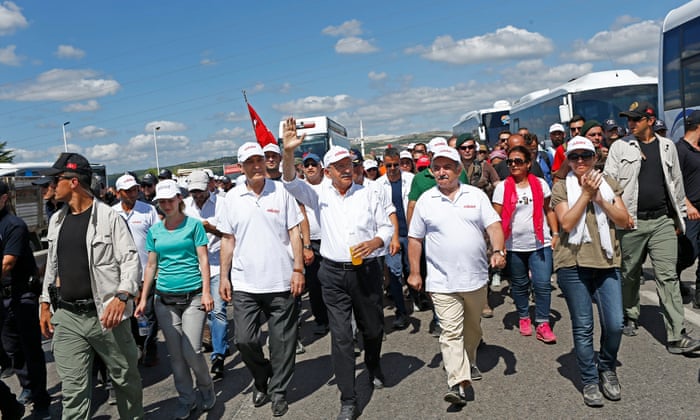 Photograph: Sedat Suna/EPA
When the march went through that area of Turkey where Erdogan supporters predominated, there were many responses from local residents in support of the Justice and Development Party, who hurled verbal abuse at the marchers. A truckload of manure was left close to the camp site for the marchers. A bullet was found symbolically left on the road. People flashed four-finger salutes, a symbol of Erdogan support. For these conservative Turks, Erdogan's control equates with their freedom to worship in public.
The March for Justice was joined by hundreds of thousands of supporters at the rally concluding the march from Ankara to Istanbul. During the march, the tens of thousands of marchers chanted
"rights, law, justice".
At the rally, people waved Turkish flags and flags carrying the word
"justice"
. A message that Ankara cannot possibly ignore. A significant number of Turks have risked arrest, imprisonment, loss of employment, for the opportunity to deliver their message that their government does not represent them or the interests of Turkey.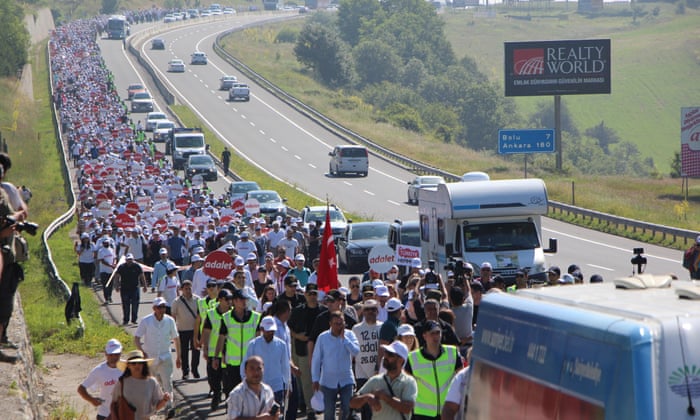 Thousands of people take part in the 'Justice March' in Turkey.
Photograph: Depo Photos/via REX/Shutterstock