The Futility of Desperation
"It represents [The newly announced sanctions agreed upon by the United Nations Security Council] the single largest economic package ever levelled against the North Korean regime."




"All of this ICBM and nuclear irresponsibility has to stop."




U.S. Ambassador to the United Nations, Nikki Haley
"[The Security Council condemns the July 3 and July 27 launches] in the strongest terms."




"[North Korea must suspend all ballistic missile launches and abandon its nuclear weapons and nuclear program] in a complete, verifiable and irreversible manner."




"[This resolution reflects] the strongest sanctions ever imposed in response to a ballistic missile test."




United Nations Resolution 2371





"[The United States' only option will be self-destruction unless it surrenders its] hostile policy [to Pyongyang]."

"The US mainland will sink into an unimaginable sea of fire on the day when it dares to touch our country by stupidly causing mischief and brandishing its nuclear and sanctions clubs."


Ri Hyo Jin, State newspaper Rodong Sinmun
"Sanctions are by no means the ultimate goal.The goal is to bring the Korean peninsula nuclear issue back to the negotiation table and to seek a final solution through negotiation, until the denuclearization of the Korean peninsula and the long-term peace and stability of the Korean peninsula become reality."

"What's important is that the DPRK foreign minister has come [to this event] too, he can listen to views from all parties, he also has the right to express his own views, this kind of mutual communications can only be beneficial, it will bring no harm."

"Who is executing each resolution regarding North Korea by the UNSC? It is in fact China who is executing them. Who is taking on the relevant costs? It is China who is taking on those costs. China fully, comprehensively and strictly executed each and every resolution by the UNSC, and fulfilled the responsibility expected from a responsible country. This is for all to see."

Chinese Foreign Minister Wang Yi
"[The Kim regime will not respond to punitive measures.]If there are no negotiations, the current tensions will continue. North Korea will endeavor to improve its nuclear and missile capability."

"North Korea is an absolute dictatorial regime ... It has sacrificed so much and so many. It is willing to sacrifice more."

Seung-Kyun Ko, former research commissioner, South Korea Ministry of Foreign Affairs
The Security Council committee whose purpose it is to monitor sanctions against North Korea must now monitor the situation to ensure that the ban to import dual use items whose commercial purposes do not preclude them from use as conventional, biological chemical or nuclear weapons must be strictly prohibited from reaching North Korea under the new resolution agreed upon and released on Saturday, 4 August from the Security Council.
Kim Jong Un has been on record as forcefully stating his ICBM and nuclear program represent North Korea's most "precious" asset. It is an asset he treasures, as a cudgel with which to whip his detractors. This paranoid lunatic assesses international reaction against his use of the atmosphere shared by his geographic neighbours as his personal rocket playground as untenable rubbish, insultingly restricting his aspirations.
These new over-arching sanctions will further dissipate the disposable revenues of a country whose financial resources are limited. In the past when faced with financial strictures it has been the North Korean population outside of Pyongyang that has suffered, deprivation, starvation and mass extinction. To this their Dear Leader responds with a disinterested shrug. In the past, those seeking to restrain his megalomaniac obsessions relented, to provide food and medical resources for the civilians.
Kim will divert whatever resources he has to support his nuclear and ICBM ambitions. They represent his trump cards when blackmailing his critics and obsessively threatening his neighbours' security. The straitened circumstances brought on by his refusal to halt his search for the final-horizon-weaponry he so yearns to stockpile to prove his status as a "world leader" of considerable weight, will further penalize North Korean labourers.
The economic pressure brought about by closing off the North's export of coal, iron, lead and seafood will scrape an estimated $1.27-billion from an already slight economy, much of it slated for the kind of research that delights Kim and terrorizes the globe. Bringing Interpol into the picture to enforce travel bans on blacklisted North Koreans forces Kim's homegrown support to indulge in introspection.
But though the resolution recognizes that the Kim regime has victimized his population in favour of his sought-after achievements in its
"massive diversion of its scarce resources toward its development of nuclear weapons and a number of expensive ballistic missile programs"
, realism and experience must also inform those who agreed on urging the resolution into place that lightning will not emerge from the thunder nor a downpour of acquiescent conciliation.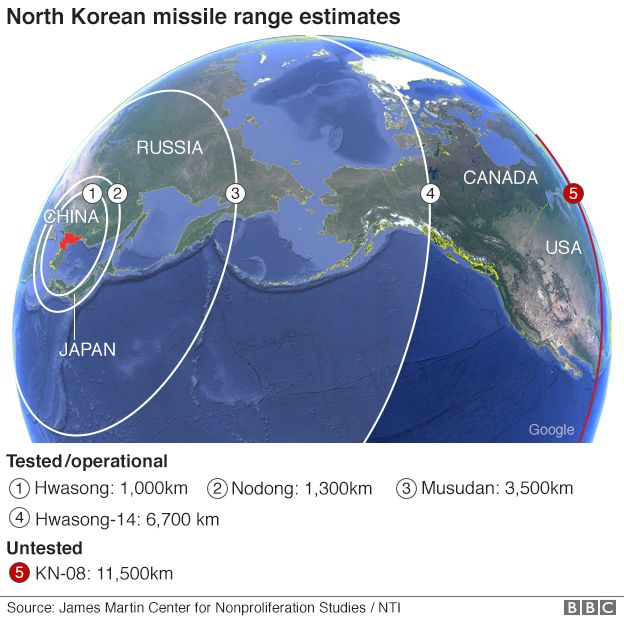 S/RES/2371 (2017)

05 August 2017

Introduces a full ban on coal, iron and iron ore, and adds lead and lead ore to the banned commodities subject to sectoral sanctions.




Prohibits port calls by designated vessels and chartering of DPRK flagged vessels.




Bans the hiring and paying of additional DPRK laborers used to generate foreign export earnings.




Prohibits the export by the DPRK of seafood (including fish, crustaceans, mollusks and other aquatic invertebrates in all forms).




Expands financial sanctions by prohibiting new or expanded joint ventures and cooperative commercial entities with the DPRK and clarifies that companies performing financial services are considered financial institutions.\ and that paragraph 11 of resolution 2094 (2013) also applies to clearing funds through Member States' territories.




Prohibits the deployment and use of chemical weapons and calls for accession to the CWC.




Directs the 1718 Committee to develop appropriate arrangements with INTERPOL to issue Special Notices.




Directs the 1718 Committee to designate additional WMD-related and conventional arms-related items.




Designates additional 9 individuals and 4 entities and provides updates on 2 previously designated individuals.
Labels: ICBMs, North Korea, Nuclear Technology, Resolution, Sanction, United Nations