Yet Another Failed, Violently Dysfunctional African Nation
"All the main civil society leaders, all the intellectuals, all those who dare to speak the truth, they are targeted. They are killed."




"They are saved [the six Burundian students who defected while visiting Washington, D.C. for a robotics competition]. Those young people took the opportunity to flee from the killings, just like I did."




"I wasn't feeling secure in the U.S. because everyone can have a gun [so she came to Canada to declare herself a refugee]."




Justine Nkurunziza, lead, Civil Society Coalition for Election Monitoring, Bujumbura, Burundi
An elderly woman waits among a crowd of other Burundian refugees for assistance in Rwanda's Mahama Refugee Camp.
© UNHCR/K.Holt
This woman and the six young students who slipped away from the competition venue in Washington to find homes for themselves anywhere but their native country of Burundi, are among the 300,000 Burundians who have chosen to flee their country because of the violence and the massive destabilization that resulted from Burundi's President Pierre Nkurunziza decision to violate the country's constitutional term limits by seeking a third term.
The reaction of the nation's citizens, and an election boycott by opposition parties aside, the president was victorious through a vote noted to be rigged when Western observers criticized it, in 2015. An attempted coup failed. Then the United Nations documented hundreds of summary executions along with assassinations, torture and related crimes over the past two years, all of which the government denies. But responded by withdrawing its support of the International Criminal Court, lest it seek to try him for crimes against humanity.
Refugee camps in Rwanda, Tanzania and Uganda are filled with thousands of Burundian refugees. And there they face other dangers, from marauding Burundian militias carrying out targeted killings, according to refugees and human rights groups. Two of the disappeared Burundian teens have found safe haven in Canada. Under the Trump administration it is now widely realized among would-be refugees that they will not be welcomed into the United States. Canada has picked up the slack.
Refugee claims from Burundi, as well as those from Afghanistan, Egypt and Yemen, alongside those from Syria, Iraq and Eritrea are being expedited in their processing so that authorities may accept their claims without waiting the formality of a hearing. At the present time, a Burundian community of about ten thousand expatriates reside in Canada. Claims from 690 Burundians have been approved over the past two years through Canada's Refugee Protection Division in Ottawa.
A failed coup in Burundi in 2015 saw the president closing the borders and identifying civil society groups as enemies of the republic. This was the cause for Justine Nkurunziza's flight to Rwanda with her family. Human rights groups have urged the United Nations to forward a civilian protection force in Burundi over fears of a possible genocide, which was what brought Justine Nkurunziza to New York, to help make the case. While there she sought a U.S. visa, and it was there her life was threatened.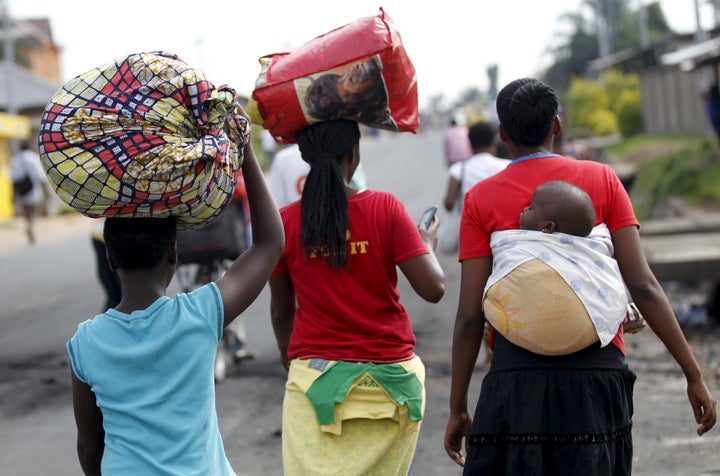 As conflict rages in Burundi, reports are mounting of women being raped as punishment for their political affiliations. Women & Girls Hub spoke with women who had fled to refugee camps in Tanzania, many left with nothing but the memory of their ordeal.
The Burundians currently in Canada arrived in the 1990s, at that time fleeing ethnic massacres between Hutus and Tutsis, impacting Burundi from the genocide that took place in Rwanda.
Labels: Africa, Canada, Conflict, Dysfunction, Refugees