Security, Safety Imperilled
"The answer only really is, if there's a sniper, there's a counter-sniper."




"[But] you're not going to be able to deploy police units with sniper capabilities everywhere. There are, at some point, too many things going on, too many opportunities to stop them all."




"Unfortunately, if someone is intent on doing harm they will find a way to do it."




David Katz, CEO, Global Security Group





"People don't just show up on marathon day and decide to run 26 miles. They train all year. That's also true of the Chicago police."




"[Chicago is prepared for] any eventuality."




Chicago Mayor Rahm Emanuel





"We do understand, that no city or town in this country is completely immune to such unbridled hatred."




NYPD Commissioner James O'Neill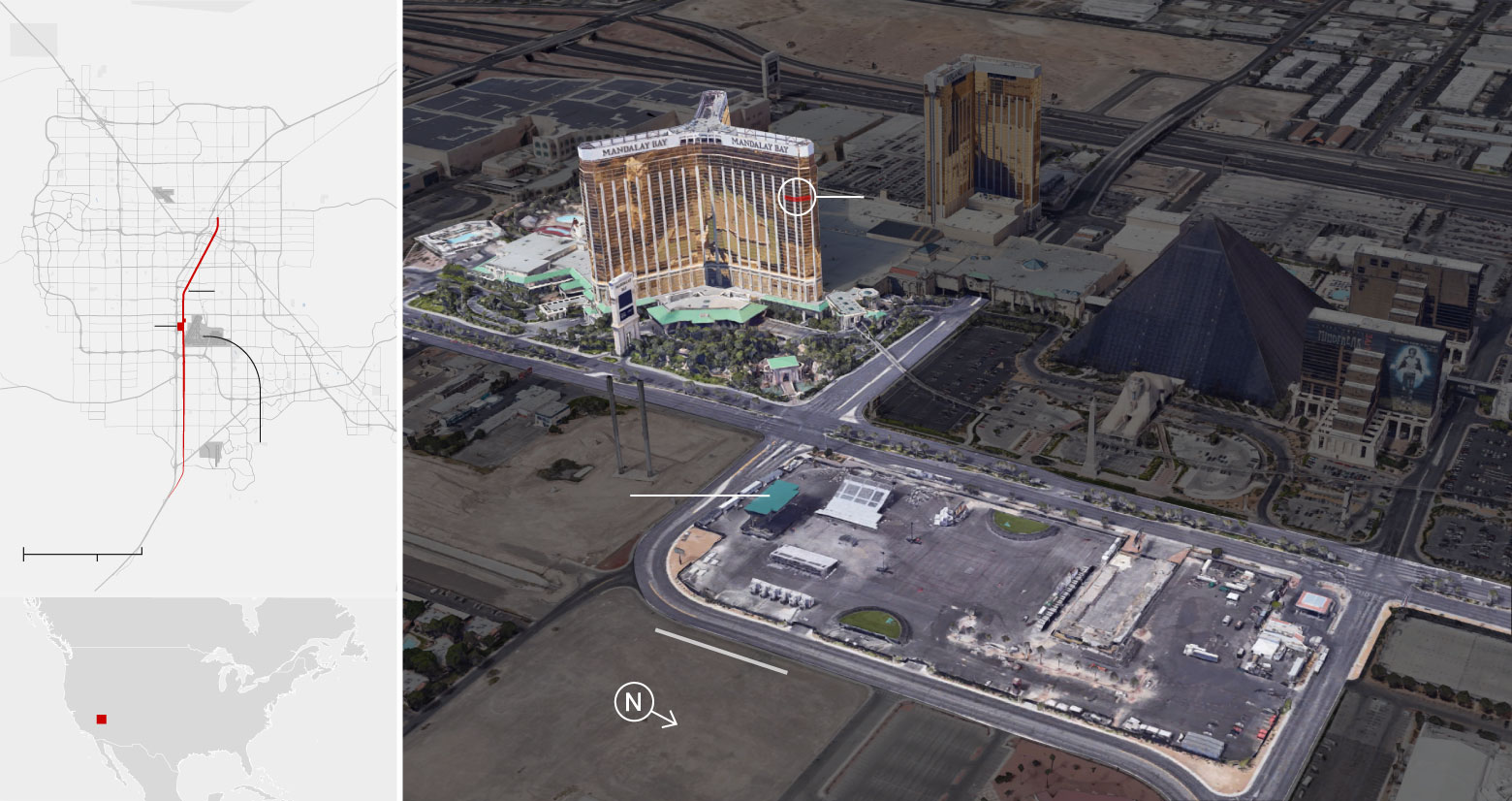 Mandalay Bay Resort and Casino overlooking music festival
maps4news.com/©here
In 1966 Austin, Texas experienced the horror of a Marine-trained sniper firing into the University of Texas campus for an hour-and-a-half from the 27-story clock tower. He killed 17 people, and wounded 30 more. He was eventually put out of business when police managed to shoot and kill Charles Whitman. But he was able for one-and-a-half hours to terrorize people, accomplishing a scale of carnage that shocked the nation.
In comparison, in Las Vegas on Sunday night, it wasn't a sharp-shooter but an inveterate social hermit and avid gambler who assembled in his 32nd-floor hotel suite a deadly arsenal equipped with a "bump stock" device enabling his semi-automatic legally-obtained rifles to fire continuous streams of bullets just as a fully automatic machine gun would. His killing spree lasted between 9 and 11 minutes before he put himself out of commission as police narrowed the gap between them and him.
This is the new, feared, and anticipated reality. Large crowds -- at musical festivals, at airports and railway stations, at shopping malls and theatres have become the most-favoured venues for disgruntled, psychotic loners to express their ambivalence about life and their contempt for the lives of strangers. This new reality makes it mandatory that a large and alert police presence will be evident at large gatherings.
This weekend the Austin City Limits music festival is set to welcome a crowd of 75,000 music enthusiasts to gather in a large park close to the downtown area. As a result of Sunday's mass murder where 59 people lost their lives and a re-adjusted number of 400+ were wounded
(authorities now say that they had miscounted with their original figure of +500 wounded)
, the Austin music festival organizers have stated that refunds will be given to anyone feeling uncomfortable about attending.
In Chicago, the city's annual marathon is set for October 8, where an estimated 45,000 running participants will be showing up. A dozen workshops discussing a number of possible scenarios should an attack occur at the event were conducted by local emergency officials in tandem with federal authorities. Chicago is prepared. Just as Boston was months ago, in memory of their horrific attack by Islamist jihadi brothers.
As for New York, also planning an event where people are expected to gather in plus-size numbers, Commissioner O'Neill of the NYPD assures that precautions are being taken in an effort to reassure people that no repeat of the Las Vegas atrocity will occur. Sharpshooters equipped with binoculars and rifles to be stationed on rooftops to scan building windows nearby the event for the presence of potential threats. Helicopters will be circling above, carrying their own snipers, while police detectives go through nearby hotels in security sweeps.
In Las Vegas, the mass murderer lethally shot himself, leaving behind 23 guns as well as a dozen devices turning semi-automatic rifles into machine guns. Former assistant commissioner for counterterrorism at the NYPD, David C. Kelly, now associate managing director of K2 Intelligence, noted that what was once routine protection for occasions when a president or a pope came visiting, has become routine for events featuring large crowds of celebrants.
"It's a big ask, but maybe that's what needs to be done now. It's forcing law enforcement to look at this in three dimensions -- the car in the crowd, the bomb in the backpack, now the assault from the air."
Terror, and the fear of vulnerability to violent attacks has completely transformed society just about everywhere. If it isn't an Islamofascist jihadi shouting
'Allahu Akbar!
', then it's a socially deranged misfit with a pathological grudge against the society he's a part of.
Labels: Security, Terrorism, United States