Russia, Bombing Children in Eastern Ghouta, Repatriating ISIL-linked Children
"What should we do, leave them there so somebody will recruit them?"




"Yes, these children saw terrible things, but when we put them in a different environment, with their grandparents, they change quickly."




Ziyad Sabsabi, Russian senator





"I gently asked her, 'What happened?', but she doesn't want to say anything."




"I want to hope they [her daughter and other two grandchildren] are alive, to latch onto something. But she is certain. She says they were shot, but that she waved her hands and said in Arabic, 'Don't shoot', and saved herself in that way."




Zura, grandmother of Hadizha, 8-year-old ISIL orphan





"He said he saw his mother and brother and sisters, and they were sleeping [all killed in a Mosul bomb attack, exploding their house]."




"I think it will pass. He is still young and has a child's memory."




Eli, grandfather of Adlan, 9-year-old ISIL orphan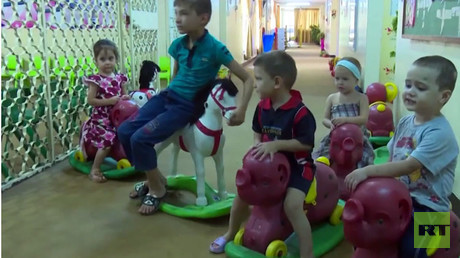 People claiming to be relatives of the children shown in

RT

coverage from an Iraqi orphanage have contacted the news outlet after the video went viral
These are a fraction of the children who survived being taken by their parents from their homes in Russia and Chechnya to live in the Islamic State Caliphate where their fathers dedicated themselves to a new reality as ISIL 'fighters', their mothers to raising their children as future warriors for Islamic State. Russia has decided to do what other countries in Europe and elsewhere whose citizens responded to the ISIL call for recruits, have hesitated to commit to; bring back the children.
Reunite them with their grandparents, and hope for the best. Belant Zuigayeva in Grozny, also hopes for the best. She watches her grandchildren as they play games that she terms their
"little war"
of the children who rarely talk, but engage themselves constantly in violent re-enactments of what they were exposed to embedded with Islamic State; running about, hiding, slamming one another with ferocious energy into the ground.
She is prepared to take care of her three grandchildren, raised by Islamist ideology as nascent militants for Islamic State. She is considered to be part of a hopeful experiment the Russian government has determined is a requirement in social re-engineering of children who were deliberately exposed to gruesome murderous scenarios and constant violence.
When the U.S.-led coalition and Syrian government forces overtook cities held by the Islamic State, hundreds, possibly thousands of children born to women living in the Caliphate's territory, or brought along with the men and women dedicating themselves to ISIS, were discovered wandering among the ruins of cities like Mosul.
So far, Russia has re-absorbed 71 children groomed by ISIL, along with 26 women. It is considered an investment in the future in aid of security, that it is more sensible to absorb these children with the help of their grandparents, into Russian society, at their still-impressionable age, than to have to cope at some future date with embittered and radicalized adults returning to Russia with unabated rage in their hearts.
This attitude, on the surface humanitarian, a little deeper, practical, is in stark contrast to Europe which hesitates to absorb the tragic human detritus left behind by a retreating Islamic State. There is in fact little compassion for the plight of the adult males who chose to join ISIS. In point of fact the British international development minister, Rory Stewart, stated point blank:
"The only way of dealing with them will be, in almost every case, to kill them".
Many, perhaps most of the returning children had been deliberately exposed in their vulnerability to unspeakable acts of violence. The children themselves were often recruited, coached and praised to execute acts of unspeakable carnage on helpless ISIL prisoners. Deadly acts leading to excruciating deaths; children are notoriously curious about everything and there is little doubt from the evidence circulated via videos that some children were found to be particularly adept at delivering death.
Children were with purpose desensitized to the prevailing violence through the medium of constant indoctrination, paramilitary training -- and little pleases precocious children more than being allowed to participate in such activities inducting them into grown-up pursuits -- while being persuaded to take part in executing particularly vicious exercises in human depravity in the delivery of pain and misery upon bound and helpless 'enemies'.
Women who managed to break free from the clutches of Islamic State terrorists told RT harrowing stories of what they lived through, shedding light on the rampant violence, sex slavery and a bloodcurdling neglect for life thriving in the so-called "caliphate."
An estimated thousand children of militants from across Europe are awaiting repatriation -- whose fathers fought in Syria alone. Those whom France has taken in have been placed in foster or adoptive homes while some have been taken by relatives. A number of those who are older, viewed as having been combatants, have been incarcerated. As many as 5,000 family members of foreign terror recruits remain in camps and orphanages in Iraq and Syria, according to the estimates of analysts.
"We have to consider that these children could be living time bombs"
, observed Germany's domestic intelligence chief, Hans-Georg Maassen. Four-year-old Bilal returned last summer to Russia. He pushes a toy car around the kitchen table and makes car sounds in his grandmother's Grozny apartment, in Chechnya. While he says little, his grandmother, Rosa Murtazayeva, notes his obvious attachment to his absent father Hasan. He recalls being with his father hiding in basements in Mosul.
"I was with papa. There were no other boys"
, he says. After their capture his father was imprisoned in Iraq. When Bilal was found on the streets he was emaciated and filthy. His grandmother is certain he will recover some semblance of normalcy, since he is still so young and appears to have adjusted well. When eight-year-old Hadizha was found on a street in Mosul she was lying in a gutter, arm and chin bandaged from burns. Her grandmother recognized her from a photograph.
Hadizha now spends her days on a couch, curled up, distant eyes, an angry scowl on her face as she watches television.
"She doesn't need anything else. She is silent"
, says her grandmother.
Labels: Child Abuse, Child Welfare, Islamic State, Russia