The Penalty Imposed by Islam on Judaism : French Jews, a Vanishing Species
"I thought I was going to die on the spot. I cried all the tears in my body and I thought of her. She didn't deserve this."




How can one do that to anybody? The police revealed she was stabbed eleven times."




"There was nothing to steal. My mother was poor. Her credit card? She would have only been able to withdraw 100 euros. She had no money on her account."




"My mother had a thirst for knowledge and meeting new people and talking to them and that's what killed her."




"[While she could still walk] she was going to restaurants, to theatres, to cinemas to see movies. She likes so much to read, she likes life so much."




"All those people [Muslim jihadis] who know war, they like life, maybe more than these crazy people [who killed her]."




Daniel Knoll, son of 85-year-old Mireille Knoll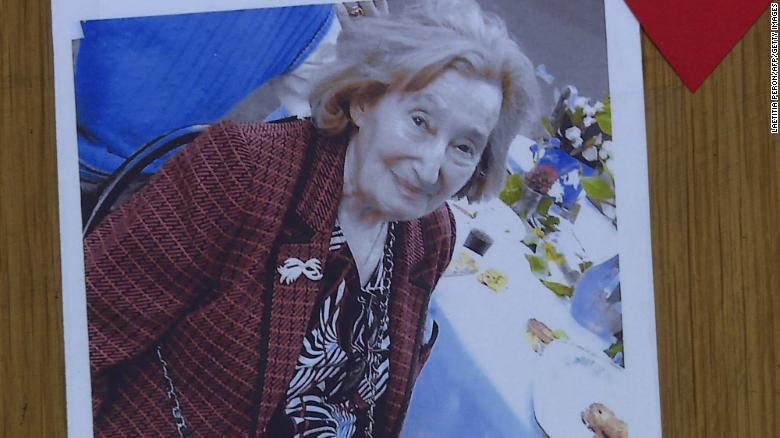 An image of Mireille Knoll posted on the door of her apartment in Paris on March 27, 2018, after she was found dead
"[The attackers] burned all of our memories, burned my entire childhood that I experienced there, in photos, albums, souvenirs."




"Today it is my grandmother and tomorrow it will be a grandmother, a grandchild, someone else's father."




"[French authorities should] stop making excuses and see reality for what it is."




Jessica Knoll, granddaughter of Mireille Knoll, Herzliya, Israel
Reality for the present is that thousands of people in France came out in a mass demonstration of sorrow at the death of this 85-year-old grandmother and Holocaust survivor. A woman who lived alone, refusing to leave Paris. Her life was threatened when, at age 9, French police acted with alacrity at the Nazi orders in occupied France, to round up French Jews. Her life was horrendously taken from her 76 years later long after the Holocaust years when she returned from safe haven abroad to resettle in France.
Her enemies during World War II were the fascists in Germany who dominated Europe. Her enemies in her later years came with the influx of Muslim immigrants who would mass in demonstrations against Israel and Jews, vowing they would act to complete the Holocaust that failed to eradicate Jews worldwide. The France that had once again become safe for Jewish return after 1945, has been transformed at the present to one unrecognizable from that era, rife with anti-Semitism emanating from a new and virulently hateful source; Muslim immigrants.
Last Friday was the last day of life for Mireille Knoll. She was stabbed to death, her apartment set on fire. Preliminary charges have been laid against two men for her murder, with clear anti-Semitic motivation, found in the Koran. One of the two is a neighbour who has known the elderly woman since he was a child. To whom she had been kind and neighbourly, inviting him to her apartment on many occasions. That familiarity failed to expunge the Islamist hatred that burned in his consciousness.
She had escaped Nazi-occupied territory to flee to southern Europe, and then Canada, returning to her beloved France at war's end. Her grandchildren, along with countless other French Jews, recognized the changes taking place in France and chose to leave, to move to Israel, leaving Mireille Knoll on her determined own in her apartment where she had lived her entire Paris life, on Avenue Philippe Auguste. The same building as her 29-year-old assassin.
Not only had this elderly French Jewish woman complained to police that she had been threatened by a neighbour who had stated his intention to set fire to her home, but according to a police source, one of the two men detained in her murder had been convicted previously, on charges of molestation of a twelve-year-old girl who had been staying over at Mireille Knoll's flat. The horrendous murder of 65-year-old Sarah Halimi, beaten and thrown from her balcony a year ago, an earlier atrocity. With more to come.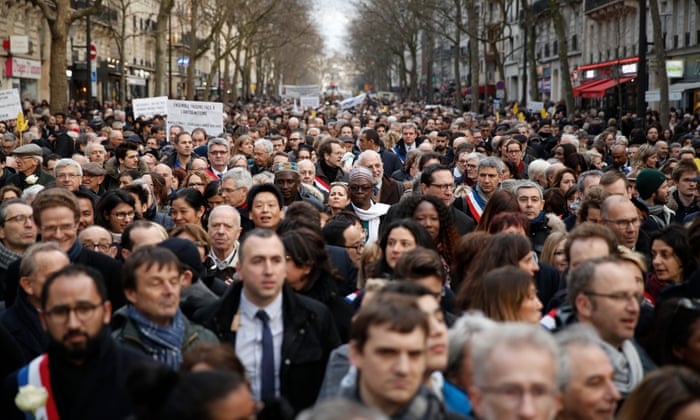 A huge crowd walks during a silent march in Paris, France, in commemoration of 85-year-old Jewish woman Mireille Knoll.
Photograph: Yoan Valat/EPA
His mother, Daniel Knoll explained, had known the suspect since he was seven. She
"took pleasure in having him at home and ... although we'd asked her not to welcome him, she let him in like she always did, the same way she did with everybody, with kindness"
. French President Emmanuel Macron tweeted
(that indispensable tool for politicians; a rude instrument of mass communication)
his
"absolute determination to fight against anti-Semitism."
How do you 'fight' an ancient scourge constantly resurrected and particularly beloved by Islam, when France no longer resembles itself, transformed beyond what it has been into what it would never have imagined it might become; a Muslim-state-in-waiting? Put a stop to anti-Semitism in France when its practitioners are untouchable? The banlieues festering in grim attendance on French Muslim hostility toward their hosts, where police, firemen, ambulances fear to tread?
Where the imminent-next battle between Hamas terrorists in Gaza and Israel Defence Forces will bring out violent protests erupting once again, taking to the streets condemning Jews and clamouring that they will finish the Holocaust, delivering Jews to the jaws of fascist-inspired death chambers again. For the meantime, it is, however, one outrage at a time, a death here, a death there. Encouraging fearful French Jews to leave, leave France for the occupation of its Muslim hordes.
Labels: Anti-Semitism, France, Holocaust Survivor, Islamist Crime, Murder